As you may know, Mary Brooks Picken is my muse and I was inspired by her work in educating the women on fashion, sewing techniques, and the home arts through her work with The Woman's Institute to write my book Vintage Notions. I have recently written a new book inspired by Mary, The Magic Pattern book, which takes Mary's original concept of Magic Patterns – simple patterns that can be transformed into multiple styles – and brings it to the modern world. For The Magic Pattern Book, we created 6 patterns that can be transformed into 36 fashions! There is also sewing tips, a fabric dictionary and Mary's style and sewing wisdom sprinkled throughout through her own words, as exemplified below.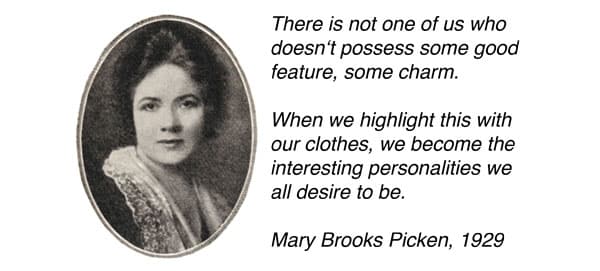 Fashion historian and professor Linda Przybyszewski was also inspired by Mary and her contemporaries in the world of Home Economics. She believes that not only did this group of women, known as the Dress Doctors, teach women how to sew but also how to have style and dress beautifully and appropriately for all occasions. This notion propelled her to write the wonderful book The Lost Art of Dress.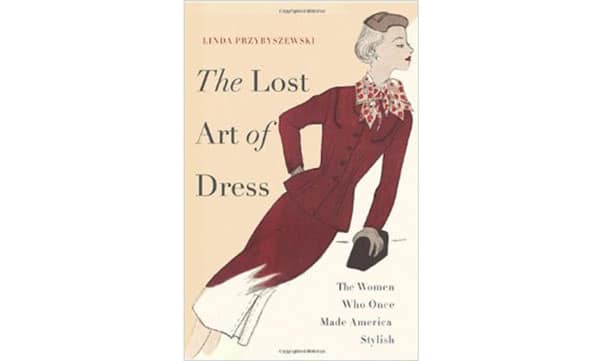 These days it's common to see yoga pants and flip flops on women as they go to work, do their shopping and go out to dinner. (That includes ME much of the time!) A far cry from the post WWII years when American women were known for their good taste in fashion. So what happened? Przybyszewski believes that the Dress Doctors, through their work in Home Economics departments, were able to guide women to wear flattering and appropriate styles from their days in rompers through their golden years. When Home Economics started being cut from grade schools and college in the 60's and 70's we lost that guidance and fell into the routine of comfort is king – with often unflattering results.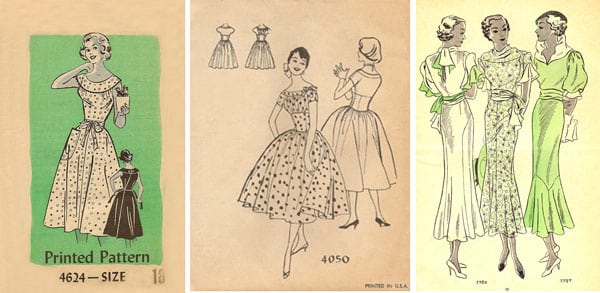 You can definitely see the change in styles of everyday dresses as exemplified in the pattern covers above. I love collecting fashion images from the old patterns. This group is all available to purchase through my image collection AB Vintage Studio.
I really enjoyed reading this book. Although I have done a lot of research into the work of the ladies known as the Dress Doctors, it was fascinating to read about their work from this point of view. At the heart of the book is the effect these women had on the style of America, but Przybyszweski also touches on how their work also affected societal norms, economics and women's liberation. This book is perfect for those interested in fashion, history, and the changing role of women in society. It will inspire you to rethink your wardrobe and aspire to a more elegant (but still comfortable!) you. At least, it did for me!
I want to share with you this wonderful book and am having a giveaway! Not only will the winner receive a copy of The Lost Art of Dress, but they will also receive a copy of my book Vintage Notions: An Inspirational guide to needlework, cooking, sewing, fashion & fun, which is filled with wisdom from Mary Brooks Picken, my favorite Dress Doctor.
This contest is closed. Thanks to all who entered!