The Story Behind the Book | Mary Brooks Picken | Reviews & Testimonials 
Vintage Notions: The Story Behind the Book
Vintage Notions is the culmination of a personal journey that started twenty years ago when I began collecting rare sewing and needle arts books, vintage home arts magazines, and cookbooks. I reached a pivotal point in my collecting when I came across the work and wisdom of Mary Brooks Picken. Visit my Youtube Channel to see my video series about the book.
I first discovered Mary in the summer of 2008, while returning from a creative workshop in Omaha, Nebraska. I began reviewing several vintage newsletters and magazines that I had collected while hunting for artwork for The Vintage Workshop. They were published by The Woman's Institute of Domestic Arts and Sciences in Scranton, Pennsylvania, between 1916 and 1934, and they were inspiring. Combing through the aged pages of these wonderfully illustrated and beautifully written publications, I realized that they were still relevant today and provided a blueprint for a simple, fulfilling life.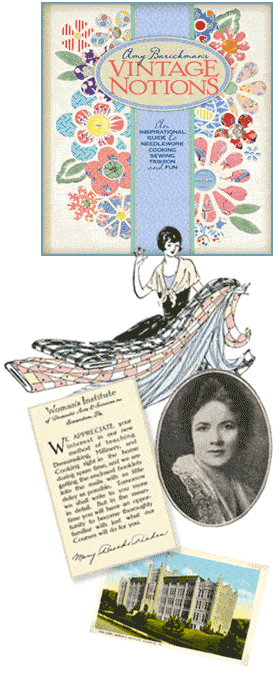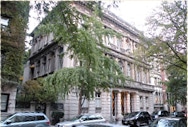 I began to research further, scouring flea markets, antique shows, and the Internet for more material about Mary and the Institute. I tracked down her living relatives who graciously shared their memories. I even made a trip to Mary's beautiful townhome in New York City and her summer home in Pawling, New York, a beautiful country home overlooking the Hudson Valley, and visited with her nephew.
Researching and writing Vintage Notions has been an odyssey for me. And while my endless hunting for great vintage material will never stop, I understand the drive behind it now in a way I did not before I encountered the work of Mary Brooks Picken. It seems that all along, part of me was searching for the answers that Mary and her work provided. Her work shows that dignity, joy, and meaning can be derived from the home arts.
I conceived of my new book, Amy Barickman's Vintage Notions: An Inspirational Guide to Needlework, Cooking, Sewing, Fashion and Fun, to rescue Mary Brooks Picken from obscurity and to reintroduce the clever sewing patterns, cooking basics, beautiful illustrations, and inspirational essays from the Women's Institute's newsletters with a fresh and modern voice. It is filled with creative ideas, practical advice and charming anecdotes that celebrate the domestic arts.
Vintage Notions is the union of all of the things that are important to me as an artist, entrepreneur, and homemaker. I have collected the very best vintage material from the Institute's newsletters and married it to my own extensive collection of vintage textiles, needlework, illustrations, and memorabilia.
Each chapter of Vintage Notions represents a month of the year and features seasonal recipes, crafts, decorating and beauty tips plus some of my own thoughts about the material. There are twelve easy-to-make, chic sewing projects. Each season has its own storage pocket, a clever place to stash away clippings, fabric swatches, and any little notion that inspires you in your creative pursuits.

As I researched this book, I was struck by the idea that everything old is new again. We are once again interested in the domestic arts our grandmothers practiced daily. We take pride in thrift through refashioning and recycling. We look to live contentedly and graciously. I hope that Vintage Notions will allow readers to reconnect with the past and their own creative spirit.