Your Shortcut to Handmade Style!
Introducing Treasured Threadz™ Fabric Panels: A creative dream come true! This new product is the culmination of my love for vintage textiles and passion for repurposing thrifted fabrics. I started developing the product several years ago and shared it with Missouri Star's Misty Doan. She loved my concept and techniques for applying patchwork to denim and asked me to join her for a  Misty At Home episode. Be sure to watch the episode  and see the story behind Treasured Threadz™, including lots of inspiring projects and ideas. I have partnered with my friends at ColonialPatterns.com to distribute the Treasured Threadz™ fabric panels. 
Upcycling with Treasured Threadz™
Recycling fabrics has always been a favorite focus of mine, as I developed sewing patterns and books over the last thirty years. From purses to aprons, Denim Redesign was an early book focused on techniques and projects for repurposing denim. I recently read that women have an average of eight pairs of jeans in their closet. Additionally, jean jackets and chambray shirts are plentiful at your local thrift shop. The apron pictured is a project from Denim Redesign with fabric from the Treasured Threadz™ Postage Stamp Retro Fabric Panel.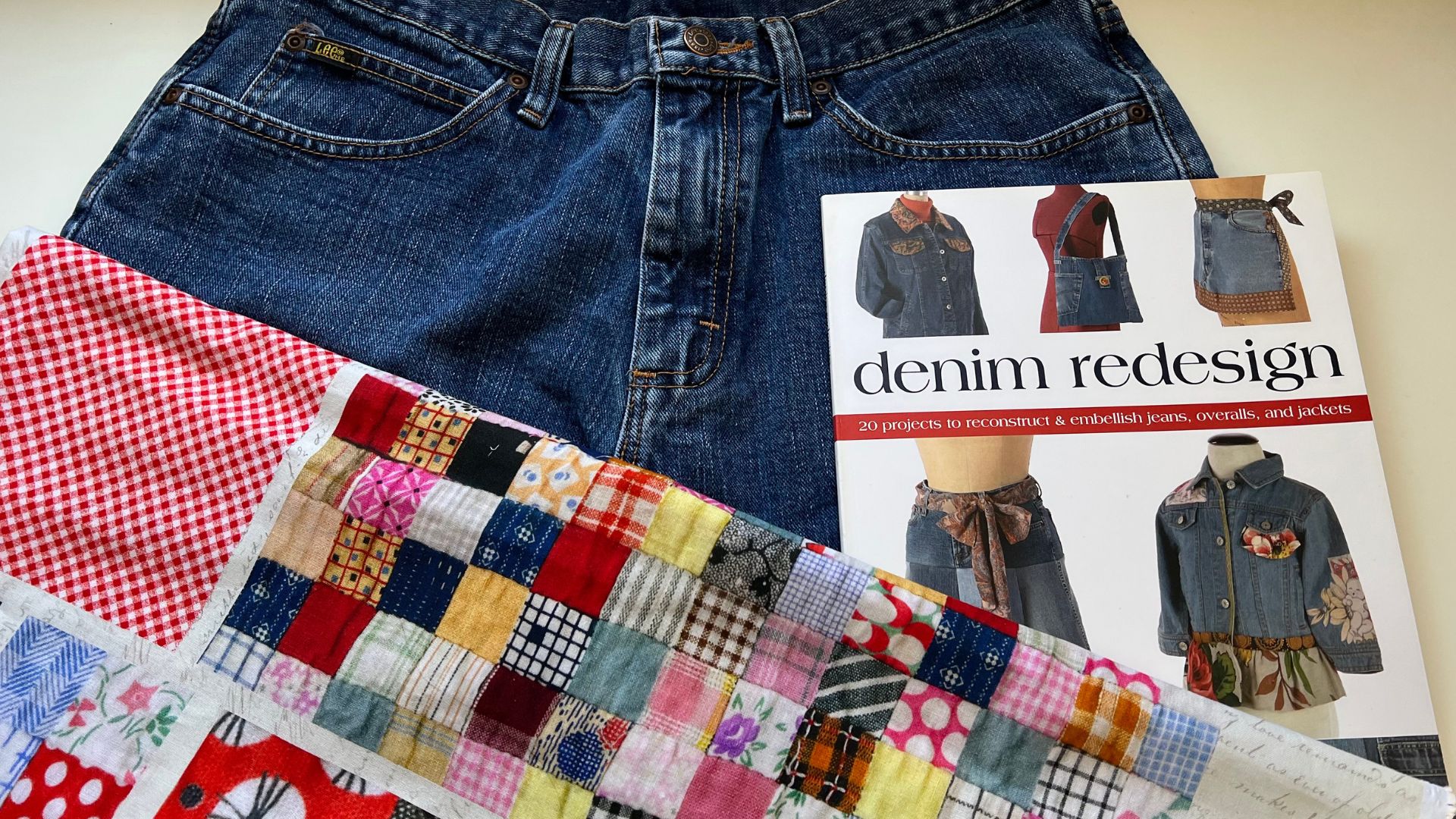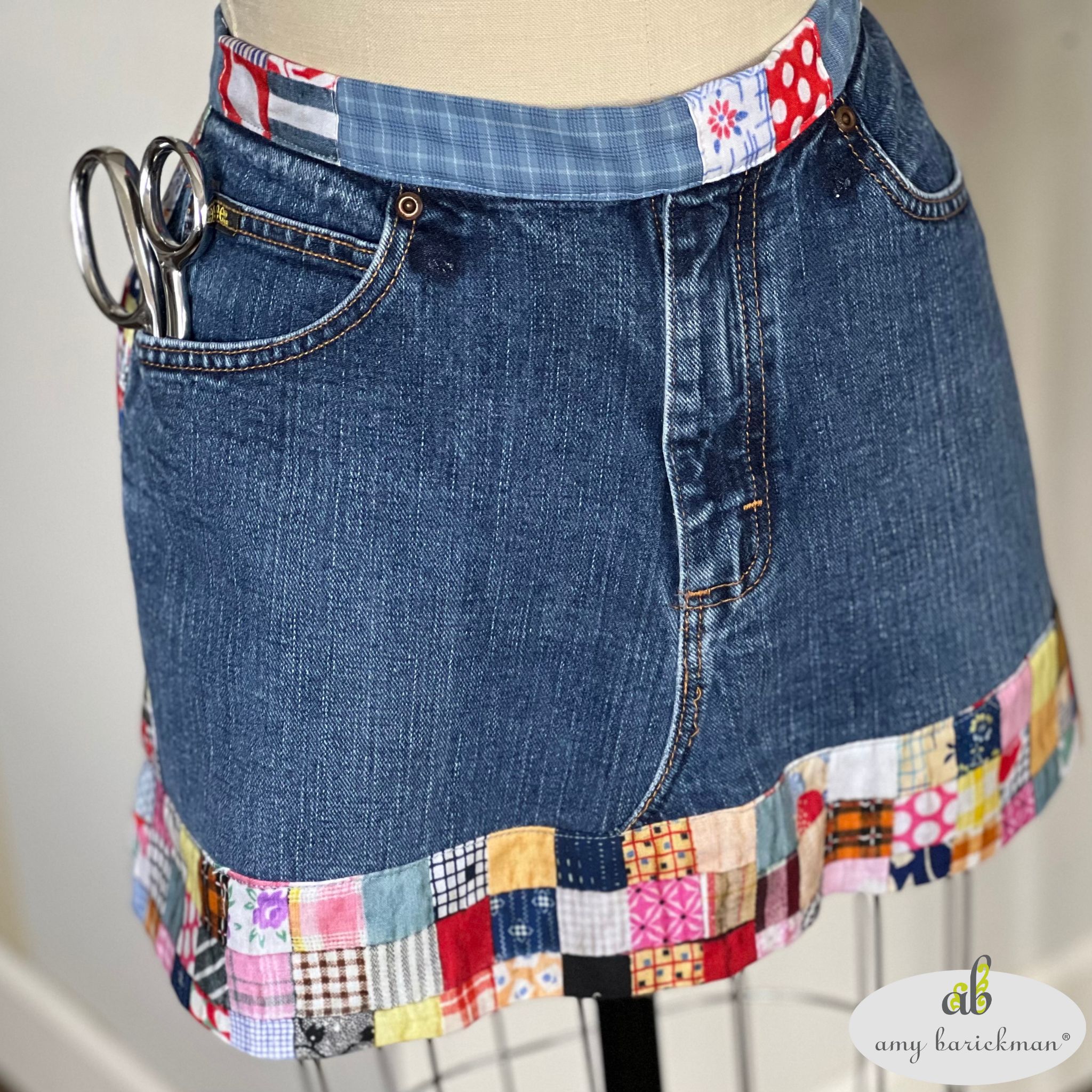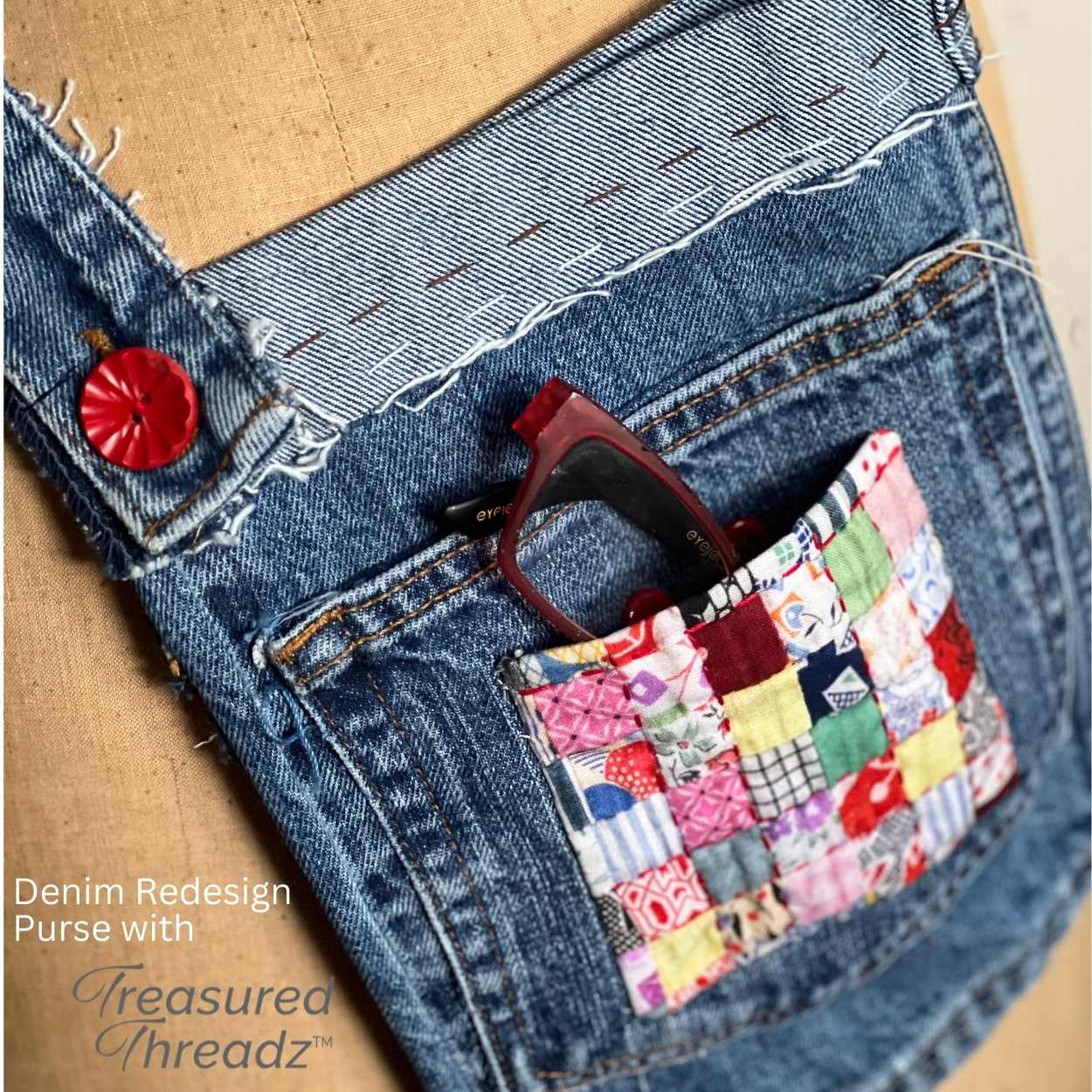 Treasured Threadz™ from my own collection
Treasured Threadz™ has offered me a chance to channel my passion for sustainable sewing and upcycling. The fabric panels are comprised of curated prints and patchwork from my vintage collection of textiles and quilts for you to embroider, quilt, sew, and collage. The authentic digital reproductions are perfect for applique and small projects. I loved sharing my collection in the Quilt Block panel- Missouri Star Blue and  Patchwork Panel- Postage Stamp Retro , AND inspiring you to refresh a favorite from your closet!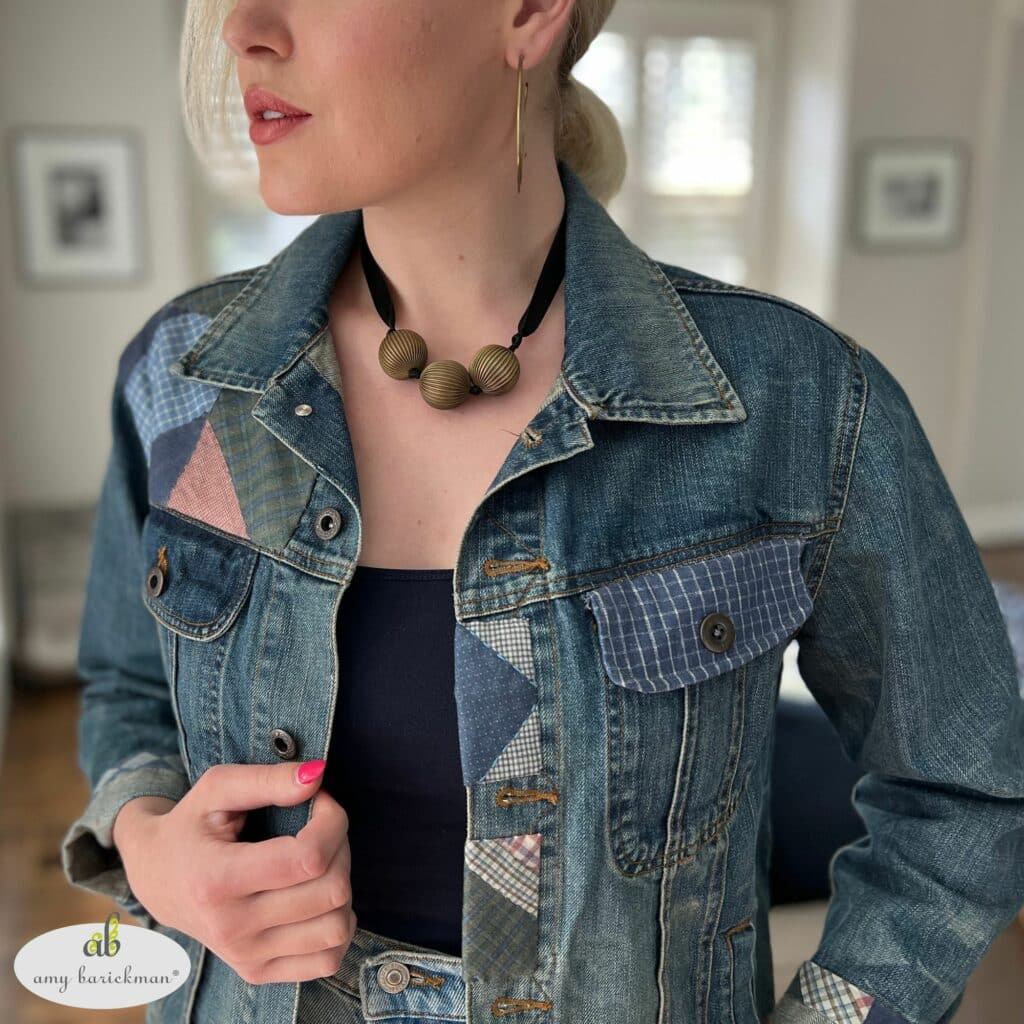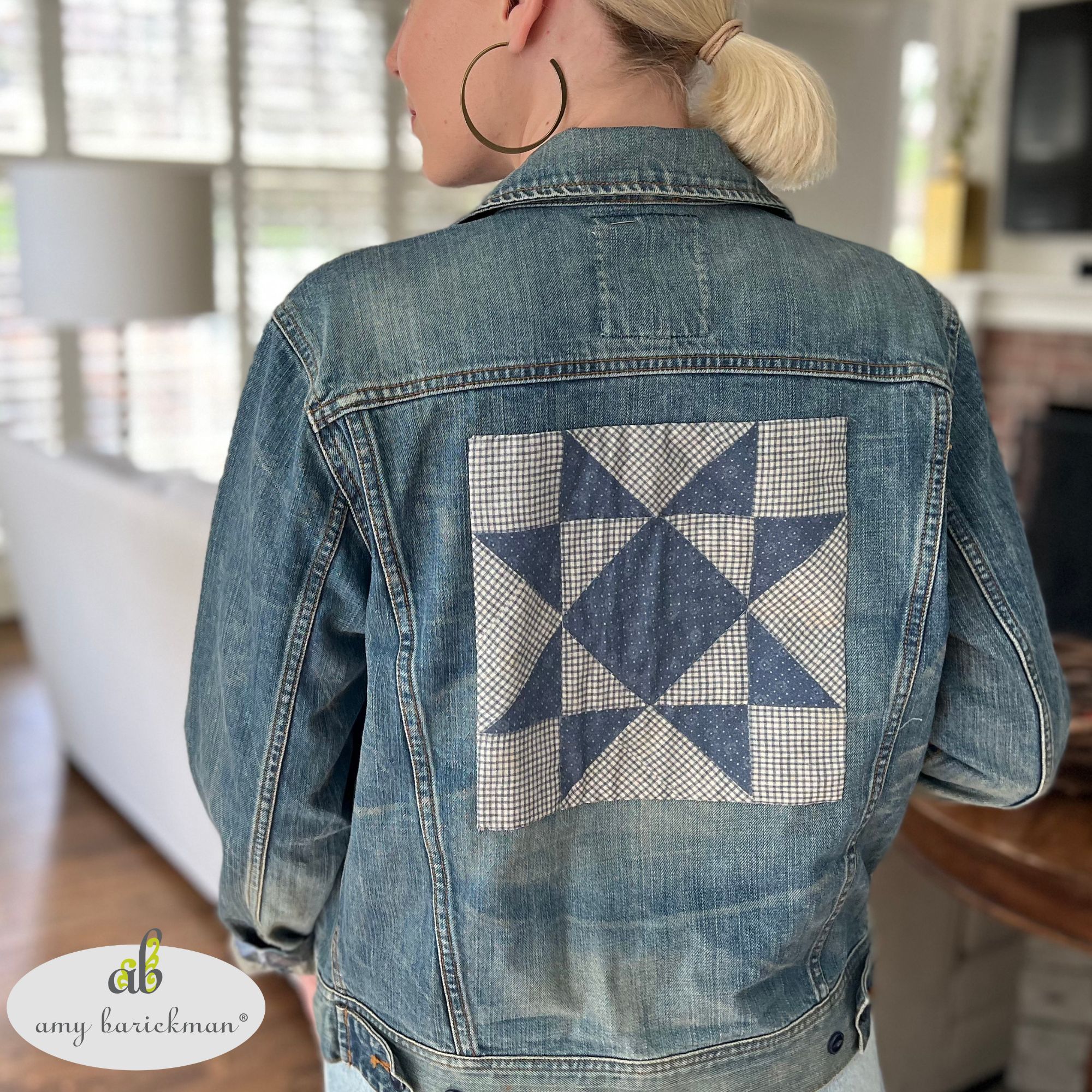 Watch the At Home with Misty episode, Upcycling Projects to see my techniques for creating jean patch appliques with hand quilting and embroidery, along with the three PDF patterns that are included with the purchase of a Treasured Threadz™ panels. Here is a little preview of the patterns you will access via the QR code or link that is located inside the display card: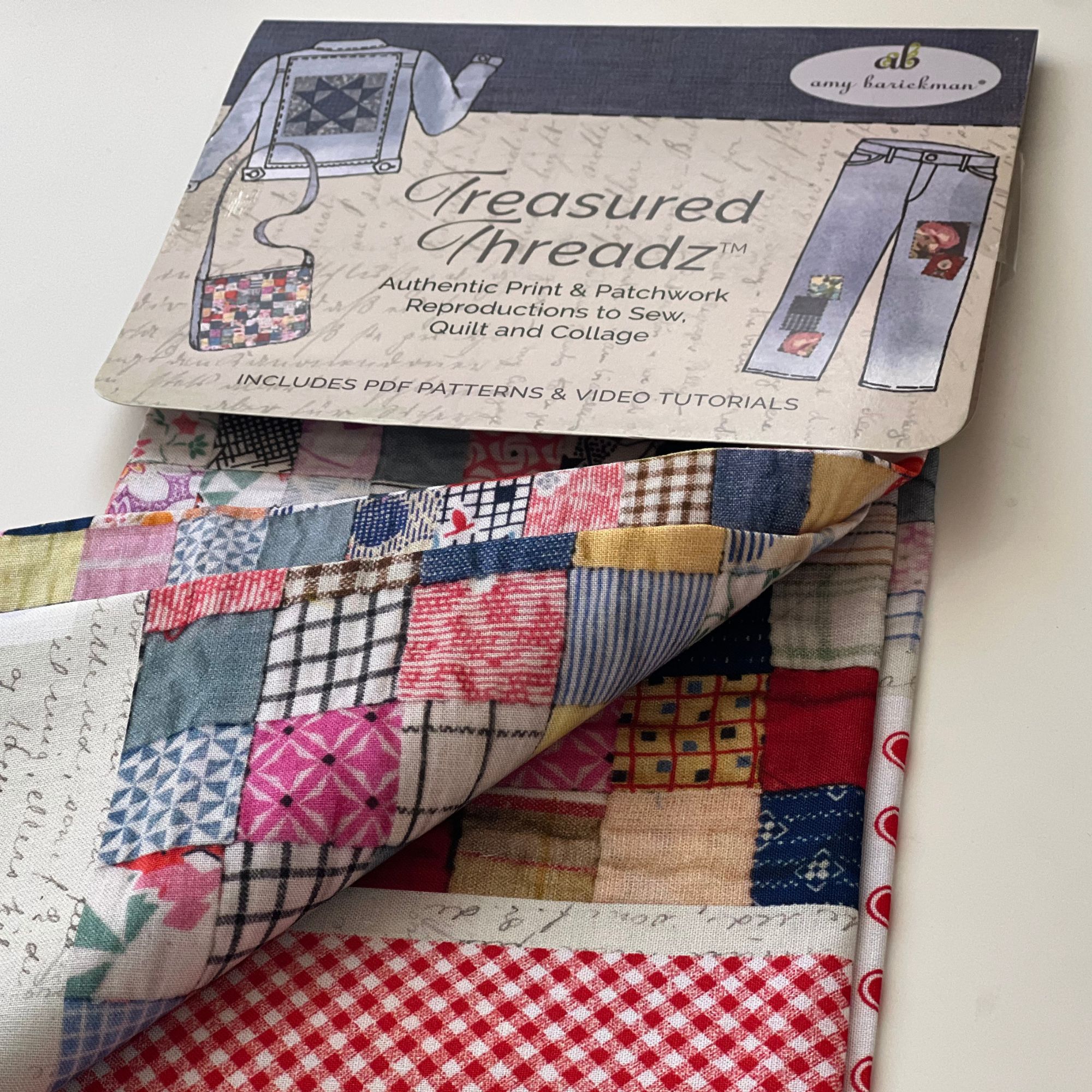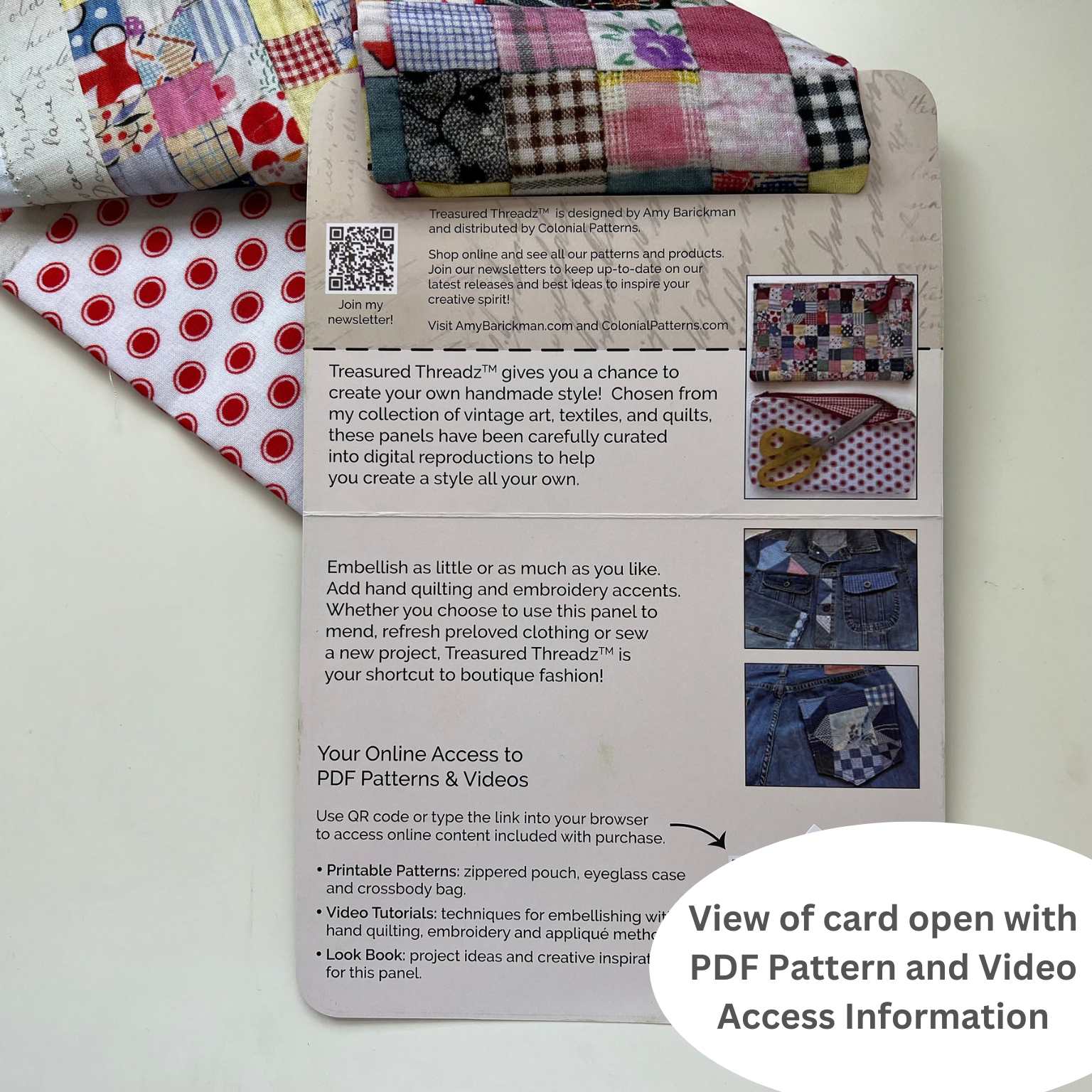 Panels contain coordinated collections of prints & patchwork. The Treasured Threadz™ Missouri Star Blue panel features 20 unique prints and four 10" blocks. The Postage Stamp Retro panel includes over 150 unique feedsack prints in the two scales of patchwork that are featured in the Crossbody Bag  and back yoke of jean jacket pictured below. Note that we added hand quilting following the seams of the patchwork.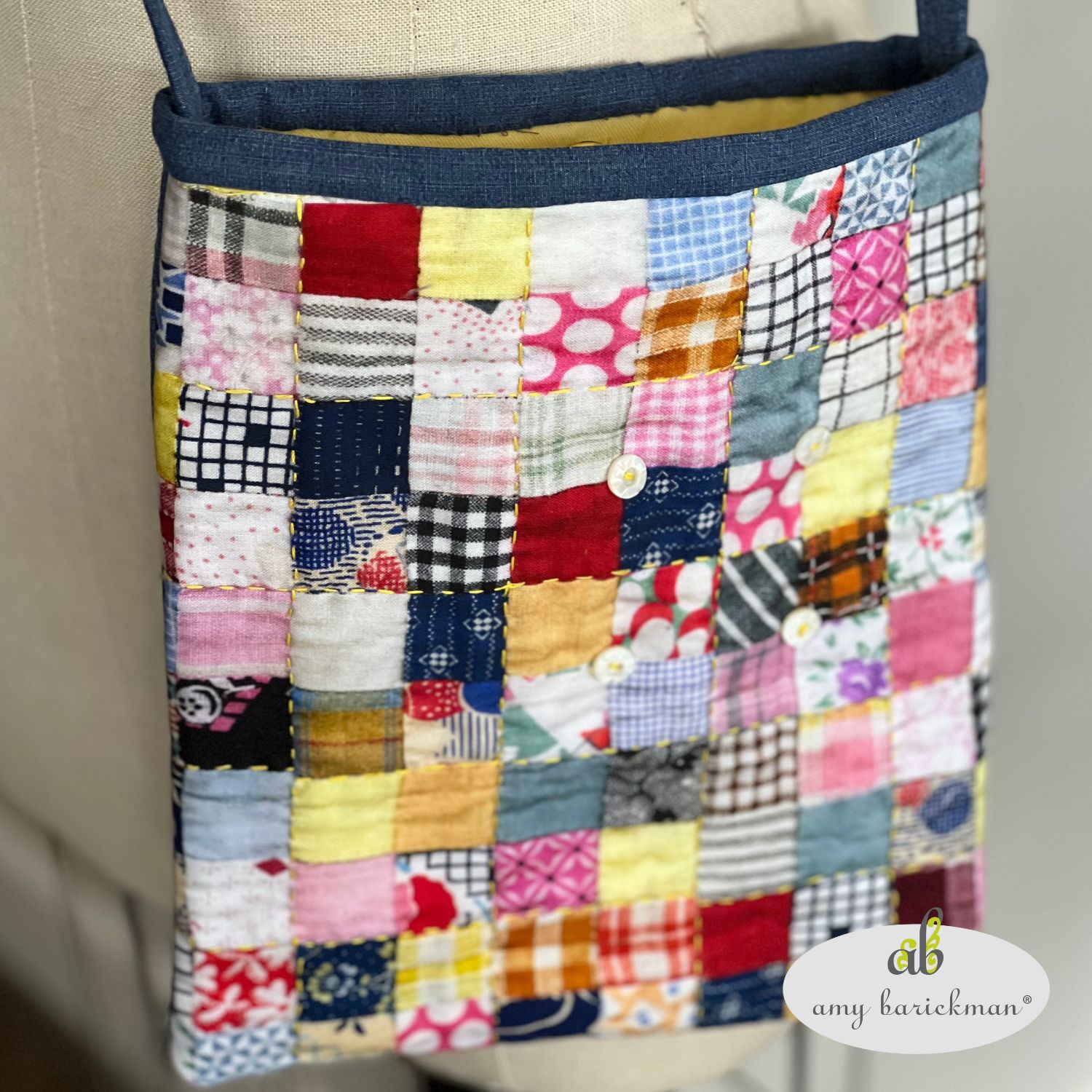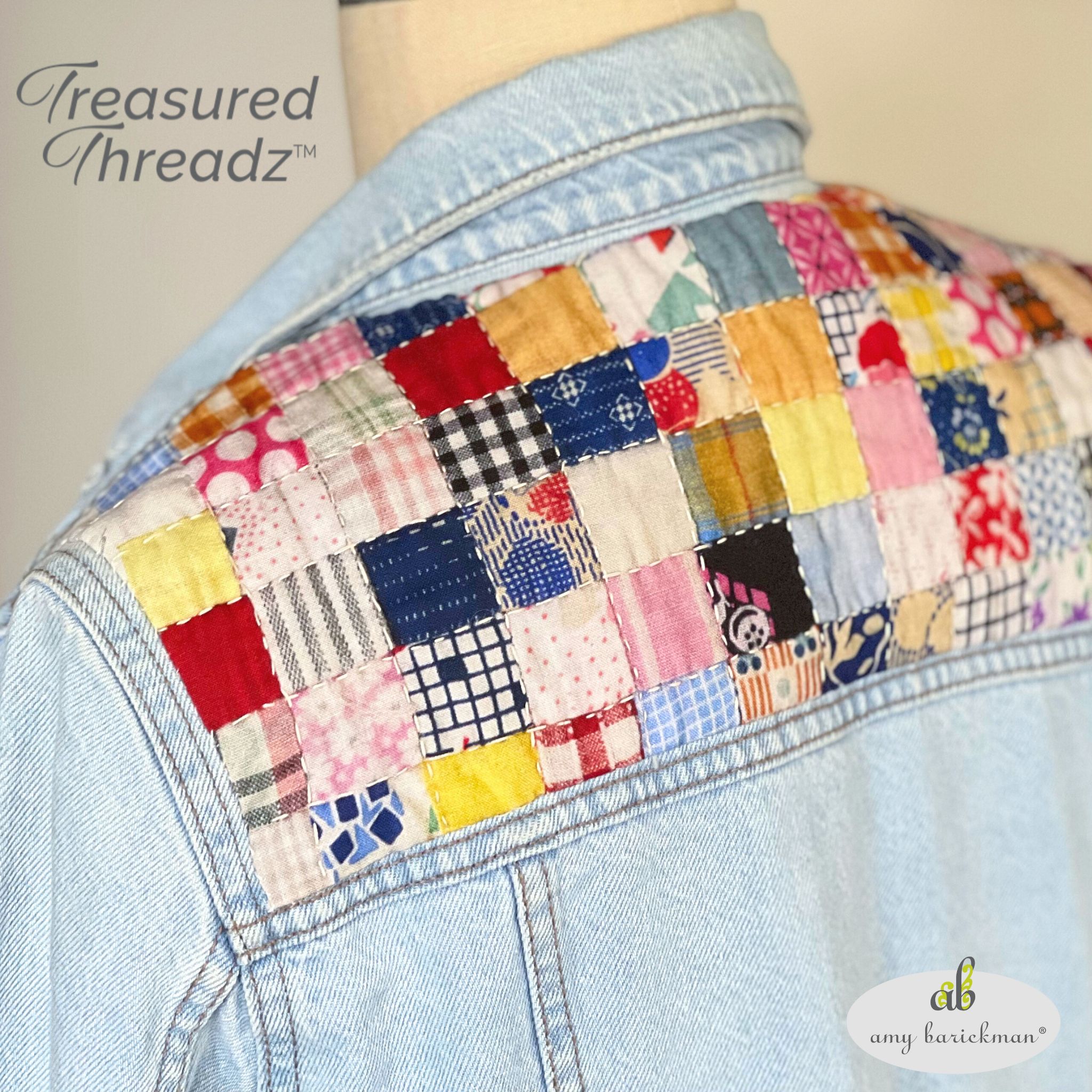 Endless inspiration withTreasured Threadz™
Treasured Threadz™ offers endless inspiration for creating unique fashion and sustainable sewing! With purchase of the panel you also receive online access to video tutorials and a Treasured Threadz™ Look Book with over 30 pages of project photos. Create patches, pouches, purses & more! Grab a cup of coffee and watch the tutorial as shown above which shares a plethora of project ideas and special applique techniques I have developed. I'm so proud to be introducing Treasured Threadz™ panels! 
Looking for gift ideas? My  Fold & Go Folio is a perfect project for Treasured Threadz™ panels and ideal for storing notions, tools or jewels. Both versions and two sizes come with the pattern.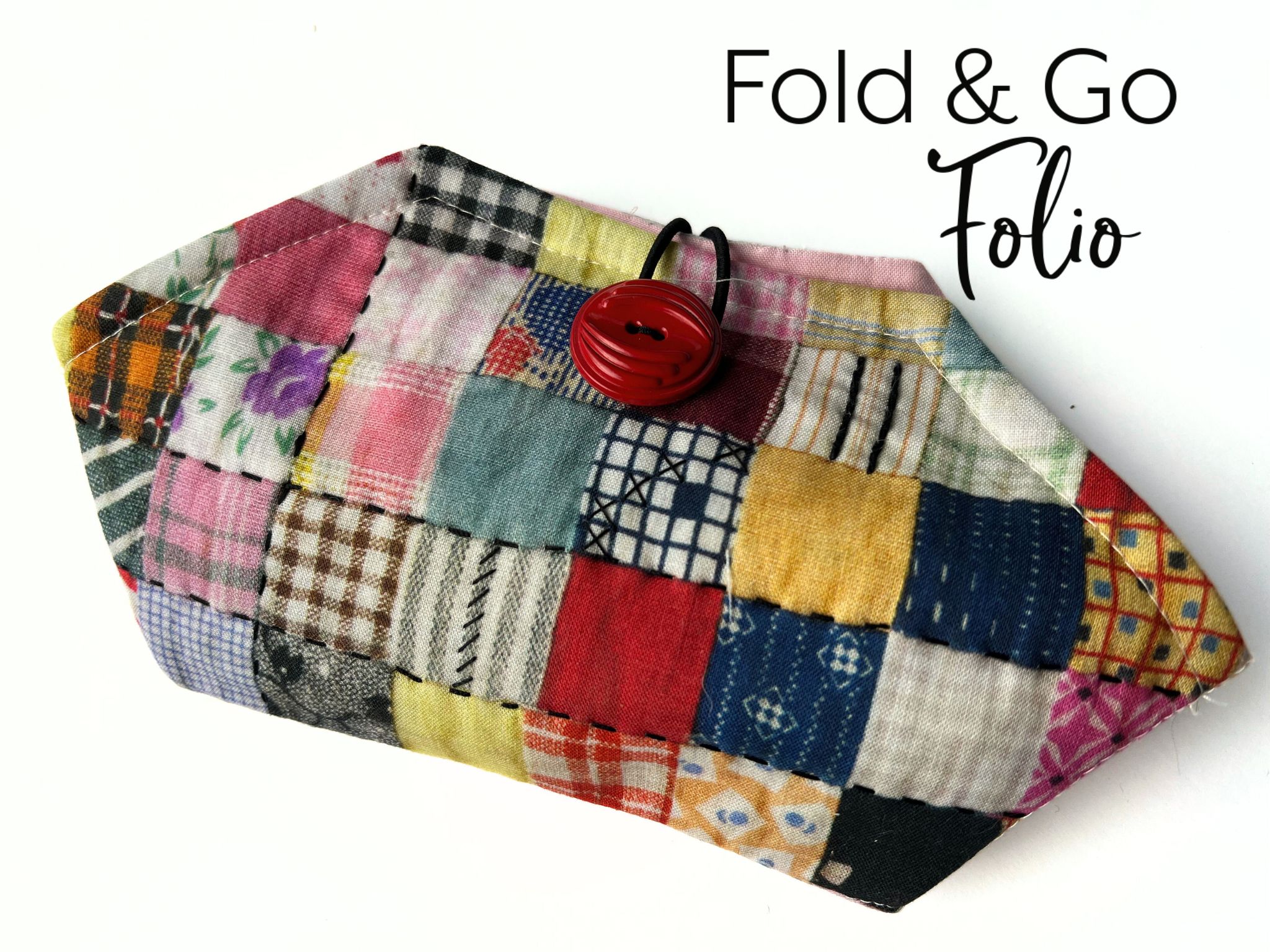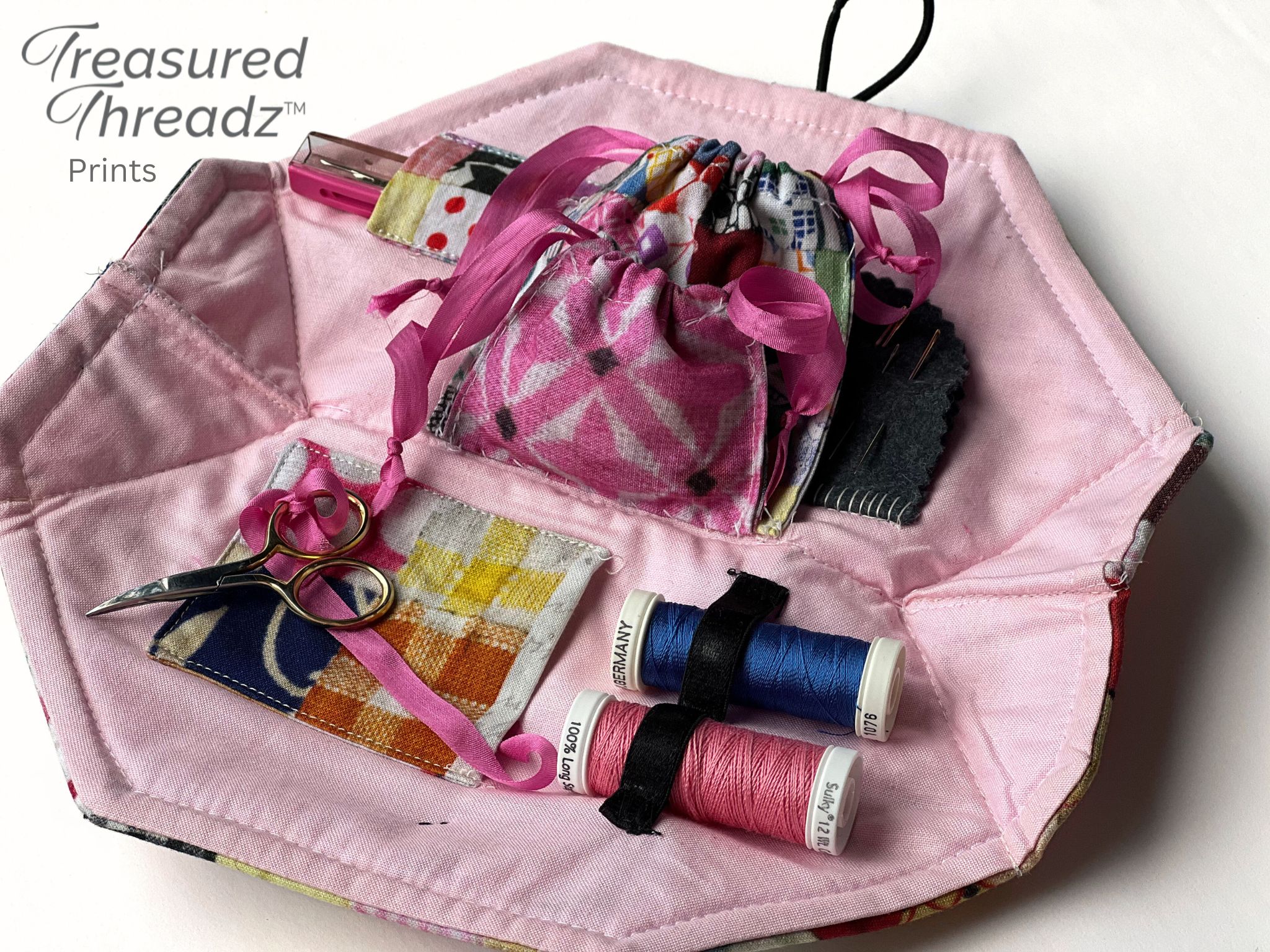 I hope I have inspired you to dream up a creative project with Treasured Threadz™! Whether you choose to mend, refresh preloved clothing or sew a new project, Threaded Threadz™ is your shortcut to boutique fashion and FUN!
Visit Coloinal Patterns.com to purchased Treasured Threadz Fabric Panels and print versions of my patterns, including the Fold & Go Folio.  
This is an Instant PDF Download. Create cases for tools, jewels, or tech essentials! Choose from two sizes and several options for jewelry or sewing notions storage. Drawstring pockets store necklaces, bracelets & broaches or thimbles, clips & buttons. The Fold & Go Folio can also be used for tech essentials like cords and memory cards. Small folio works well as a petite jewelry or needle case, with a single pocket for earrings or collapsible scissors. Large folio makes a perfect jewelry or sewing travel case. Finished size: 5″ x 9″ (large) & 3 1/2 x 6 1/2 (small). A QR code/link inside the pattern will lead to bonus content which includes a Look Book and three videos showcasing fabric options as well as notions and tools we recommend for the project. Eleven page PDF includes patterns and instructions featuring 11 color photos and 10 diagrams illustrating steps for sewing. If you are interested in purchasing a printed copy, visit your favorite quilt or fabric store.
Get inspired with Amy!
Receive this free PDF tag art as a gift when you join.