Aren't we all just tired of things? Nobody wants to buy things anymore. We want experiences.

These were words spoken in a panel discussion at the Creative Connection Event this past September. They attest to the fact that more and more people are understanding the great value of handcrafted goods and personal connections to our work. This sentiment is, I believe, at the heart of the DIY Revolution. In the handmade market, the buyer and the seller often experience a connection over the purchased item. The buyer knows the seller created his or her work because of an authentic interest, which also adds to the experience. With the trendiness of upcycling and refashioning, the materials themselves might even have a back story all their own  adding to an even deeper experience.
Thinking of these things an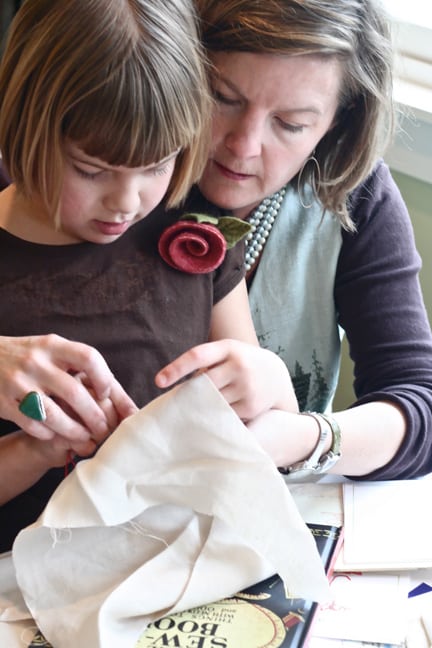 d the approaching Christmas holiday, I find myself feeling especially grateful for the coalescence of my work with my passion.  I've always loved vintage, and so much of the material that I collect informs my work with Indygo Junction, The Vintage Workshop, and, of course, with Vintage Notions. By working with materials that already have lives of their own, I know so many stories behind my creations. I feel so blessed to be doing what I am doing because of how many different experiences can be a part of just one pattern or recipe or book that I share with you.
When I found Mary Brooks Picken and the Women's Institue, for instance, there before me was an already rich history of people and stories. Through my eyes and the eyes of my talented team, that history became something new in the form of Vintage Notions. From there, my hope is that you will take the content of Vintage Notions and use it to create your own, new experiences. To help you create and share with your own friends and family, we even created Vintage Notions Book Guides for both one-time and month-by-month meetings.
There's a wonderful article from 1924 that I feature in Vintage Notions, called, "The Art of Giving", which suggests that, "Among the most welcome gifts we receive are simple things we never take time to make for ourselves." It offers several creative, thoughtful handmade gift ideas for various kinds of people in your life. Indygo Junction shared this article and suggested some great would-be gift patterns for sale on their blog, recently. Of course, the nice thing about patterns is that they can be made into gifts or given as gifts!
There are many ways to give experiences during the holiday season. Whether you make your own gifts, buy from local or independent artisans, cook and bake yummy food, or open your home family and friends, my hope is that you will find a way to share the spirit of "handmade" with your loved ones!