I am so excited to introduce you to Debbie Maddy and the wonderful fabrics she designs for Moda. When I saw her new Kawa and Yukata lines I knew they would be  perfect for my  Anytime Topper . This quick & easy pattern is all about the fabric!  In the Kawa prints I am wearing we picked a different print on each side of the front. I share more about Debbie's fabric and several versions of the AnyTime Topper as well as the Fold & Go Folio pattern in this video.
Debbie loves all textile arts and, in addition to the stitched resists she does for her Shibori dyeing, she also does Sashiko stitching. You see both reflected in her fabrics! Debbie also designs quilt patterns and travels the US teaching Shibori Indigo Dyeing. If you'd like to learn Shibori right in your own home, be sure to check out Debbie's two Creative Spark online classes.
What was Debbie's Inspiration?
Yukata reflects her love of vintage Japanese textiles, while Kawa, which means river, incorporates visions of nature and it's peaceful flow. Her fabrics are wonderful for quilting and so many other projects! Both Yukata and Kawa offer a signature "patchwork print". Yukata combines vintage Japanese textiles as well as sashiko stitching. Kawa offers a panel with 6″ square Shibori dyed designs. These are my favorite prints in the line as they offer so many elements to work with.
 Now for a few sewing tips!
Most of Debbie's fabrics are printed on a very fine, high-quality cotton, which is great for any length of Anytime Topper. The Shibori design goes all the way through, making a two-sided fabric. Perfect for the Topper! Along with the cottons, a few of the collection prints are printed on a medium-weight linen. We found that hemming the short version for a cropped style of the Topper was terrific for the linen, which has less drape. Stitching the shoulder pleats down also helped with shaping the linen Topper. A great hint for any other medium weight fabrics or thicker fabric like polar fleece.
Stitched Pleat & Cropped Version!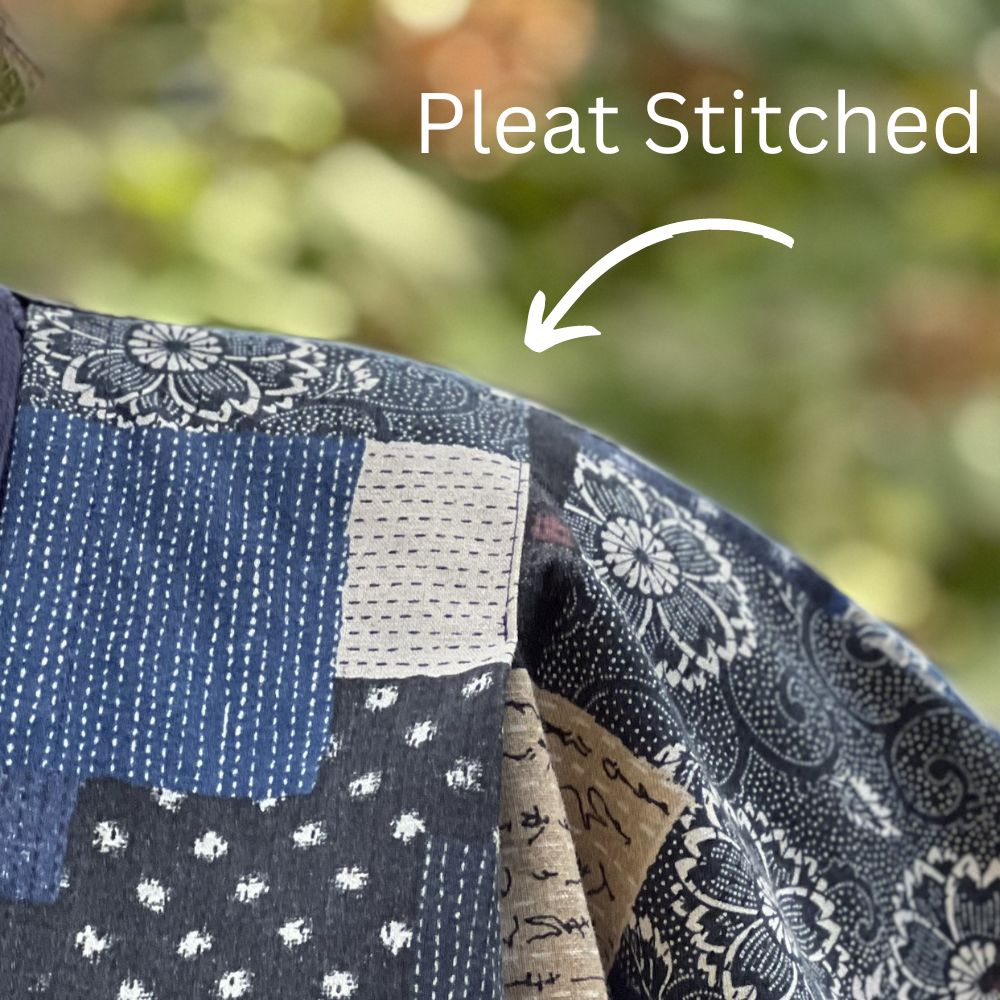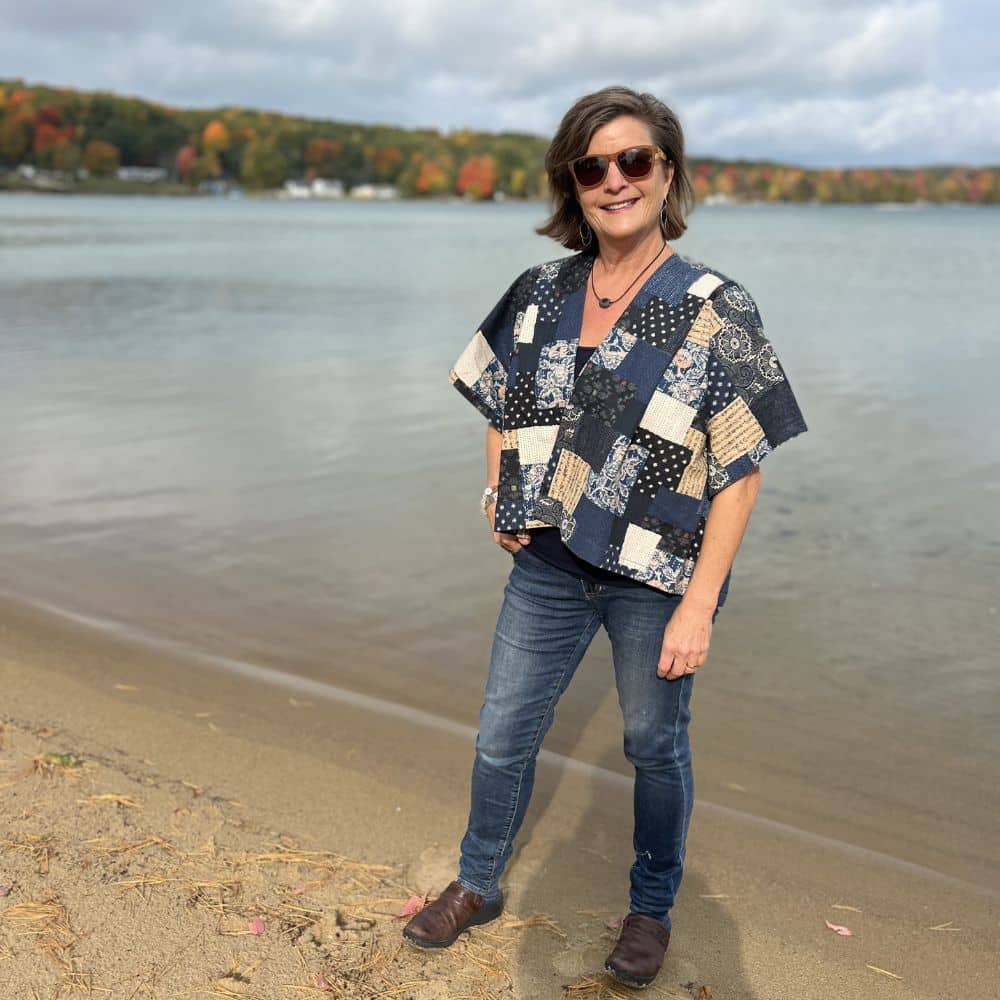 NOTE: This Pattern is a PDF Download.
This is an Instant PDF Download. A wrap, shrug, robe, or beach cover-up. This loose fitting, versatile style can go from casual to a cocktail party depending on fabric choice. The quick and easy construction make it as fun to make, as it is to wear. The pattern includes two sizes (S-XL), (2X-3X), with mid-hip (short), just below the knee (medium), and mid-calf (long) length options. Inspiring ideas for upcycling fabrics like scarfs and kitchen linens are featured in fifteen color photos. Pattern includes eight page PDF with instructions and diagrams for making an AnyTime Topper from yard goods, as well as upcycling instructions for creating a Topper from a scarf or tablecloth, bandanas and cotton toweling.
Get inspired with Amy!
Receive this free PDF tag art as a gift when you join.