Hankies are a perfect fabric to upcycle for  
Fold and Go Folios
. They have been part of practical fashion for over 200 years and rose to popularity in the USA in the 1940s. The beautiful designs available are endless! You may have your own collection or find them in Grandma's dresser or a vintage market. Collecting and upcycling hankies is an enjoyable way to preserve a bit of textile history. If you love learning history, you may enjoy
checking out the preview
of the course I offer on hankies at
VintageModernMakers.com
.
As a passionate collector of vintage hankies, creating projects from these precious little beauties is a joy.  It's always a thrill to find two hankies that coordinate. A large and small scale design are ideal for the exterior and interior fabric for your Fold & Go Folio. Try to find vintage fabric that pairs well with hankies like this Feedsack print.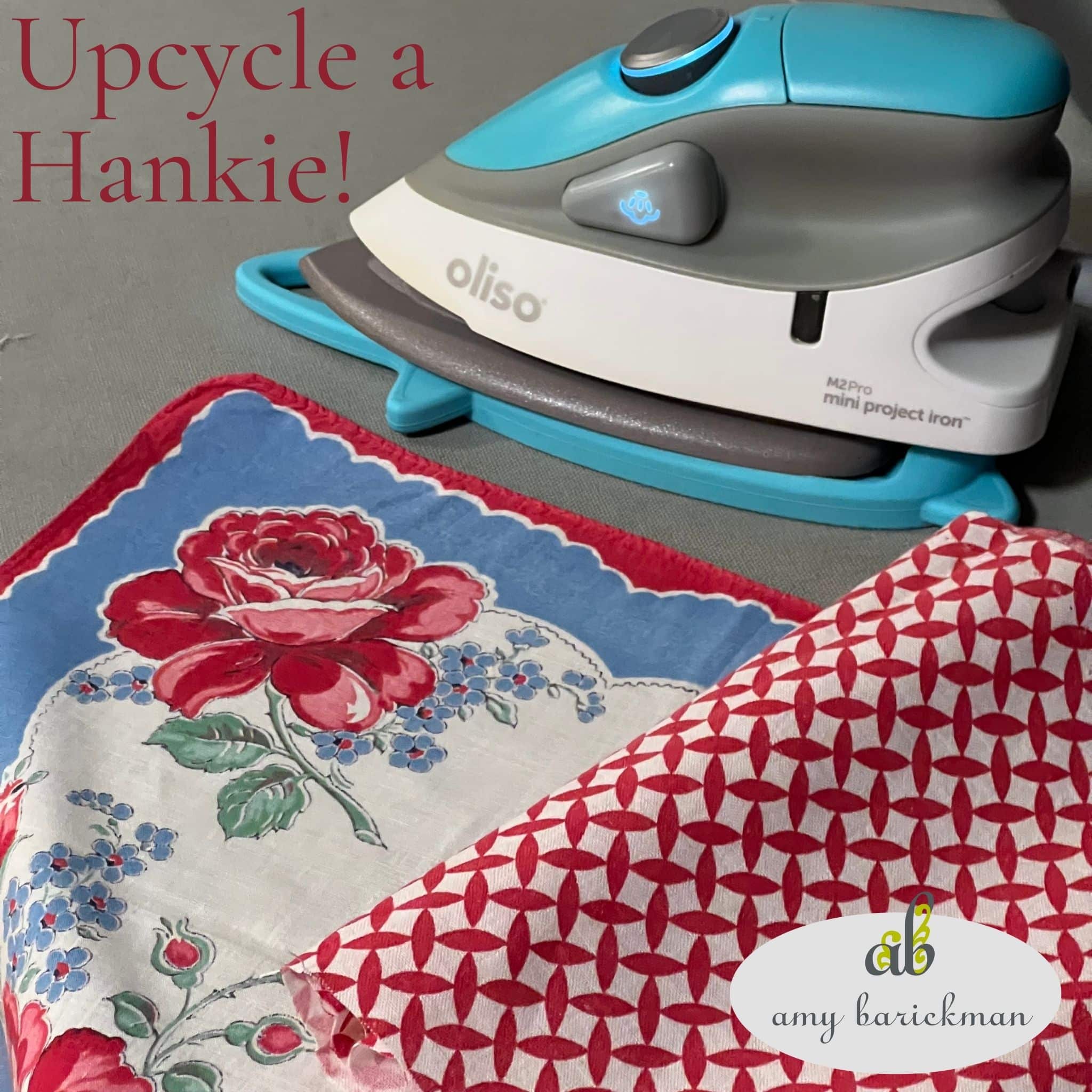 I love using my Oliso Mini Project Iron for making my Fold & Go Folios! This is a great iron both practical and beautiful. It's precise tip is just the size I need for pressing the points of the Fold & Go Folio pieces. It's a must-have for all my projects and it comes in such pretty colors!
The needle keeper can also be a perfect spot to secure earrings. The drawstring bags are the ideal size for storing ear buds, as well as jump drives and memory cards. Above is the small version.  See the photo below showing both sizes in Hankies that we fussy cut to showcase the rose designs.
The pattern includes options to cusomize the interior as either a sewing or jewlery storage case. The large drawstring bag is  is sized for bracelets and I love the small bag for rings or a thimble!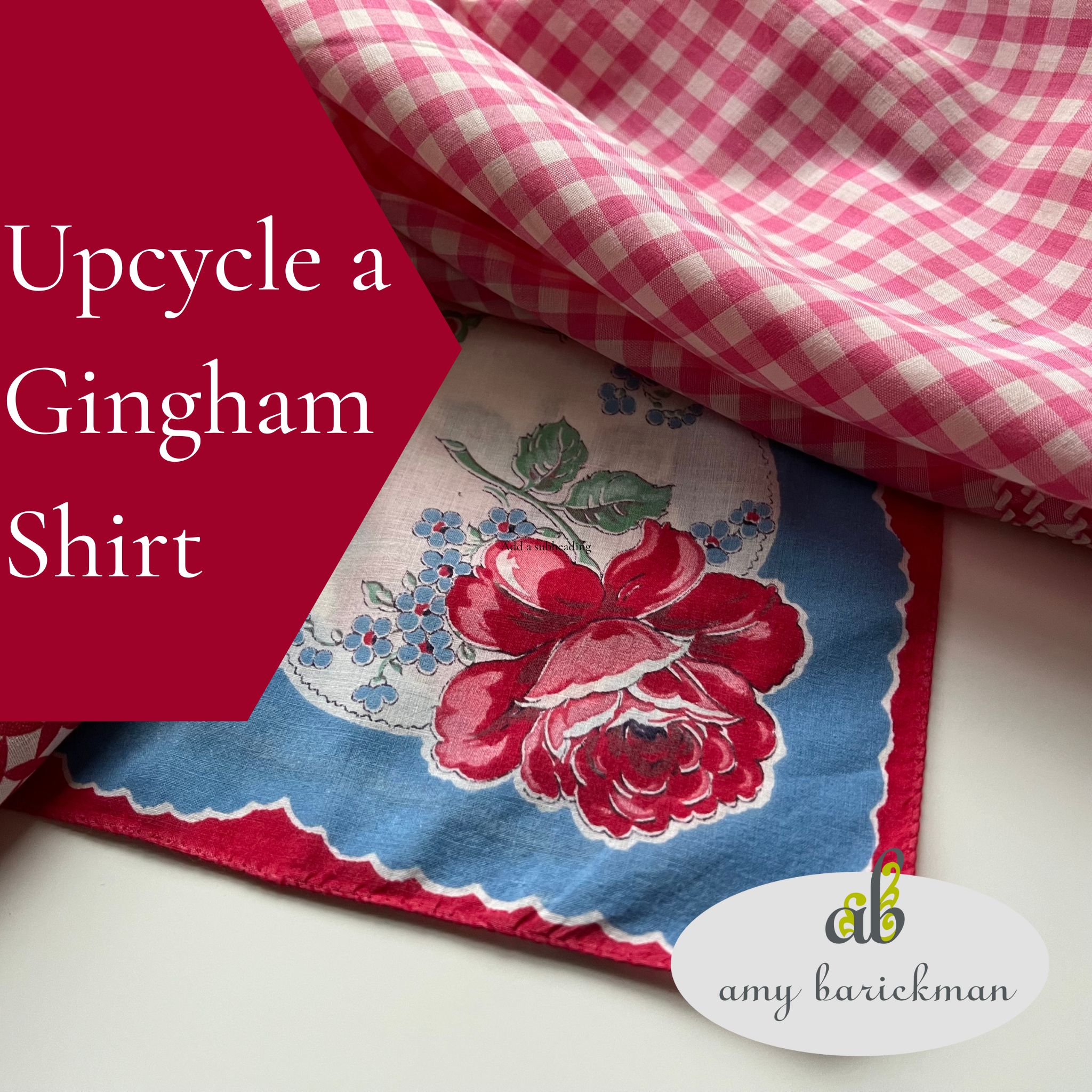 Gingham is another one of my "go-to" fabrics to companion with hankies! It's easy to find in your local fabric shop or at the thrift store. Gingham shirts
or dresses are perfect for upcycling! And think of all of those retro gingham aprons you see in antique shops!
I also have a VintageModernMakers.com DIY course on Gingham. Check out the preview here.
Purchase the Fold & Go Folio PDF
Get instant access to the Fold & Go Folio epattern below or if you would like a print version ask your favorite quilt or fabric shop to order the pattern for you.
NOTE: This Pattern is a PDF Download.
Create cases for tools, jewels, or tech essentials! Choose from two sizes and several options for jewelry or sewing notions storage. Drawstring pockets store necklaces, bracelets & broaches or thimbles, clips & buttons. The Fold & Go Folio can also be used for tech essentials like cords and memory cards. Small folio works well as a petite jewelry or needle case, with a single pocket for earrings or collapsible scissors. Large folio makes a perfect jewelry or sewing travel case. Finished size: 5″ x 9″ (large) & 3 1/2 x 6 1/2 (small). A QR code/link inside the pattern will lead to bonus content which includes a Look Book and three videos showcasing fabric options as well as notions and tools we recommend for the project. Eleven page PDF includes patterns and instructions featuring 11 color photos and 10 diagrams illustrating steps for sewing.
Get inspired with Amy!
Receive this free PDF tag art as a gift when you join.