It's that time of year. Time to plan gifts for family and friends. Why not keep that spirit of giving all year long as Mary Brooks Pickens my muse (and inspiration for my Vintage Notions book) suggests. Take a moment out of your day to do something kind for others, even something as simple as having a neighbor over for a visit. Christmas Kindliness, the article we feature in the December chapter of Vintage Notions, again encourages these small acts of kindness, which can have large returns of happiness.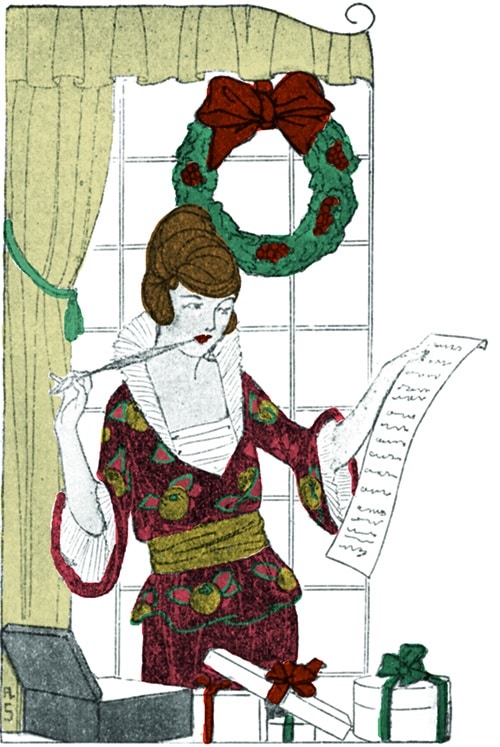 With regards to giving Christmas gifts, Mary has this to say,
"The gift's responsibility is not to express money, but thoughtfulness. It should bring joy and tenderness to the hearts of all who are privileged to give and to receive."
The old adage is true, it's the thought that counts. This year, I found the perfect gift to give to my friends and neighbors, Candy Cane Popcorn. This may not be a high ticket item monetary wise, but it is a gift to let my friends know that I appreciate them. It also features an inexpensive, but inventive gift wrap…just a red solo cup wrapped in striped tissue and tied with a bow! I found the recipe in Better Homes & Gardens, and it is so delicious I want to share it with you.
Also, feel free to print out this recipe card, it makes a perfect gift tag. To download this free image, click the link below the card. Enjoy!

This month, the Department of Decorating gives us ideas on adding a Festive Touch at Yuletide. I find it fascinating that the advice in the article, which was written in 1924, mirrors any decorating advice you would see today! I love the creativity of decorating for the holidays, but oftentimes with the demands of work and family, the thought of decorating can become overwhelming. I find it is always more fun to decorate with family or friends, this year I helped my mom with her tree and hanging her gorgeous collection of ornaments.
I like to use vintage glass bulbs in my decorating…I love their gorgeous colors and reflective quality. One of my favorite displays is my large wooden bowl that holds glass bulbs and roving balls left over from Indygo Junction needle felting projects. I love the juxtaposition of the shiny, vintage ornaments next to the textured roving.
I also used the vintage baubles in my front door decoration, which adds a little twinkle to the greenery. I collect vintage Santas and snowmen which I featured in small vignettes around the house, which I like because it spreads the festivity to other rooms of the house. I think the Department of Decorating would approve!