Memorial Day is the start of summer and the season of decorating in red, white, and blue! Here are some ideas for you. A Button Flag project—how much fun will this be to create? First, dig into your button box or grab grandma's from the closet, sift to find as many red, white, and blue buttons as you can. Next, call your creative friends to see if they have any buttons for you to fill in where needed, OR hit the Antique Mall to find more vintage treasures to complete your flag. Stitch them on a pillow or t-shirt to celebrate the upcoming flag-waving holidays. Memorial Day, Flag Day, and the Fourth are just around the corner!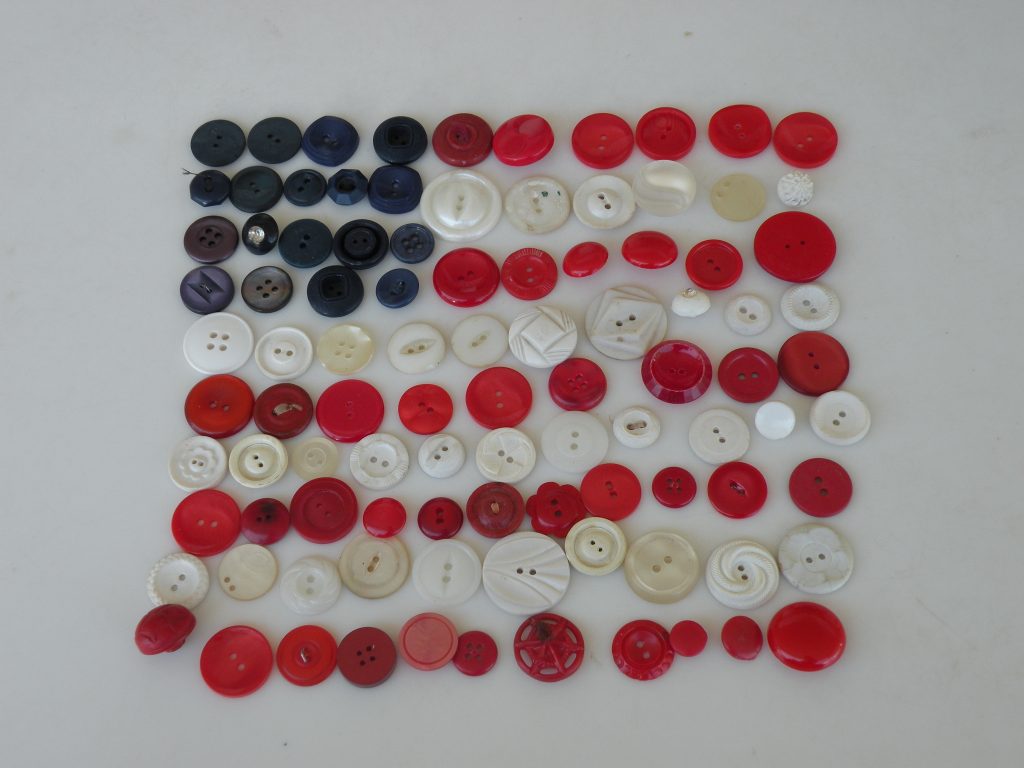 If you need more inspirational ideas on how to use your buttons, check out my Button Ware Ebook available in my shop.
Memorial Day was originally called Decoration Day. It began as a day when the graves of those who died in our nation's service were decorated. It was first officially observed in this country in May 1868 when flowers were placed on the graves of soldiers who were buried at Arlington National Cemetery. In the late 1950s, the tradition began with the 1200 soldiers of the third US infantry on the Thursday before Memorial Day. The soldiers placed a small flag at each of the 260,000 graves at Arlington and then patrolled the graves 24 hours a day through the Memorial Day weekend. The tradition is known as "Flags In". See more about this event on the Arlington National Cemetery site.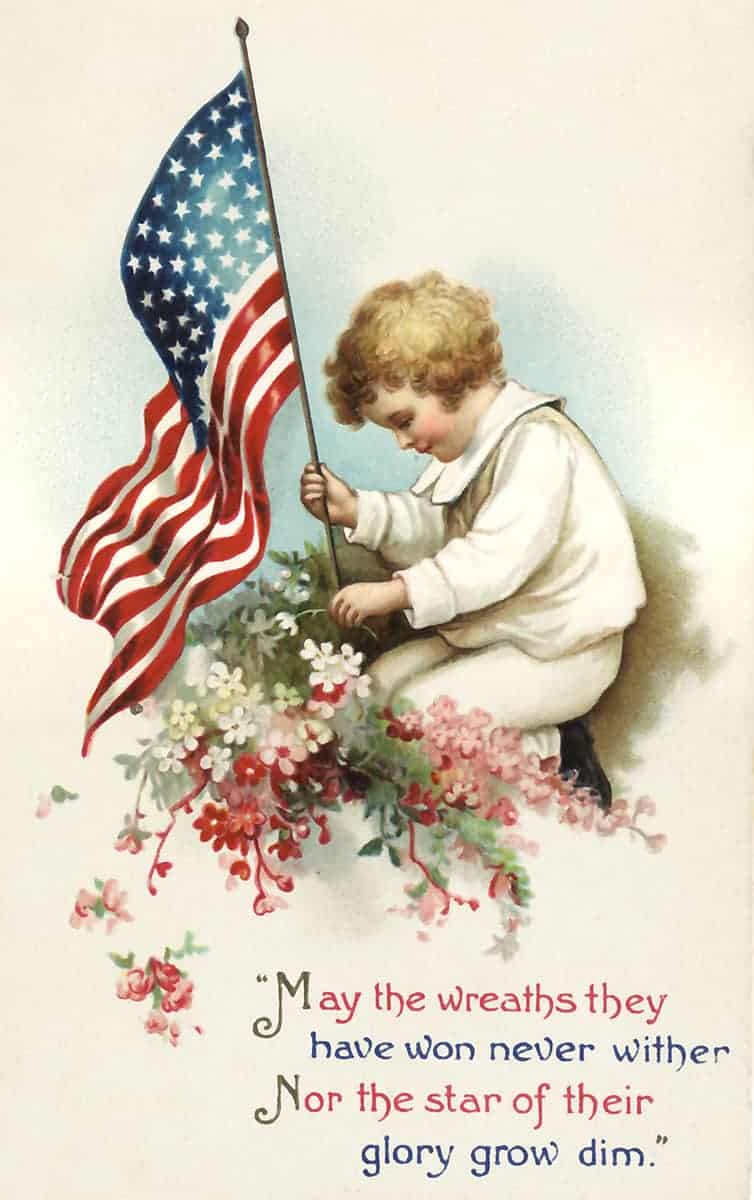 Memorial Day has now extended to include the honoring of those who have passed over. The tradition is now to decorate the graves of our loved ones during this holiday. This "Decoration Day" vintage postcard is my collection seemed fitting to share.
Patriotic Photos
Here are some of my patriotic real photo images and some ideas for displaying them. Peonies are my flower of choice this time of year! What is yours?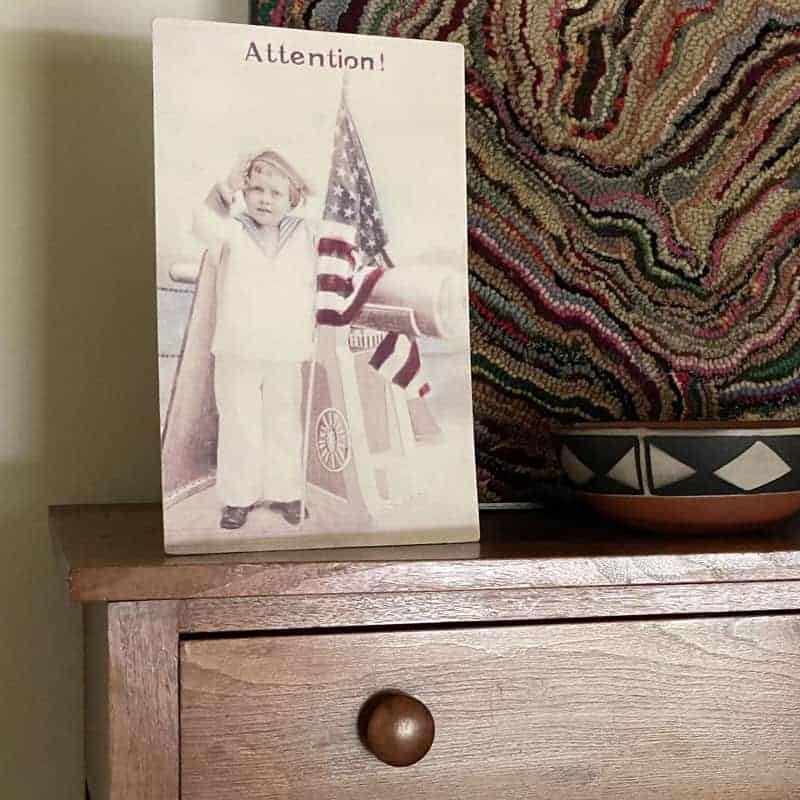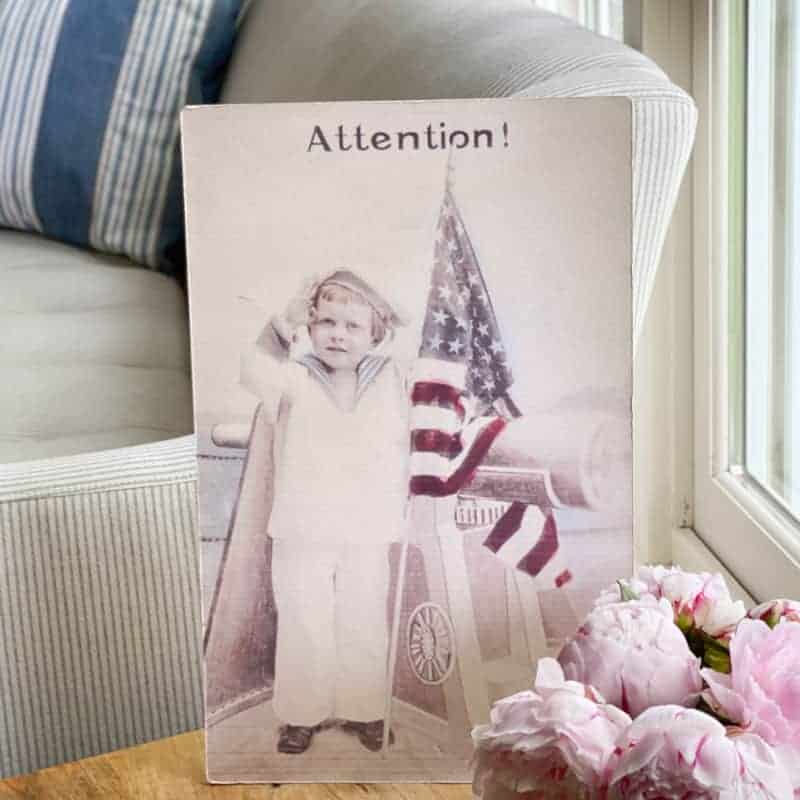 Printable Image
Create holiday decorations for your home like the images posted above using this digital printable.
Sailor Boy Saluting American Flag
This is a printable image. The watermark and the border on the listing preview do not appear on the image you will receive. Note: The actual printed color may vary based on your monitor and printer settings.
Get inspired with Amy!
Receive this free PDF tag art as a gift when you join.
Subscribe to my newsletter and get weekly inspiration, project ideas, and learn the history of handmade. I will share what's new in my latest blog posts, and let you know when you can join me live on Facebook.