I hope this Mother's Day offers you a chance to be with your family, something you may have missed last year. I know I am looking forward to spending Sunday with my daughter and niece who will be visiting from Michigan. Here is a little history and vintage inspiration for you. Don't miss my live this week in my Vintage Made Modern Facebook Group, as Donna and I will host a Mother's Day Episode! Scroll down and you can find a free image you can use for your Mother's Day card-making!
To see Mother's Day card ideas jump ahead to 6:31! 
With Mother's Day approaching this weekend, I wanted to share this information on the history of the holiday I received this week in a newsletter from Eclectics Gift Gallery, a wonderful handmade shopping venue here in Kansas City:
Although we should be doing it every day, Mother's Day officially recognizes moms and the positive contributions to society.
In the United States, one of those contributions, led by peace activist Ann Jarvis in 1868, was to reunite families and friends divided during the Civil War by creating a "Mother's Friendship Day."Ann had previously organized Mother's Day Work Clubs to combat unsanitary living conditions and teach young mothers how to care for their children safely. She died before expanding her efforts into an annual memorial for mothers, but her daughter, Anna, took on the task in 1905, the year her mother died. She then spent the rest of her life fighting against the commercialization of the holiday.
Anna Jarvis wanted to honor these efforts and set aside a day to honor all mothers because she believed a mother is "the person who has done more for you than anyone in the world."
In 1914, Woodrow Wilson signed a proclamation designating Mother's Day, held on the second Sunday in May, as a national holiday to honor mothers.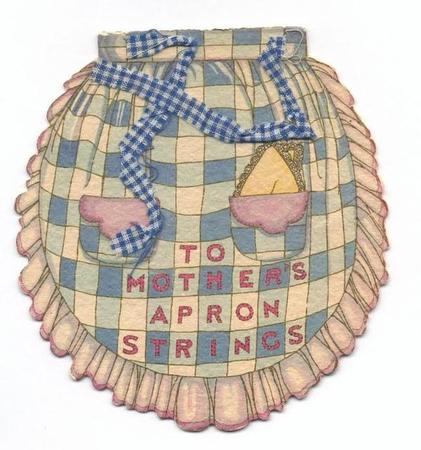 I love this Mother's Day card, which is a vintage Hallmark card, the apron strings are actual fabric! Aprons are one of my favorite vintage finds. My collection was my source for designing many of Indygo Junction's apron patterns.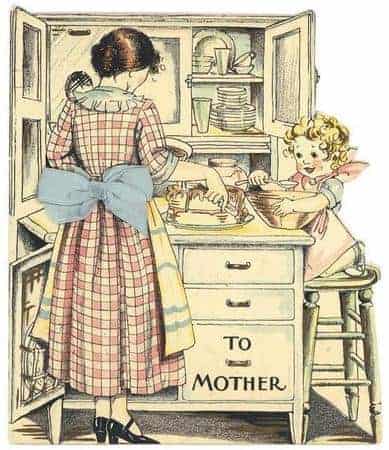 Here's another example I found using a ribbon bow. I thought it was too cute with the child eating batter or icing out of the bowl! Reminds me of my mom letting me do the same thing as a child.
If you love vintage-inspired patterns, be sure to check out my Vintage Notions book which has a number of apron patterns included, see some examples below. Pick a favorite and sew it up.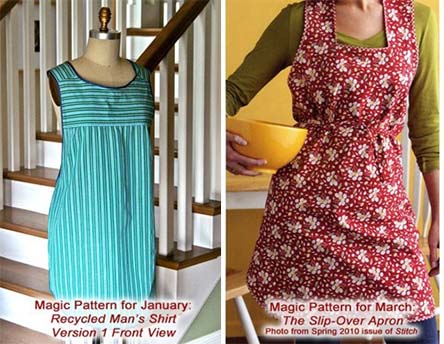 I filmed a video back in 2015 with Vanessa from Craft Gemini that shares many of the aprons from my Vintage Notions book as well as a shirt apron tutorial. To view the video, click here.
"Appropriate" Mother-of-Pearl Button Card
This is a high-resolution (300 dpi) digital download image of a vintage button card that features 2 mother-of-pearl buttons and an illustration of a mother and two children from Bluebird Buttons. The image is available to you as an instant download in .jpg format that you can save to your computer and print unlimited times.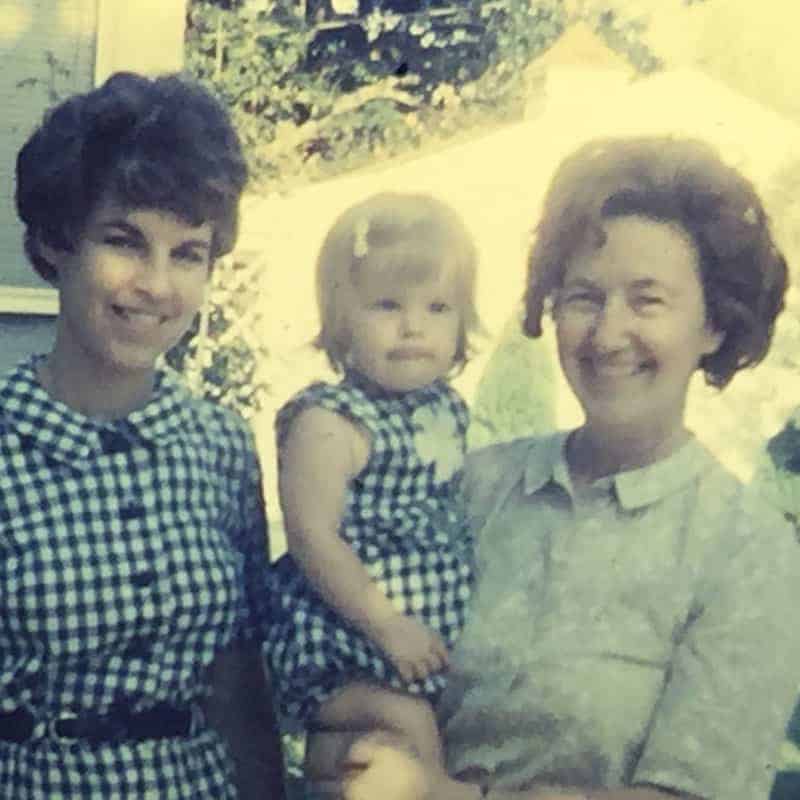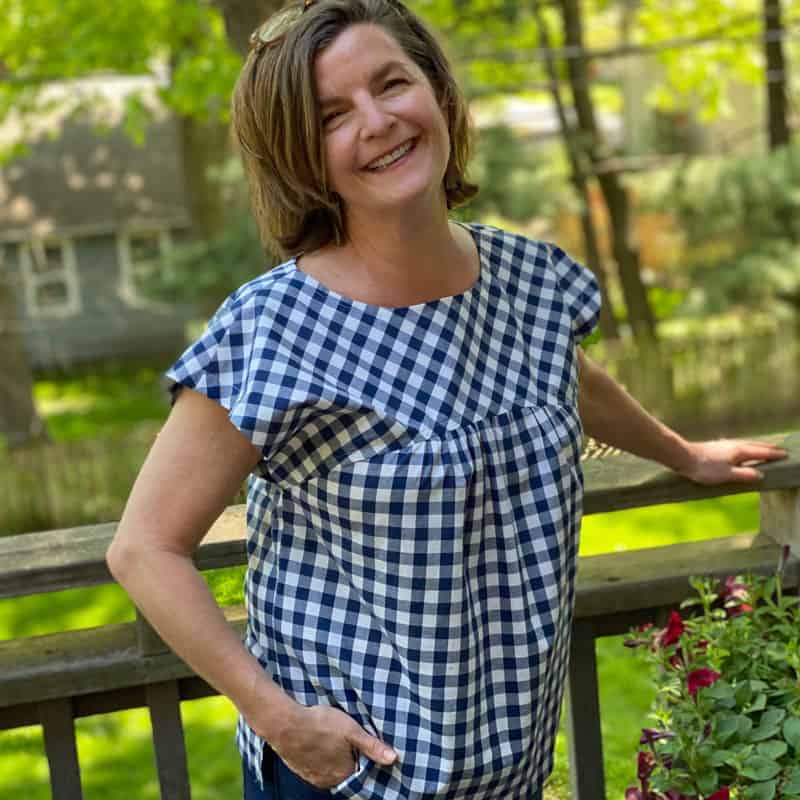 Here is a photo of my Grandma holding me and my wonderful mom! She sewed a gingham outfits for me back then, and here is Indygo Junction's Slight Sleeve Top & Tunic she sewed for me a couple of years ago. I am so grateful for both her and my grandma's love and creative spirits influencing my life!
Get inspired with Amy!
Receive this free PDF tag art as a gift when you join.