I am so excited to share my Crossroads Embroidery Series with you! I recently finished this series of videos in partnership with Sulky Threads. I love to share hand embroidery with other makers, and I can't wait to teach you how to get started stitching. The first two videos of the series cover the things you need to know to get started stitching:
-choosing your thread
-foundation fabrics
-trace and transfer methods
After we have covered the basics we will move on to embroidery stitches. I will demonstrate six stitches that are the basis of any stitch library: back stitch, stem stitch, cross stitch, chain stitch, the French knot and the lazy daisy. Today's video is all about getting started with the right thread and needles – both important tools for hand embroidery.
Recently I have partnered with Sulky Threads to create a line of 12 weight Crossroads Threads, which coordinate with my Crossroads Denim fabric line. This series is a great way for me to share the unique features of the thread and also teach tips and techniques for embroidery that I think you will find valuable to achieve success in your stitching!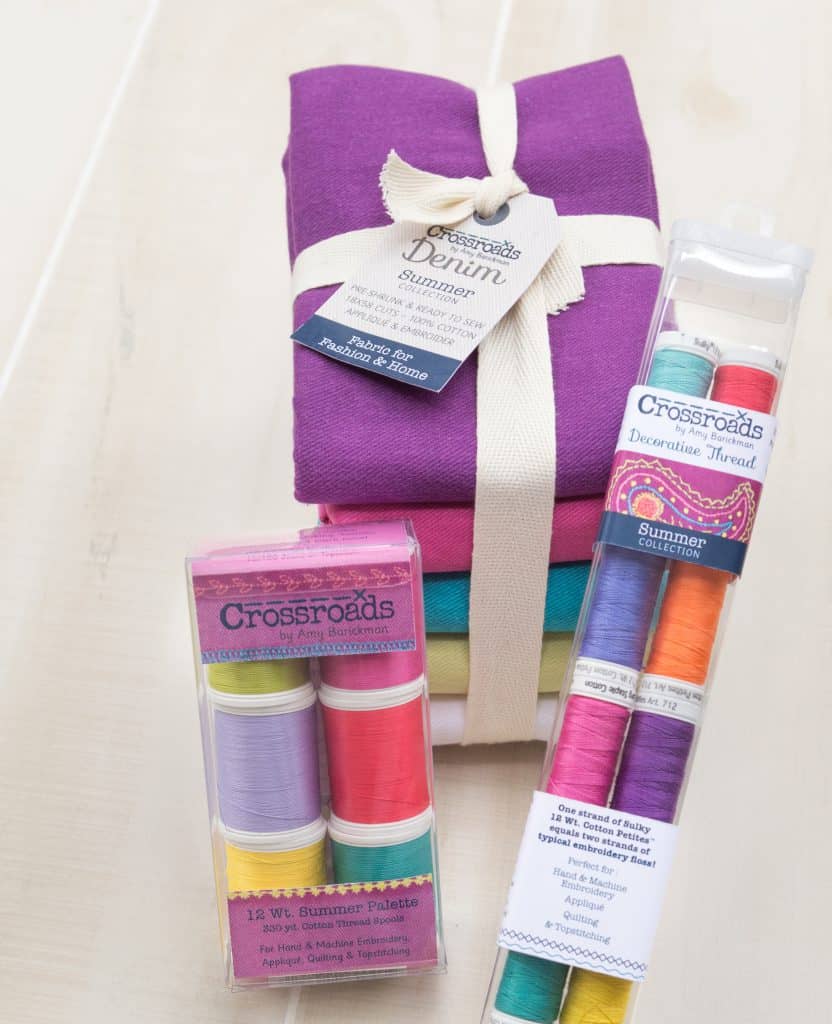 I was inspired to create
Stitched Style
after stitching on my
Crossroads Denim fabric
. I found that my denim which I love to use for garments and purses is also a great foundation fabric for embroidery. We created 65 embroidery designs for Stitched Style, which are perfect for garments, but also great for other projects, like purses and pincushions. Below, you can see a great example of the Crossroads Thread stitched on Crossroads Denim.

Before we get started stitching, we need to gather our materials. First and foremost, we need thread. The most popular threads for hand embroidery are embroidery floss or Perle cotton. Embroidery floss is made of six strands of slightly glossy thread. Perle cotton has a 2-ply strand that comes in several weights. You don't separate Perle cotton as you do embroidery floss; you choose the strand thickness when you choose the weight.
Both embroidery floss and Perle cotton come in hanks of thread. However, my Crossroads Thread comes on a spool. You may be surprised that you can embroider with thread on a spool (that can also be used on a sewing machine) but I find that I like working with spooled thread better than your typical embroidery floss. I think you will too!
When you work with spooled thread, you don't get all those messy tangles that inevitable come with embroidery floss. You can easily pull your thread off the spool to the length you desire. One strand of 12-weight thread is as thick as two strands of embroidery floss. You can add or subtract strands to get your optimal stitching line thickness. Crossroads thread is also extremely durable, which is great for my projects that get a lot of wear like purses, garments and dishtowels. However, you can also use it for machine work such as top stitching, machine embroidery, and quilting.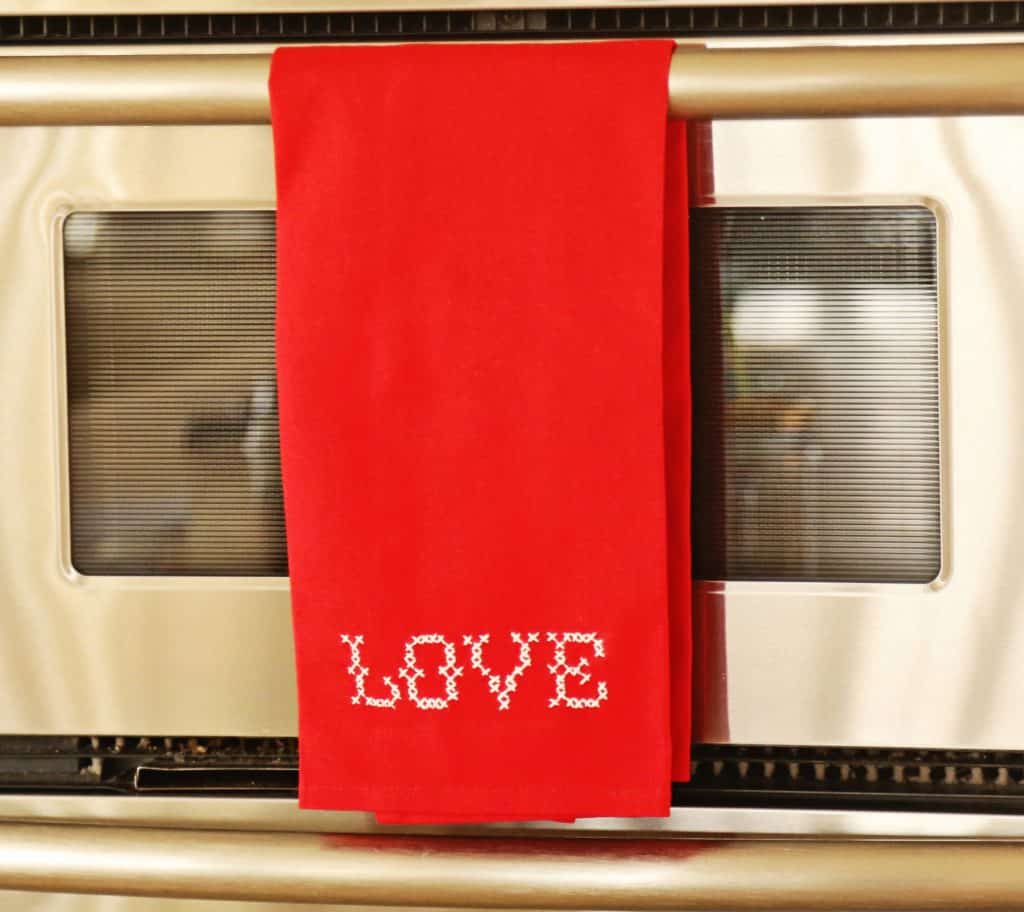 After you have chosen your thread, it is time to get the right needles. You will want to look for embroidery needles, which have sharp points and large easily threaded eyes and come in a variety of sizes. When choosing your needle size, keep in mind that you want the thread to pass through the fabric with minimal abrasion. However, keep an eye out – you don't want the needle to leave a noticeable hole in the fabric after stitching.
Join us in the next post for tips on getting ready to stitch, including learning about foundation fabrics, trace and transfer methods and embroidery tools! If you want to see all the videos in this series, you can head over to our Indygo Junction YouTube Channel and watch our Crossroads Embroidery Series playlist! Don't forget to hit the red SUBSCRIBE button so you can be the first to see any new videos we release!
My Vintage Notion
"There is in every woman an artistic sense which seeks an outlet in some work of her hands, and the art of embroidery seems with most of them an adequate expression of this longing"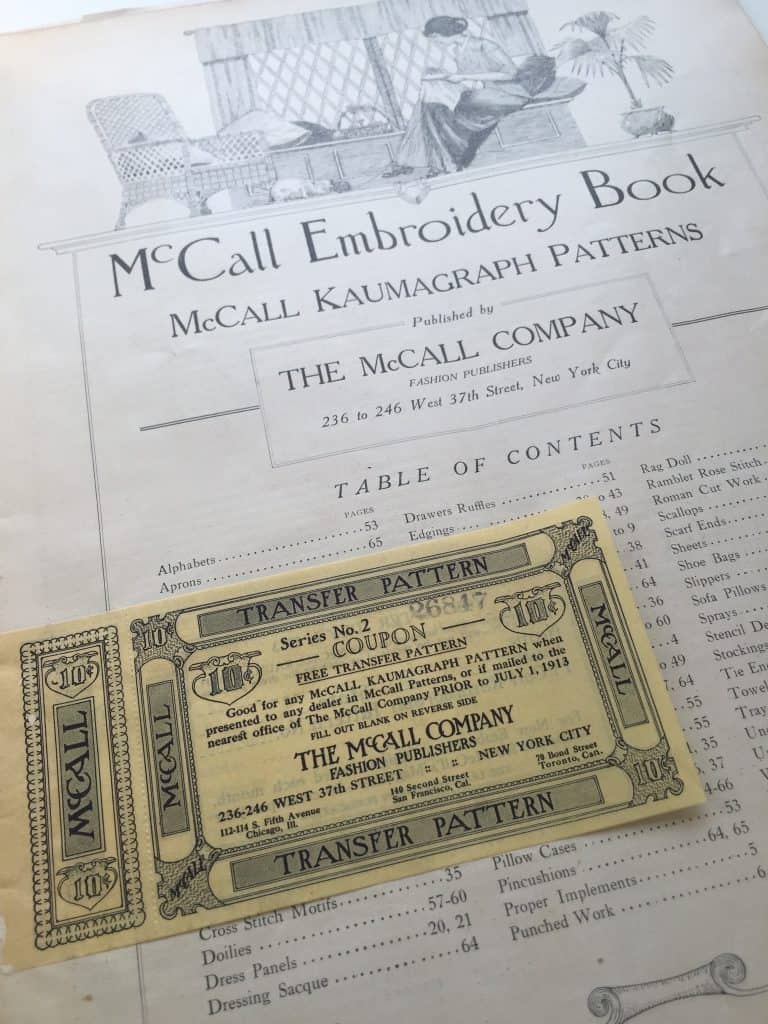 My vast library of vintage textiles and needle arts publications are a constant inspiration for my work and my collecting has become an addiction (there are many worse addictions, right?) I found this 1913 article in the "McCall Embroidery Book". Check out this fun coupon that was still glued to a page in the front of the catalog. I find it fun and incredibly interesting to see what our sewing sisters from generations past were reading and want to share the history with you!
The quote above is from the McCall's Embroidery Book. Click here to download the full PDF excerpt of the book.
If you share a passion for learning more about our sewing sisterhood from past generations, check out my
Vintage Notions Monthly
magazine and subscribe today!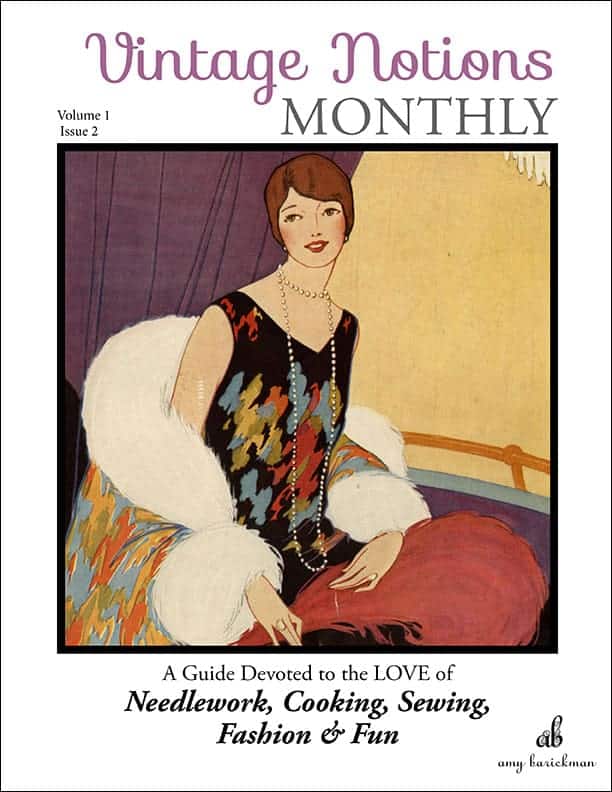 Save
Save
Save