Welcome to the seventh video in the Crossroads Embroidery Series. During the remaining videos in this series, we will be learning some basic embroidery stitches and I will be sharing a FREE embroidery design with each tutorial. Last time, we learned the French Knot and today I'm excited to teach you what might be my favorite stitch–the Chain Stitch.
In the first two videos of this series, I told you all about the basics. We learned about embroidery needles, thread and foundation fabrics in my first video.  In my second video, I shared the basics on tracing & transferring designs including my favorite method Sulky's Stick N Stitch.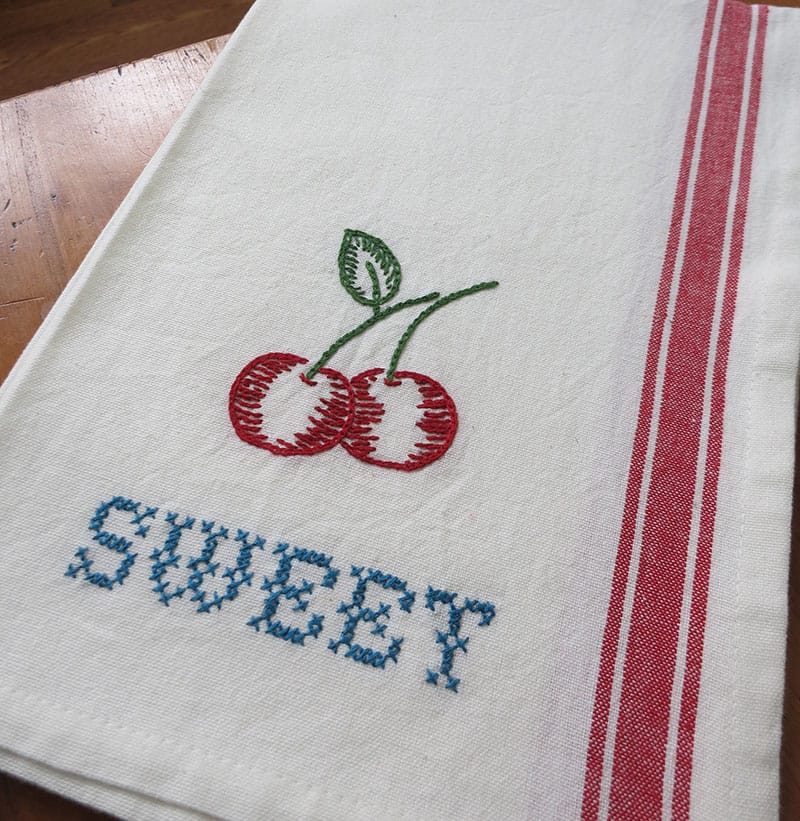 There are several methods for creating the chain stitch & today I'm going to share with you my favorite. Today's FREE pattern – Sweet Cherries – also features the stem stitch and cross stitch, which I covered in our previous videos. Cherries hold a special place in my heart as I vacation every year near Torch Lake, Michigan – the cherry capitol of the world.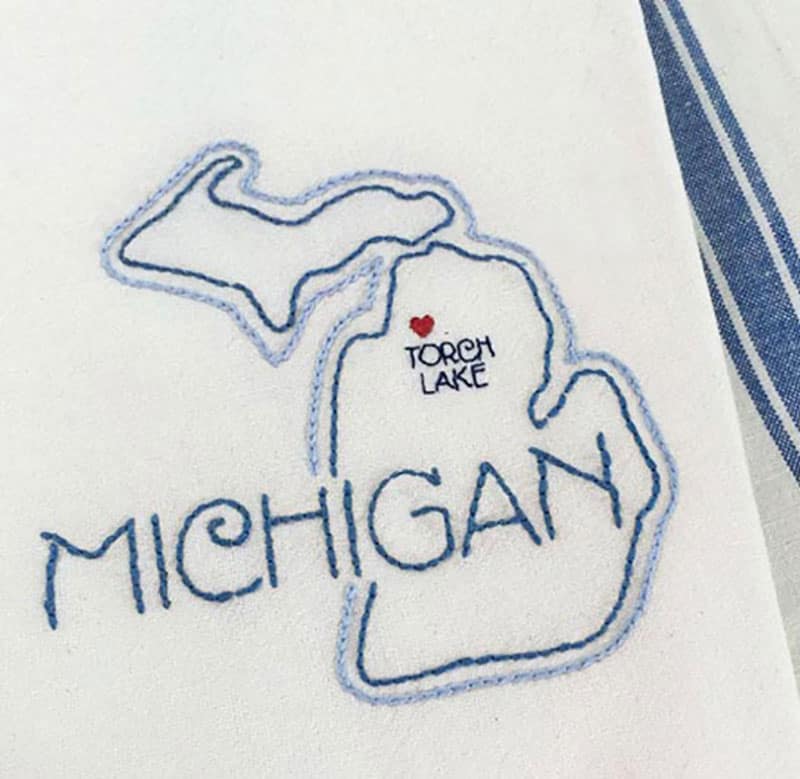 The chain stitch is ideal for outlines or lettering as it makes a thicker stitch. Let's get started:
Don't forget to stop by Sulky.com to pick up all the supplies I've featured in this series include a variety of thread collections, dish towels sets as well as Crossroads Denim & Stitcher's Garden fabric packs. It's a one-stop shop!  Join us next time for our last video tutorial with FREE projects as we learn the lazy daisy. See you next time!
Vintage Notions Bonus:
This month I wanted to share with you one of my new vintage inspired books – Land that I Love.  I was first inspired to create this book because of my love of vintage maps. Jump over to this blog post dedicated to the origins of this book & to see a sampling of my vintage collection.
This book is a great resource that contains all of the hand embroidery basics and stitch diagrams. It also contains line art to create a personalized project featuring your state including:
– State outline (two styles and sizes)
– State name in two font choices
– State slogan
– State flower, bird and major cities
– University and college pennants
– Iconic motifs that distinguish that state's culture
– Color key for state flower & state bird
– Three sizes of full alphabet for personalizing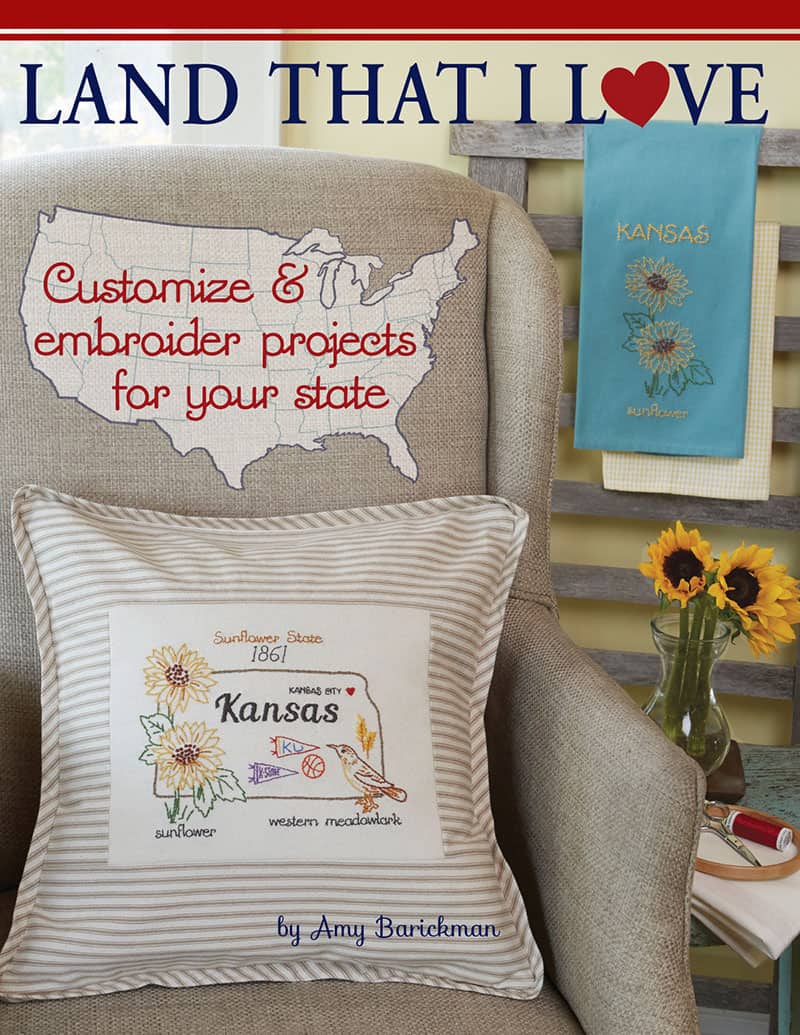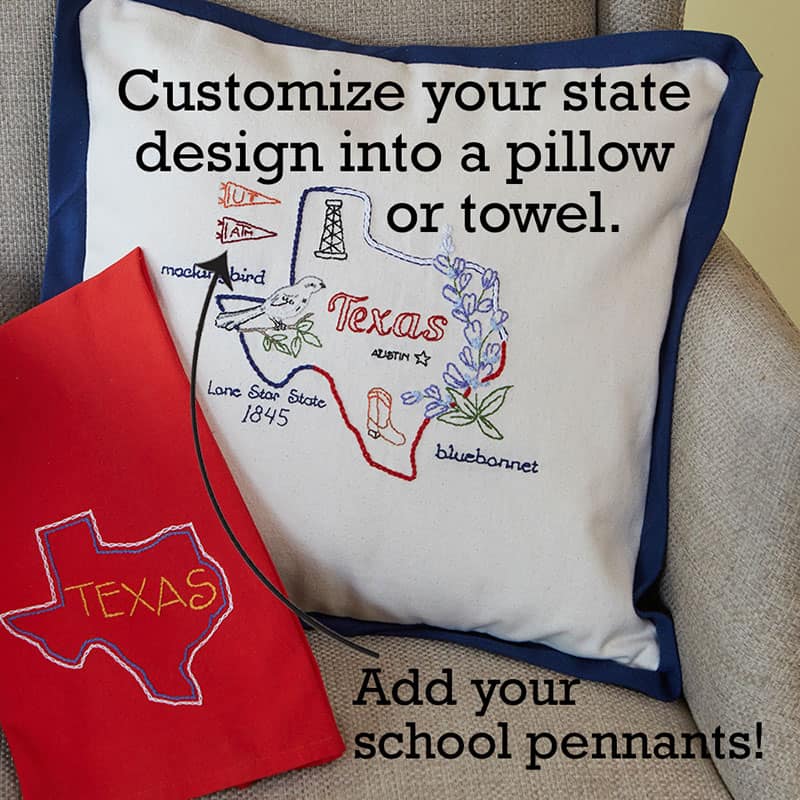 You can see all of my vintage reproduction books here and learn more about my Vintage Notions Monthly magazine and purchase subscriptions and back issues here. Click here to view a sample issue, too.