Welcome to the fourth video in the Crossroads Embroidery Series. During the remaining videos in this series, we will be learning some basic embroidery stitches and I will be sharing a FREE embroidery design with each tutorial.
Last time, we learned the Cross Stitch and today I'm excited to teach you the Back Stitch.
In the first two videos of this series, I told you all about the basics. Learn about embroidery needles, thread and foundation fabrics in my first video. In my second video, get the basics on tracing and transferring designs including my favorite method Sulky's Stick N Stitch. In the third video, I taught you the Cross Stitch and shared our first free embroidery design – LOVE.
Be sure to visit Sulky.com to check out my line of 12 weight Crossroads Decorative Thread, Sulky's Stick N' Stitch for transferring your designs and to find dish towel blanks, all of which I will be using in this project.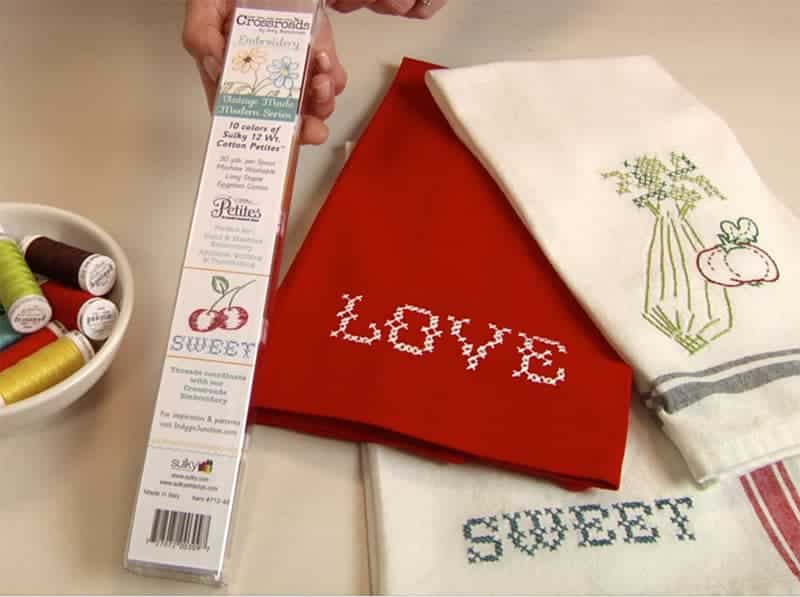 The back stitch is a great stitch to have in your library. It's perfect for outlining, especially for intricate details. Our design today uses the back stitch technique to accent our vintage garden boy image.
I love adding the simple redwork design to dish towel blanks for a quick gift idea!
Don't forget to stop by Sulky.com to pick up supplies. The Crossroads Embroidery- Vintage Made Modern thread pack includes all the thread colors that I'm going to use for the six FREE designs in this series. Sulky has also put together a dish towel pack, so you can make your own quick, creative gifts. You can also find Crossroads Decorative Thread, Crossroads Denim packs and my new Stitcher's Garden Thread collection on their website. It's a one-stop shop!
Join us for our next video as we continue with our stitch tutorials with FREE projects and learn the Stem Stitch. See you next time!
Vintage Notions Bonus: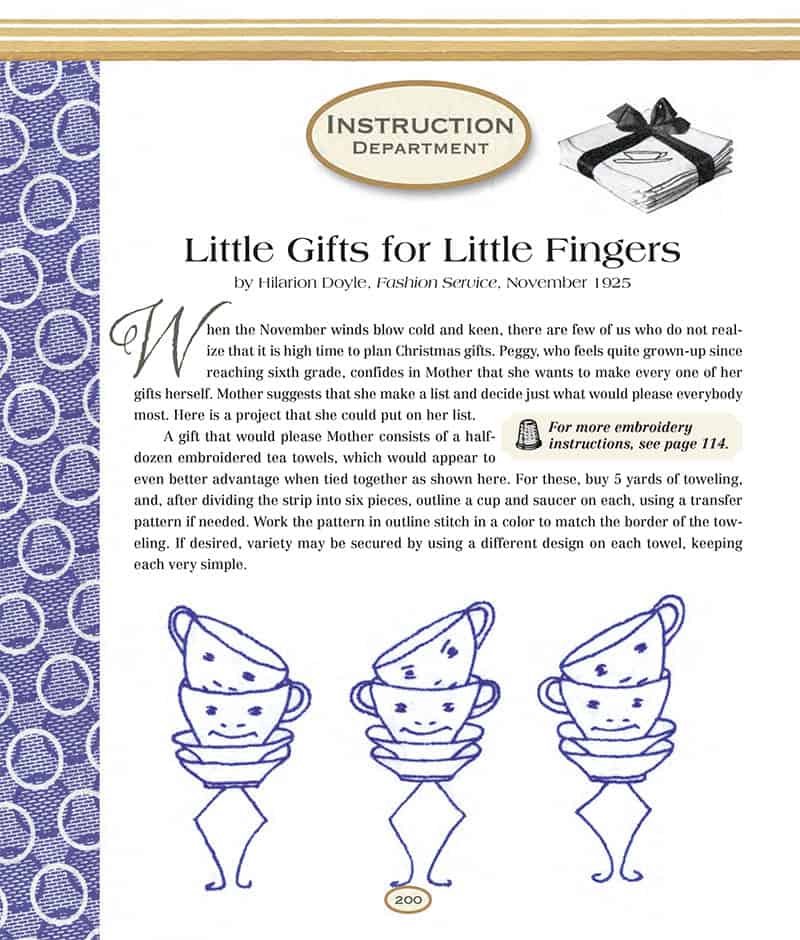 This month I wanted to share another excerpt from my Vintage Notions book that shares a darling store about Peggy, a sixth grade girl who wants to create gifts for Christmas she hand makes herself.
To learn more about Vintage Notions you can head over to this page, as well as our Vintage Notions Monthly magazine featuring lessons and stories from the Woman's Institute of Domestic Arts & Sciences. Click here to view a sample issue.
Save