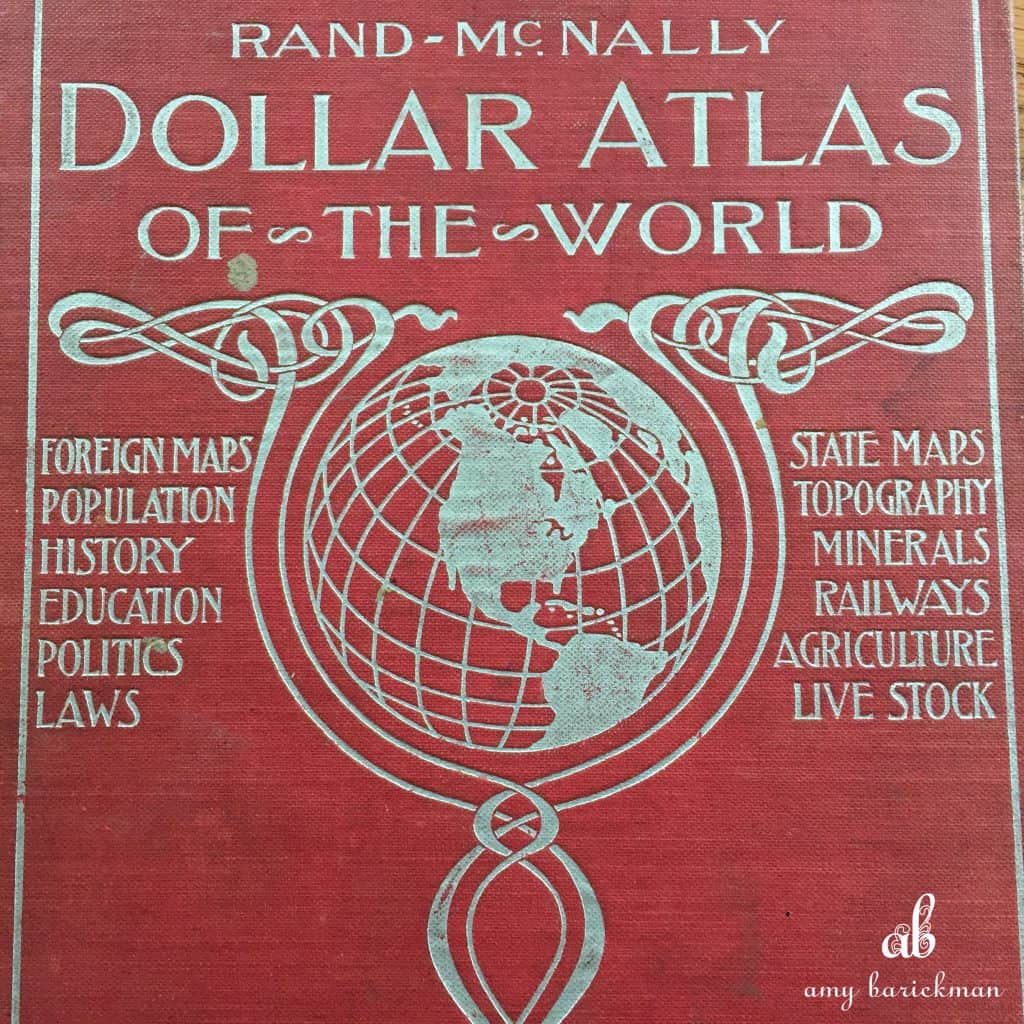 I love vintage maps! They have been part of my larger vintage collection for years. This little gem, the Dollar Atlas of the World dated 1900 is a great piece. I love the simple graphic cover and level of detail in the illustrations.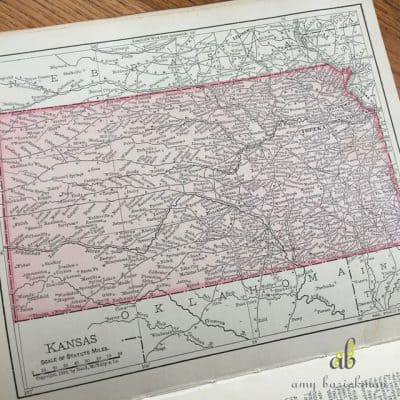 The graphic nature and colors of vintage maps lend themselves to lots of creative possibilities. My fascination with maps as well as my collection of vintage embroidery content led me to architect my new
book, 
Land that I Love
, which has embroidery patterns for all 50 states, with options to customize your design.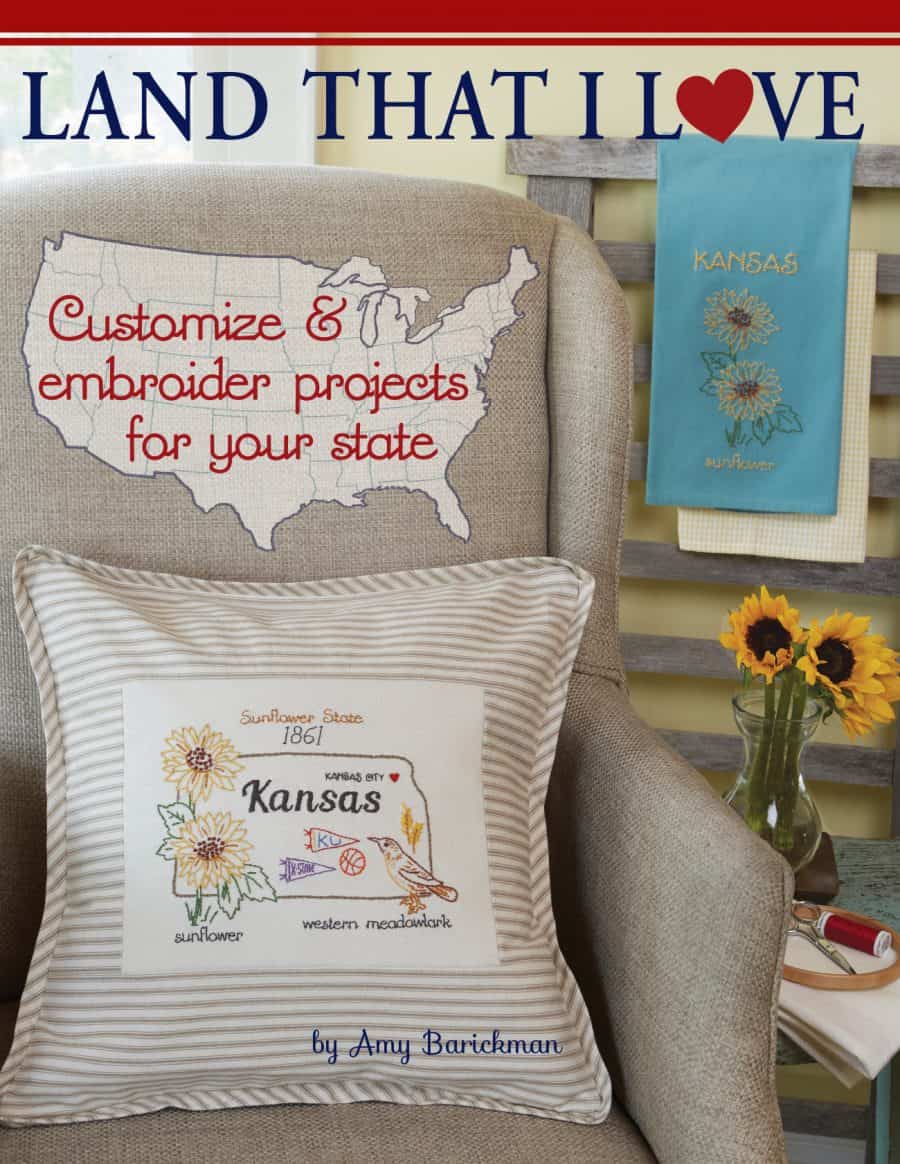 I was lucky to find a vintage quilt that was fully embroidered and was based on the set of stamped patterns I had in my collection. Here is one of my favorite states stitched up in this beautiful vintage quilt – Michigan!!  I vacation in the beautiful northwest area of Michigan (near the pinkie of the mitten) every year and it definitely holds a special place in my heart.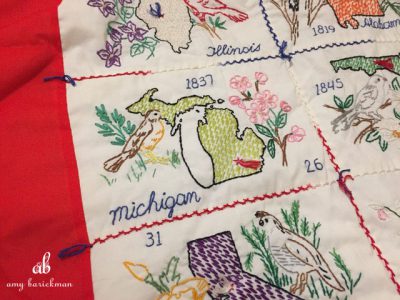 Did you know that this part of Michigan is called "the mitten" because of its shape?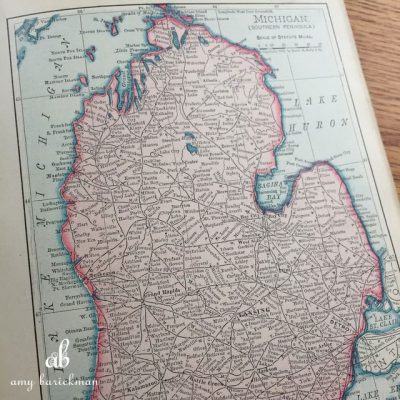 One great feature about
Land that I Love
is that it includes so many motifs you can use to customize your projects – state flowers, birds, your favorite landmarks or towns, the places that hold meaningful memories from times with family and friends. We've included two sizes of alphabet so you can really "make it your own." Here I've stitched a simple design on a dish towel showing my "heart" belongs in Torch Lake.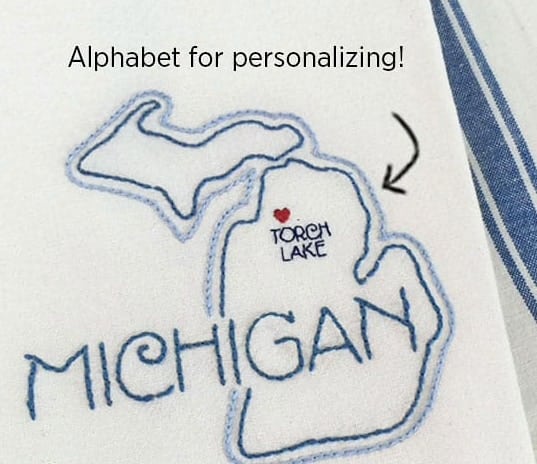 I have been collecting state themed embroidery and ephemera for years with this book in mind.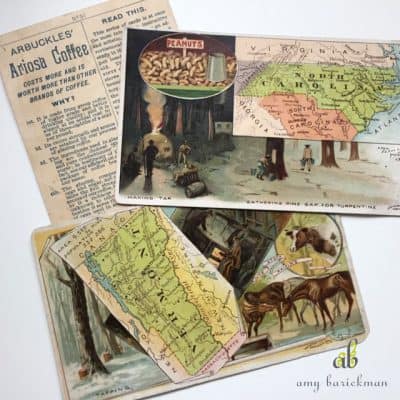 Recently at a sale I found these wonderful "premiums" that were collected from coffee packages. I love finding treasures like these and learning about history through my collection!!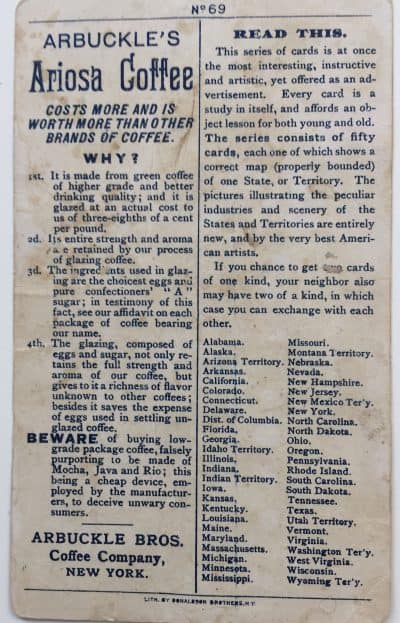 With "local love" and state pride as a theme that is trending in gifts and DIY, now seemed like the perfect time to put it all together in a book that celebrates individual states & give makers the opportunity to tell a little of their story, celebrating places that hold special meaning to them and to those they love. A perfect handmade gift!
Once again, what's old is new again, it seems that local love and state pride are a timeless theme!
Want to learn more about the book? Watch our book review on the Amy Barickman YouTube Channel.
Save
Save