Last month the Indygo Junction team and I traveled to Salt Lake City for Spring Quilt Market. We launched a lot of great new products, including 22 new patterns, including our Indygo Essentials garment line, three coloring books, two embroidery books, and a new line of dimensional English paper piecing kits called Fabriflair! My new fabric line Stitcher's Garden also debuted at market, this is my second Vintage Made Modern fabric line with RJR Fabrics. Below you can see the amazing Stitcher's Garden quilt which will be available for free from RJR when the fabric is released.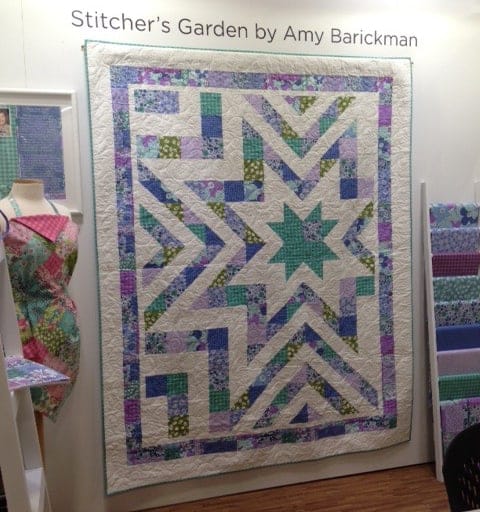 As you know, I have a passion for collecting vintage fabrics and embroidery and have always dreamed of a fabric line that would combine the two. This concept started when I was writing my book Vintage Notions, where I combined my favorite vintage fabric prints and needle art designs for book graphics. With Stitcher's Garden, I wanted to take this idea even further, bringing the graphics to life as a fabric which can then be embellished with embroidery on the line art designs. Though the designs of Stitcher's Garden don't have to be embroidered to be enjoyed, I think the addition of stitching will add a beautiful element to the project.

While at market, I was lucky enough to talk to Tracy from Alex Anderson's The Quilt Show. I spoke with her about Stitcher's Garden and my inspiration for it. When I know when the video will be released, I will be sure to tell you!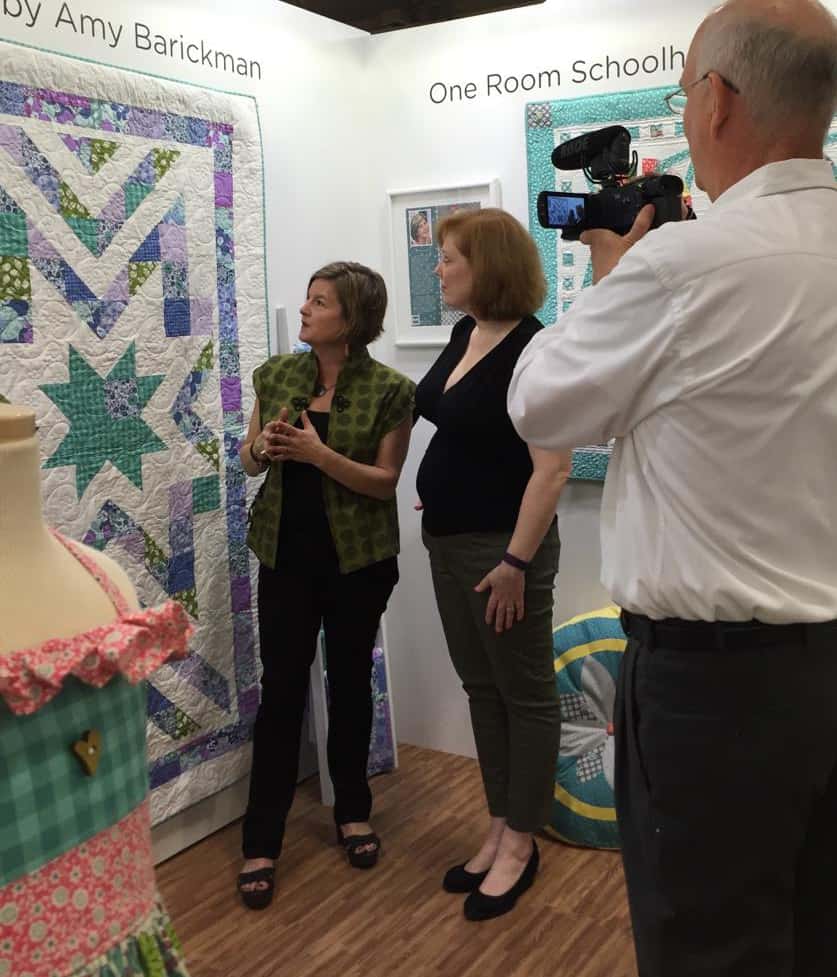 Below, see some of our new Indygo Junction patterns that we have made with the Stitcher's Garden fabric. From left to right: The Boardwalk Dress, The Everyday Tank, The Urban Tunic and The Everyday Tank.
One of my favorite parts of Quilt Market is seeing all my crafting friends, and I've made quite a few over the 25 years I've been in business! I've known Vicky from Quilts Inc. for years and was excited to see her wearing one of my patterns at the show. Vicky is wearing the Gathered Back Top & Tunic, while I am wearing our new Easy Top & Tunic. Rob from Man Sewing is so much fun to be around. He liked our new Mandarin Vest pattern (which I am also wearing) that he tried it on for himself. Vanessa from Crafty Gemini and I have worked on many projects together – apparently we also have the same taste in shirt colors! (I am wearing the Easy Top & Tunic again, this time the short version).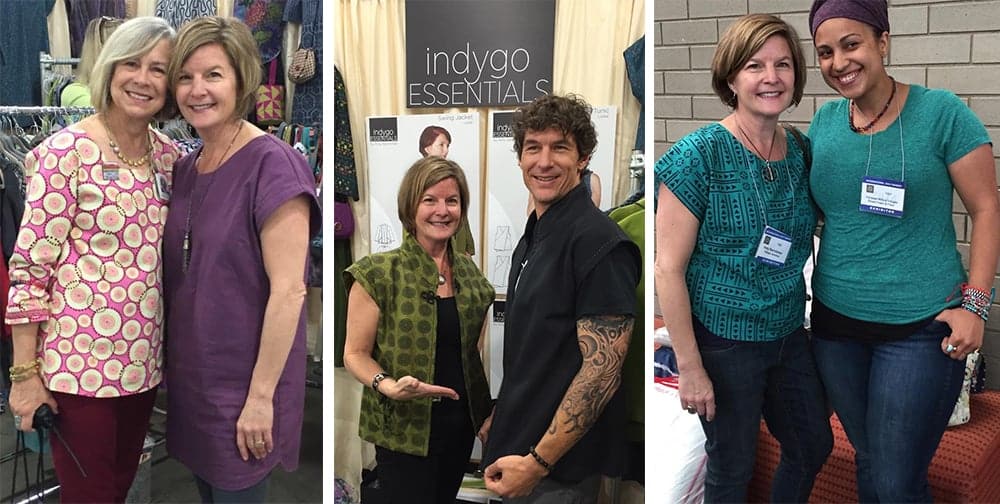 While Stitcher's Garden won't be released until later this summer, many of the other new Indygo Junction products are available now and all will be available by July 1st. Be sure to hop over to the Indygo Junction blog to read more about our new patterns, Indygo Essentials garment line, Vintage Notions coloring books and especially Fabriflair. Below, you can see how we used Stitcher's Garden with two of the Fabriflair kits, the Brio Sphere Large and Small.
Save
Save