In May, my busy year of travel was capped off by one of my favorite events of the year: Spring Quilt Market! This year the Indygo Junction team and I drove up to Minneapolis for a fun week where we debuted our new pattern line, checked out the new fabric, notions and tools from other vendors, and reconnected with friends. I was so excited to connect with Alex Anderson, who spoke with me about my new cotton quilting line with RJR Fabrics, the Vintage Made Modern Centennial Celebration. This new fabric line is inspired by the art from The Woman's Institute of Domestic Arts and Sciences, which was featured in my book Vintage Notions. This collection commemorates the Institute, which was founded in 1916. Click here to watch Alex's interview with me about Vintage Made Modern!

One of the joys of being a pattern designer is seeing those patterns come to life on others. I was so excited to see the International Quilt Market staff sporting our Midtown Trench and Over The Top Tunic pattern – of course I had to get a picture with the ladies, as well as my mom Donna! I'm wearing our Urban Tunic in one of the new Vintage Made Modern fabrics, and Donna is wearing our new pattern, the Sophia Swing Coat, in Cloud9 Fabrics' barkcloth.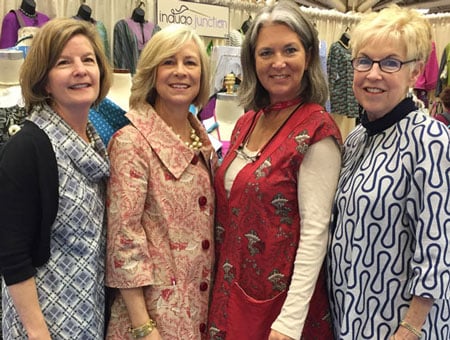 It's been 25 years since I started Indygo Junction, and I've been lucky to have my mom by my side every step of the way. She collaborates with me on design, sews many of our samples and helps me at each market. Indygo Junction has launched several designers in the market, including my good friend Patric Lose. We started together over 20 years ago and it's great catching up with him a couple of times a year at market. When I first started Indygo Junction, my husband Bob worked with me and we would travel together to Quilt Market. It's been quite a while since he has come to work the show, but this year he happened to be in Minneapolis on business and was able to stop by and see the booth!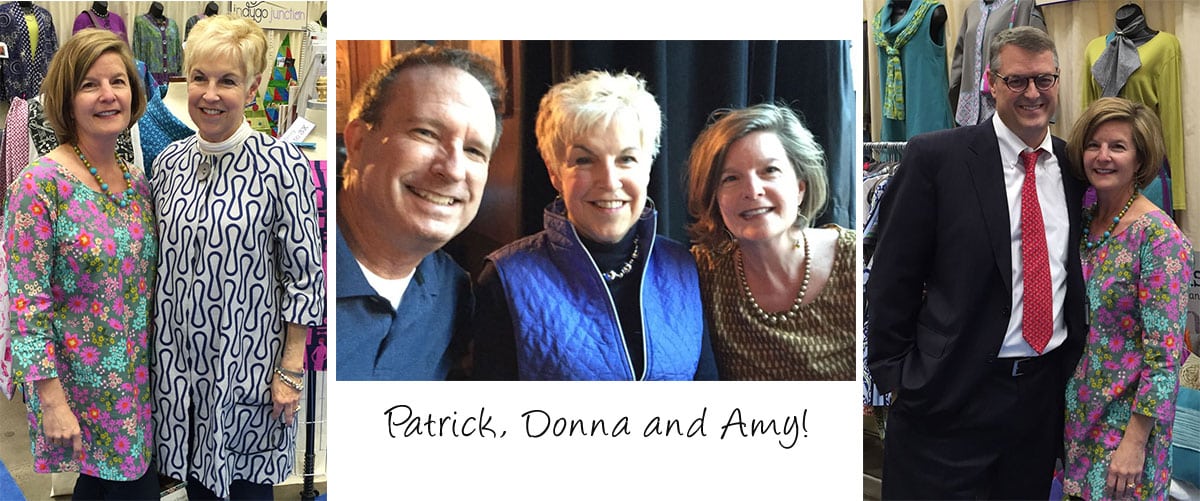 We premiered 31 new patterns at market, as well as the fabric line, so we had so much to tell people about! Check out the full tour of the booth below, and click here to view the full line of 2015 patterns. You can also read more about our market adventures over on the Indygo Junction blog. One of the most popular new patterns was the Gathered Back Top & Tunic – it's a classic, flattering design which we are offering in sizes XS – 3XL.