I'm so excited today to giveaway a copy of Quilting The New Classics by my good friend Michele Muska.  This book looks at 20 traditional quilt patterns, like the Dresden Plate, Bear Paw, Log Cabin and more and asks some of today's most influential quilt artists to create their modern interpretations.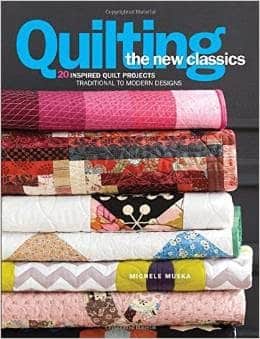 Here you can see how the book is arranged to showcase both the vintage and modern interpretations of designs, in this case, the Double Wedding Ring. In each chapter, you not only get patterns for both a traditional and modern version of the each design, but also some historical inspiration.
A lot of the patterns we design at Indygo Junction are vintage designs reinterpreted for a modern look, so I loved the idea of looking at quilts the same way. The designers featured in the book are some of today's more amazing quilt artists like Victoria Findlay Wolfe, Jacquie Geiring and Amy Smart. Hop over here to see what each designer had to say about their project on the Quilting the New Classics book tour.
I think you will love this book as much as I do – and so I want to give away a copy! Enter below through Rafflecopter for a chance to win this great book. Good Luck!
a Rafflecopter giveaway