The month of November heralds the beginning of the Holiday Season. It is both exhilarating and exhausting! It is a time of making memories and participating in traditions. For me, it is important to take a moment to take stock of my life and to be grateful for all I have; my family, my friends, my business and the every day things like freedom, food, clothing and a bed to sleep in.  After all, although we take these "small" things for granted, there are plenty of people in this world who don't have these little luxuries.
In the November chapter of Vintage Notions, Mary Brooks Pickens stresses reaching out and helping others in the article Be Grateful. Here is one of my favorite excerpts from the chapter.
"Life is a pursuit of something which can never be found in the acquisition of money, the acquirement of position, or the consummation of some large enterprise. The secret is to be found in the knowledge that service for others is the one thing which brings constant pleasure and reacts upon the person rendering the service as helpfully as upon the one to whom the service is rendered."
Since I know all the effort that goes into entertaining, taking a hostess gift to a gathering is a must in my book. In the November chapter of Vintage Notions, there is a Magic Pattern for a hostess apron, which takes little time and fabric to make. If you don't have time to make an apron, what about a smaller project such as an ornament, embroidered tea towels, or koozies for the guests' drinks? Even a bottle of wine can be special if you sew up a bag for it.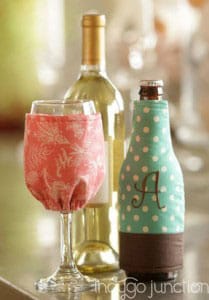 This year I thought it would be fun to make a Christmas ornament while we watch football (not sure if my father, son and husband will agree, but the girls will go along). We are making felt ornaments that are simple to sew by hand, or, if you have  some non-sewers, can be glued together. I want to share this ornament pattern with you, be sure to check it out below and download it. This ornament pattern is from IJ's book Merry & Bright. I love making decorations with the family. Each year as we put out ornaments or garland we remember the time that we spent together making them. It makes decorating so special! To print the pdf pattern, simply click here. The pdf will open and is ready to print.