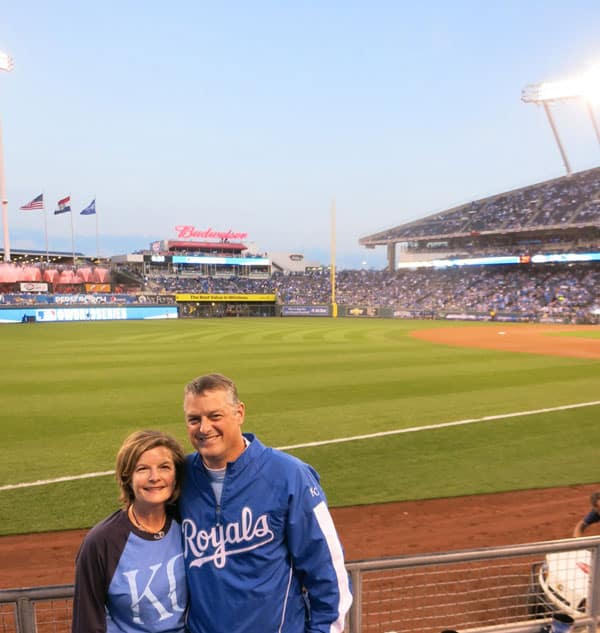 Here we are at the beginning of November and I finally have been reflecting on the Royal celebration that consumed my family and our city for the month of October. As you may have heard, the Kansas City Royals had been in a bit of a postseason drought, so after 29 years of famine, this city and our family FEASTED on the Post Season. From the crazy American League Wild Card victory, to the ALDS sweep over the LA Angels, followed by winning the American League pennant over the Baltimore Orioles, we embraced the journey with as much enthusiasm as a loyal Royal fan family could muster.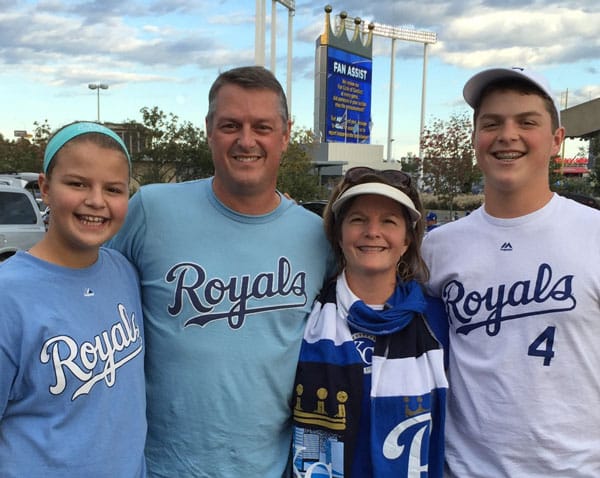 Growing up in Iowa, Major League Baseball was not part of my childhood. However, it was a big part of my husband's family traditions. He grew up a Royals fan and celebrated his 21st birthday with a Royals World Series win in 1985. Fittingly, our first date was at a Royals game and it was then that I became a Royals fan too. This year was Bob's 50th birthday and serendipitously we scheduled his 50th celebration on the night of a World Series "away" game against the Giants, so a birthday party became a watch party, complete with homerun hankies sewn into banners and a handcrafted paper Mike Moustakas "Moose doll" for photo ops!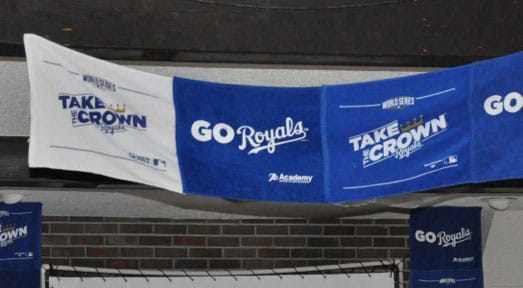 What have I enjoyed most about this post season sabbatical from the normal day-to-day life we lead? Everyone fell in love with Royals baseball and we became America's team with heart from the Heartland. This month long distraction has brought JOY , CREATIVITY, and POSITIVE energy, not to mention priceless PR to the city I love! I want to share with you some of the great articles about our team and our city. I love this one about Scott Downs on KCStar.com, this is a great love letter to Kansas City, and this article really recaps the whole postseason experience. I tried to record some of my experience out at the ballpark. I posted two of my favorite videos below!
My dear friend Jenny and her family shared this Royals adventure with us. Jenny's tailgate sandwiches were a staple of our evenings out at Kauffman Stadium. I want to share this delicious recipe with you, which was originally found at Saveur.
Ingredients
8 individual white dinner rolls, like Kings Hawaiian
12 oz. sliced Swiss cheese
9 oz. thinly sliced honey ham
4 oz. (1 stick) butter, melted
2 tbsp. prepared mustard, preferably spicy brown or Dijon
2 tbsp. poppy seeds
1 tsp. Worcestershire sauce
Instructions
1. Slice the rolls in half using a serrated knife, and arrange bottom halves of rolls in a large casserole dish. Arrange a layer of cheese on top, followed by a layer of ham. Cover with the tops of the rolls.
2. In a small bowl, whisk together melted butter, mustard, poppy seeds, and Worcestershire sauce until well combined. Drizzle the sauce evenly over the tops of the sandwiches, cover the pan with aluminum foil and allow to sit for at least 30 minutes, or overnight. Bake in a 350° oven for 20-25 minutes, until the cheese is melted and the sandwiches are warmed through. Slice between the rolls, and serve warm or at room temperature.
Thanks to the Kansas City Royals for making October 2014 a month my family will never forget!