Last week I introduced you to our new line with Red Rooster Fabrics,
SoHo Bandana
. Named after the neighborhood in New York, I designed that line with the goal of updating the classic bandana patterns to have a contemporary, urban feel. Today I'm excited to bring you our CROSSROADS denim fabric, our new line of solids with James Thompson Fabrics.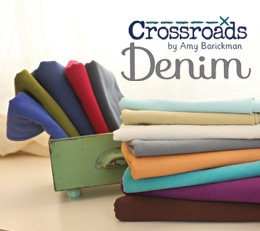 Like SoHo Bandana, CROSSROADS is inspired by and named after another urban neighborhood, this one in my hometown of Kansas City. This once thriving area of downtown KC had fallen into disrepair and disuse. Then, the artists moved in. One by one vacant buildings turned into galleries, independent shops, restaurants and living spaces. This once atrophied neighborhood is now at the center of Kansas City's thriving arts community, and has brought urban living back to Kansas City.
I am so inspired by this neighborhood. Not only by the community of people who have re-purposed a neglected area of town, but also the buildings themselves. The weathered brick and industrial architecture which juxtaposes with the murals, colors and storefronts. The texture of old brick and stone mingles with the sleek gallery interiors and the futuristic Kauffman Center of the Arts. I wanted to design fabric that mixed this rustic and urban feel.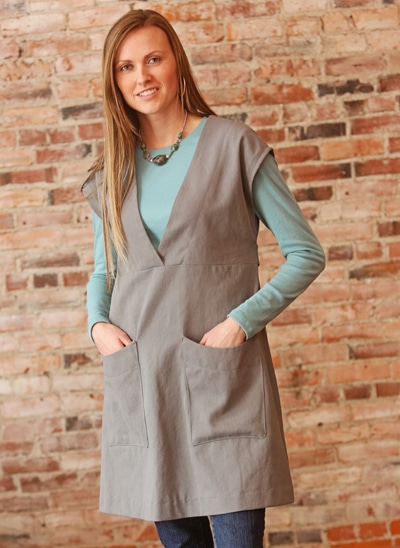 We love the Over The Top Tunic in CROSSROADS Metal Grey!
I love the texture and strength of denim, and we often feature it in Indygo Junction patterns. I decided to take classic denim, and update it for an urban lifestyle. The first step in this process was finding a fabric with the right feel. We didn't want our denim to be stiff and fussy, so we had it pre-washed and softened. This made it useful not only for garments but also for home dec and quilting. Then we worked on color, Â the aesthetic of the Crossroads area inspired us to design 14 gorgeous colors including Downtown Teal, Weathered Indygo, Coffee House Brown and Midtown Moss.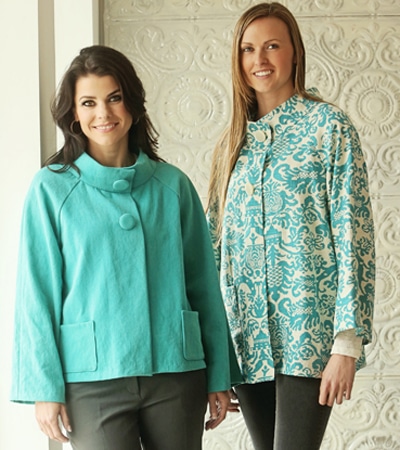 Here we feature the Soft Aqua CROSSROADS in our Retro Raglan Jacket.
We are so excited about our CROSSROADS denim line that we have designed 8 new patterns to coordinate with it, which we are excited to share with you in the future. To learn more about CROSSROADS check out the Indygo Junction blog and be sure to tell your favorite fabric store to come see CROSSROADS denim at Quilt Market!