Bill Cunningham has been documenting the New York City fashion world for over 50 years. I recently came across the trailer for this documentary about his life and work, which looks fascinating on many levels:
Then it dawned on me that Mr. Cunningham must have known our friend, Mary Brooks Picken!
As one of the founders of New York Fashion Week in 1947, Mary was engaged in the New York fashion scene for most of her adult life. She moved to the city in 1925 to be the editor of the popular magazine, Pictorial Review, but also set up her own studio where she held workshops and classes. Involved in the leadership of such organizations as the Fashion Institute of Technology, Columbia University, and the Costume Institute (now part of the Met Museum), Mary was deeply connected to the institutions of NYC fashion. She was a regular attender to Fashion Week well into her 80s!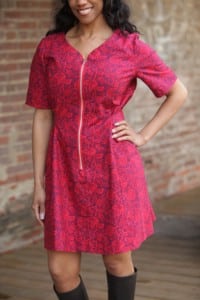 So, if anyone out there has Bill's contact info, let him know that I'd love to chat…. Here's one of his recent pieces in the New York Times which reviews some of the newest trends in dresses. It caught my eye especially because of the mention of zippers—Hey Bill, you forgot to include The Day to Night Dress from Indygo Junction!
"The one-piece dress is back. Zipped on in 30 seconds, it eliminates the time-consuming thought that goes into dressing in multiple separates. Fall's novelty is a carwash-flap design from Alexander Wang (just don't ride a bicycle in it). Also seen is Dior's successful revival of 1950s luncheon dresses with draped necklines. It's too bad they were kept hidden in the showroom while exaggerated designs were sent down the runway to entertain the media; luckily, store buyers concentrate on the offstage collection of wearable clothes. A more contemporary look is the bell-shape dress. The new hemlines have nothing to do with the ups and downs of the stock market."