Hi, my name is Amy, and I'm addicted to buttons.
Sorting and discovering vintage buttons is one of my favorite creative pastimes! What is it about this commonplace closure that's so appealing? With so many colors, sizes, shapes and styles available, there's such truth to the term "cute as a button." Whether used as a practical fastener or a stylish boutique statement, buttons and their possibilities are seemingly endless. On my other website, TheVintageWorkshop.com, I offer hundreds of vintage images, printable fabrics and backgrounds, as well as a variety of downloadable vintage button cards to use in your craft projects.
My love of these vintage embellishments led me to pursue publishing my book Buttonware. This beautifully photographed book features dozens of clever projects created with these darling details, from bracelets and necklaces to fashion apparel. We teamed up with JHB International, the leading supplier in novelty and fashion buttons, to make our inspiring designs. In this video (which you can also find on Indygo Junction's How-to page and YouTube channel), I demonstrate how to construct a cute ring with a trio of buttons and braided elastic. These easy-to-make pieces are a great supplement to a holiday gift just slide one onto the bow of a wrapped present for an extra special touch!
We also developed Buttonware kits, including everything you need to replicate the beautiful baubles highlighted in the book. From an elegant mother-of-pearl charm bracelet to a bright and sassy pendant, these accessories are sure to suit many different styles. These kits make great gifts for a do-it-yourselfer or a fashionista on your list.

Buttonware Giveaway!
So, what to do when my button-love cup overfloweth? Share it with you, of course! One lucky reader will receive a Buttonware prize pack, including a copy of the Buttonware book and a pair of Buttonware kits. To enter, click here and tell me which of our Buttonware kits you'd like. Post your comment before midnight on December 6th!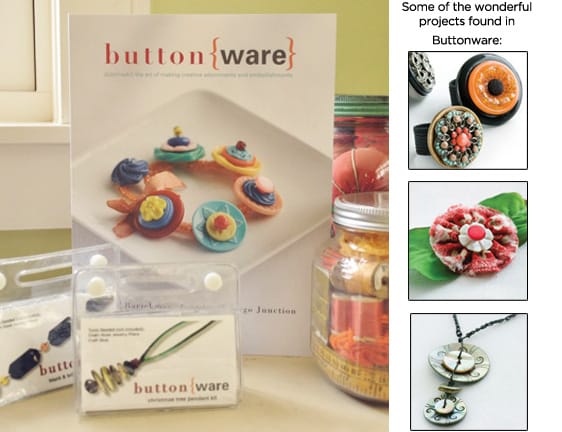 Enter to Win: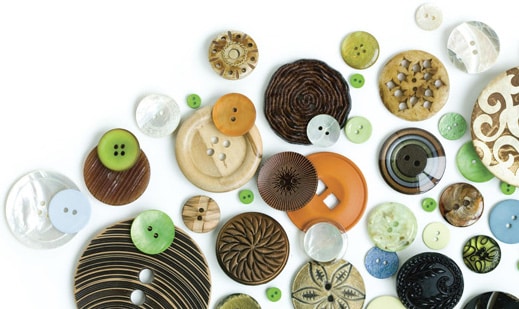 –Buttonware an 80 page book with 33 button projects and beautiful color photography
–2 Buttonware kits – Click on the link and tell me which two you'd most like to try!
–1 lb. of fabulous buttons from JHB International! Thank you JHB!

*Remember, comment on this post with the Buttonware kits you want by December 6th, to win!!
I can't wait to see your comments, fellow button lovers and good luck!!!