During this time of year, I truly cherish the special relationships in my life. Things may get hectic around the holidays, but making time for lifelong friends can be a wonderful stress buster indeed. Here's an excu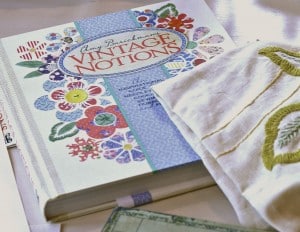 se to gather your girlfriends for an afternoon of fun! We developed a book club guide based on my book Vintage Notions: An Inspirational Guide to Needlework, Cooking, Sewing, Fashion and Fun. This beautiful keepsake book is organized by months and shares entrepreneurial wisdom, inspirational essays, and historical insights about fashion and home arts, plus craft projects and recipes that remain timeless and tasty! Get started now with the November or December chapters for tips on creative gift wrapping as well as articles that will surely inspire the sharing of seasonal memories. You'll also find some helpful tips on calming your nerves during the holiday season, and classic recipes for enticing treats to serve during your meeting.
To learn more about Vintage Notions, you can watch this intro video on my website or check out artist Kelly Rae Roberts' blog for some of her thoughts on experiencing the book.

Here are some other things people are saying about Vintage Notions:
"Thank you for the wonderful inspiration and encouragement to keep in touch with my creative side and to add good old fashioned elegance to my life. " – Sandy R.
"Amy Barickman's Vintage Notions is a joy to read, and I'm going to have fun trying the recipes, advice and patterns written for the women of our grandmother's (or great-grandmother's) youth." -Jean
"I just had to let you know what a delight I have found your book. I am a voracious reader and recently found Vintage Notions at our library. I brought it home, began reading and was entranced by its content and its beautiful graphics." -Kitty P.
"It is such a fun and unique book, incorporating wonderful historic articles on daily living with updated projects and ideas. It is a book I've read over and over, and find something new every time."
"Ordered one for a friend and ended up ordering two more for another friend!" -Katherine P.
"I love this book. It is not only about sewing, but a well rounded creative spirit! The "notion" of the joy and fulfillment received when something is accomplished by hand, and heart." -Penny

All at Once or Month-by-Month
Our companion to the book includes ideas and topics to jump start your discussion, along with hands-on activities for you and your friends to enjoy together. Two versions of the book guide give you the option of using Vintage Notions as a one-time focal point for your gathering or for supplementing your regular book club reading with a discussion of a chapter each month. The guide is intended to bring women of all ages together through thought-provoking questions and stimulating discussions. The heart of my mission to share these vintage treasures with you is for women to come together around truths that remain timeless from generation to generation. You can click on the previews below to download the full book guide now!
I'd love to hear about your Vintage Notions book club, so please feel free to share your stories and ideas once you've hosted your own gathering!