Since it's Valentine's Day, I thought I would share a few of my favorite items, Valentine-themed, of course.

I love this tattered and torn, embroidered Valentine that I found at the Mission Antique Mall last season. It's so simple and beautiful.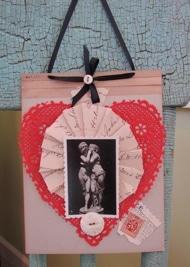 I just bought this "Lovers" image (at left) at the Bottoms Up Sale in the West Bottoms from my good friend Greg Johnson. Greg has created some absolutely wonderful collage images for The Vintage Workshop website. I think his work is really special. Here are couple examples of his work (Sample 1, Sample 2).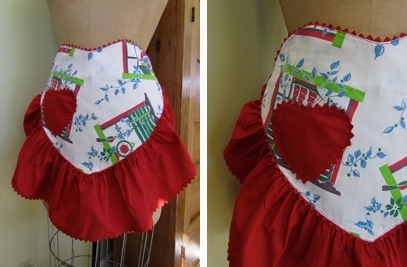 Lastly, I LOVE this happy heart apron (see below)! The ruffle and rick rack make it one of the all-time favorite aprons in my collection.
I know many of you are as avid a collector as I am. Tell me about your favorite Valentine collectable. If you can, include a link to it so we can all enjoy it as well.
Happy Valentine's Day to each of you and yours.
~ Amy