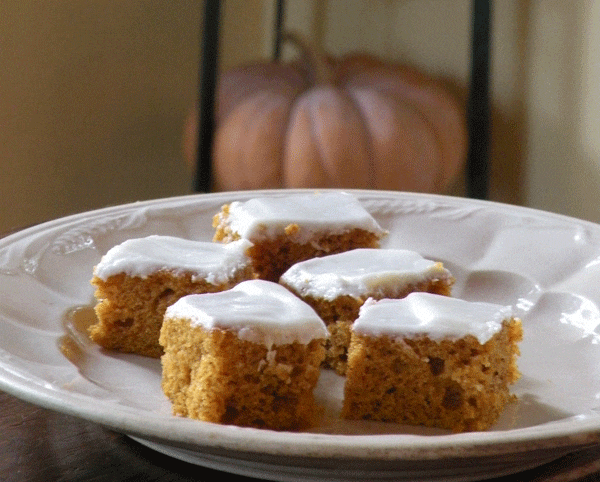 I promised awhile back that I would post my pumpkin bar recipe…so here it is! I have made a number of desserts for my family over the years, but this is their absolute favorite. I hope you enjoy it too!
Pumpkin Bars:
2 cups Sugar
4 eggs
1 (16 ounce) can of pumpkin
1 cup salad oil
2 cups flour
2 tsp baking powder
2 tsp ground cinnamon
1 tsp baking soda
1/2 tsp ground nutmeg
1/2 tsp ground cloves
Cream cheese frosting:
2 (8 ounce) packages cream cheese, softened
1/2 cup butter, softened
2 cups sifted confectioners' sugar
1 teaspoon vanilla extract
In a medium bowl, cream together the cream cheese and butter until creamy. Mix in the vanilla, then gradually stir in the confectioners' sugar. Store in the refrigerator after use.
Instructions:
Mix sugar, eggs, pumpkin and salad oil. Sift the dry ingredients and add them to the mixture. Pour into a greased and floured 10 X 15 X 1 baking dish (or for thinner bars, use a jelly roll pan). Bake at 350 degrees for 25-30 minutes.
Top with frosting.