I am always collecting vintage inspiration – especially aprons. I love how the vintage aprons are both functional and beautiful. I'm always looking for vintage styles that need to be brought back for the modern sewer. One of the style that kept popping up in my research was a full body crossback apron. I loved the look of the design, but was also excited to see an apron style that doesn't tie around the neck, making it much more comfortable to wear. Indygo Junction recently released a modern version of this vintage style, the Crossback Reversible Apron. Below see our new version of this classic style..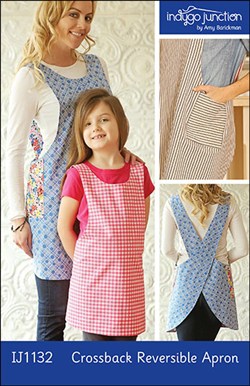 And here is some of the vintage inspiration that we looked at when we worked on the design..
As you can see, we shortened the original design, so the apron would be less cumbersome, although we kept the side patch pocket. We also thought it would be fun to make it reversible – that way you get two aprons in one!
Then we thought about how great this style would be for kids! So we added in a children's size version to the pattern…
To make the apron truly Vintage Made Modern, we made it in my Vintage Made Modern Centennial Celebration fabric, using the Notions Toss on one side and Grid Dot on the other. This version is perfect to wear in your sewing room to keep your clothes from getting covered in thread.