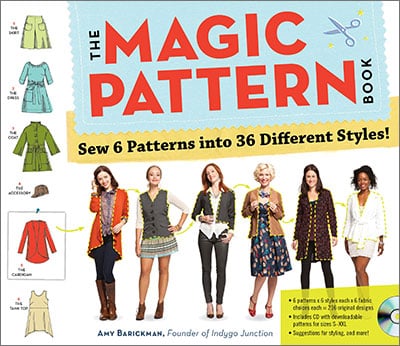 The Magic Pattern Book features 6 magic patterns that can be transformed into 216 different looks. Complete with beautiful full-color photos, step-by-step instructions and a CD of printable patterns, this easy-to-follow guide shows how 6 patterns x 6 looks x 6 fabric suggestions for each look results in a complete wardrobe.
So what is a magic pattern? It is a single master pattern that can be transformed into many different styles—for example, a single basic skirt pattern can create an A-line skirt, a maxi skirt, a pleated hem skirt, a pencil wrap skirt, a flared bias skirt, and a ruffled mini.
Each pattern comes with six fabric suggestions and can be made to fit sizes S – 2XL. Many can even be crafted with repurposed fabrics such as menswear or denim jeans. Overviews of fabric types and preparation, plus basic sewing, alteration, and finishing techniques are also included, making The Magic Pattern Book a reference that readers will turn to again & again.
Inspired by the first lady of fashion Mary Brooks Picken's belief that each design is like a different woman, Amy has playfully named each pattern variation and given it distinct personality – that is, until the reader stitches her own identity into it! And as fashions evolve, each design can easily be tweaked and changed – all you need is a little creativity. CLICK HERE TO VIEW SAMPLES PAGES FROM THE BOOK!
Ask for The Magic Pattern Book at your local fabric or quilt shop or buy online:
Amazon.com
Barnes & Noble
IndieBound
iTunes
The Magic Pattern Book includes:
The Tank Top

The Dress

The Skirt

The Cardigan

The Coat

The Accessory

Upcoming Events & Activities:
Sewing with Nancy – two-part PBS series titled Magic Patterns. Episodes begin airing September 2014. Check your local listings.

BurdaStyle Design Challenge – Create one of Amy's Magic Patterns & you could win a Baby Lock Imagine Serger. Challenge begins September 2014. Sign up for our newsletter or check back here for further details as they become available.
The American Sewing Show – September 26 – 18, 2014 – Novi, MI
Quiltcon – February 19 – 22, 2015 – Austin, TX
Traveling Fashion Show – Original Sewing & Quilt Expo events across the country will feature fashions from The Magic Pattern Book in their runway shows, with Amy Barickman emceeing in select cities (starred below):