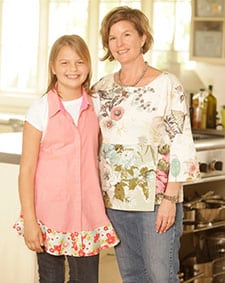 My daughter Emma and I at a recent Indygo Junction photo shoot. Emma is in our Kitchen Shirt Tales pattern, I"m wearing the Perfect Pullover.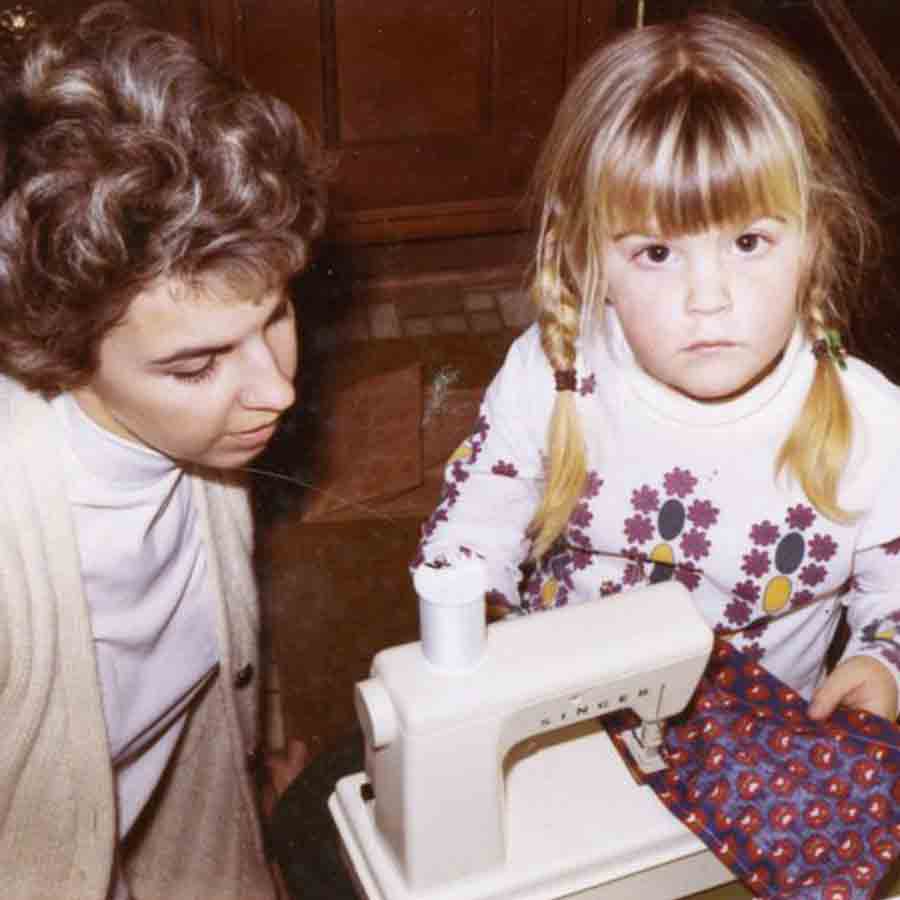 My mother and I with my first sewing machine.
Many of you may know me as the founder of Indygo Junction and may wonder, how did she get into this business? So here's the story. I was lucky enough to grow up immersed in the sewing and crafting business, as my mother owned a creative arts shop in West Des Moines, Iowa. My mother's success inspired my entrepreneurial "gene" and I launched my first business designing and selling teddy bears while I was still in high school.After graduating from the University of Kansas (Go Hawks!) with a degree in art and design, I knew I wanted to make craft and art my life's work and founded 
Indygo Junction
, a fabric arts publishing company, to showcase the talent of leading sewing and craft designers. Over the years I have teamed up with innovative artists to publish over 1500 pattern titles and 80 books.
Trained as a Home Economics teacher, my mother not only introduced me to sewing at a young age, she also passed on her collector gene, bringing me along to local flea markets, tag sales and antique shops. She instilled a life-long love of the hunt for vintage treasures. Over time, I amassed a vast collection of sewing and fashion related ephemera, books and magazines, as well as textiles including quilts and embroidery. I am now selling and sharing my some of favorite finds (many are FREE!!!) through my website's Shop and on my blog, also be sure to join my Amy Barickman's Vintage Made Modern Facebook Group for a community who share a passion for vintage particularly related to fashion and sewing!
One of the aspects of my business life that I have genuinely come to treasure is the entrepreneurial piece of what I do. I have, along with my talented staff, had tremendous good fortune – and a little luck – identifying dozens of designers whose work is simply exceptional. Over the years, we've licensed their work, given them a marketplace at IndygoJunction.com and featured them at trade shows. Indygo Junction was recently acquired by Prym and I am now working for the new owner assisting with the Indygo Junction brand as well as working as their Marketing Strategist. I do have plans for AmyBarickman.com to continue that tradition of sharing exceptional hand made artists' work so again be sure to sign-up for my newsletter to keep up-to-date on my creative discoveries and new products.
With nearly 30 years of experience as a serial entrepreneur, I enjoy lecturing on my journey as well as mentoring those interested in business in the creative arts industry. My personal passion beyond product development and marketing is photography. I love to capture images in nature that reflect beauty, and particularly those that inspire design and pattern. Follow my Instagram feed for my adventures in photography as well as delightful vintage discoveries!   
also blessed to be a wife and mother. I live in Kansas City, where my studio is based, and raise two kids with my husband, Bob. Like you, I find it a challenge to balance family, work and friends, but the juggling act is much easier when you work around beautiful things, doing what you love.

Click here to view my Press Page.