Today I'd like to tell you about my book Folk Art Motifs and how it came to be, and share a little bit of the beauty behind it's creation.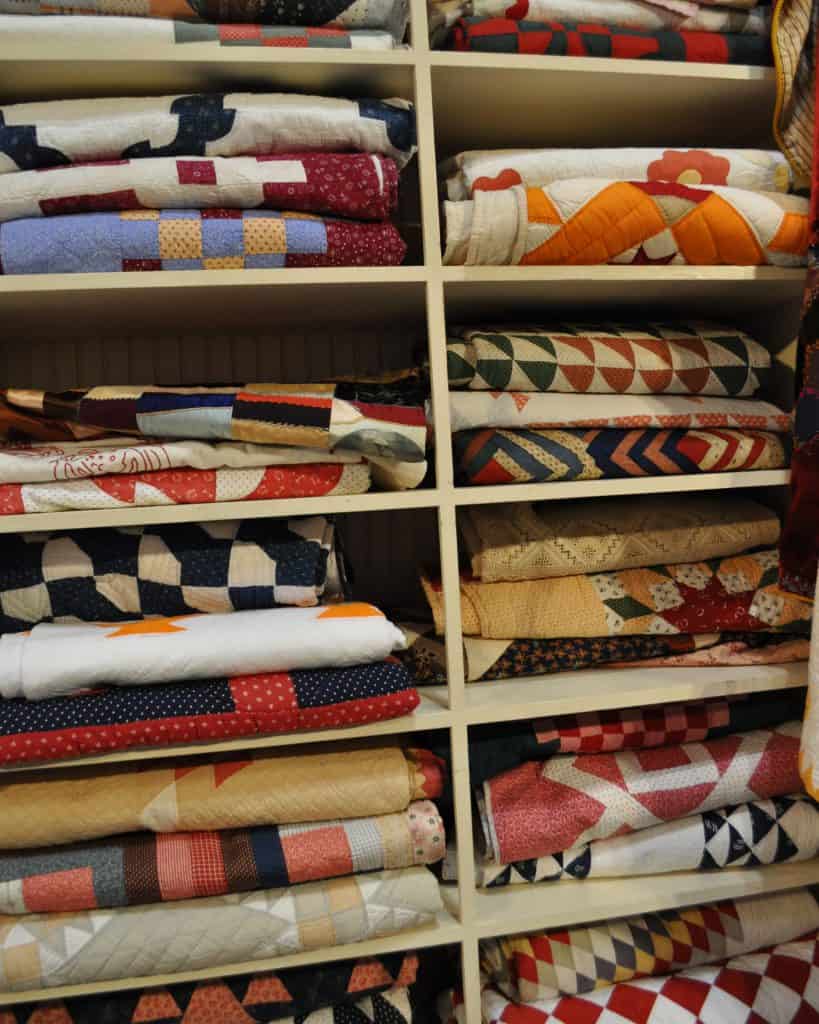 One of my favorite places to shop for new additions to my vintage textile collection is Quilt Market & Festival. These shows take place multiple times a year and feature vendors from all over the world.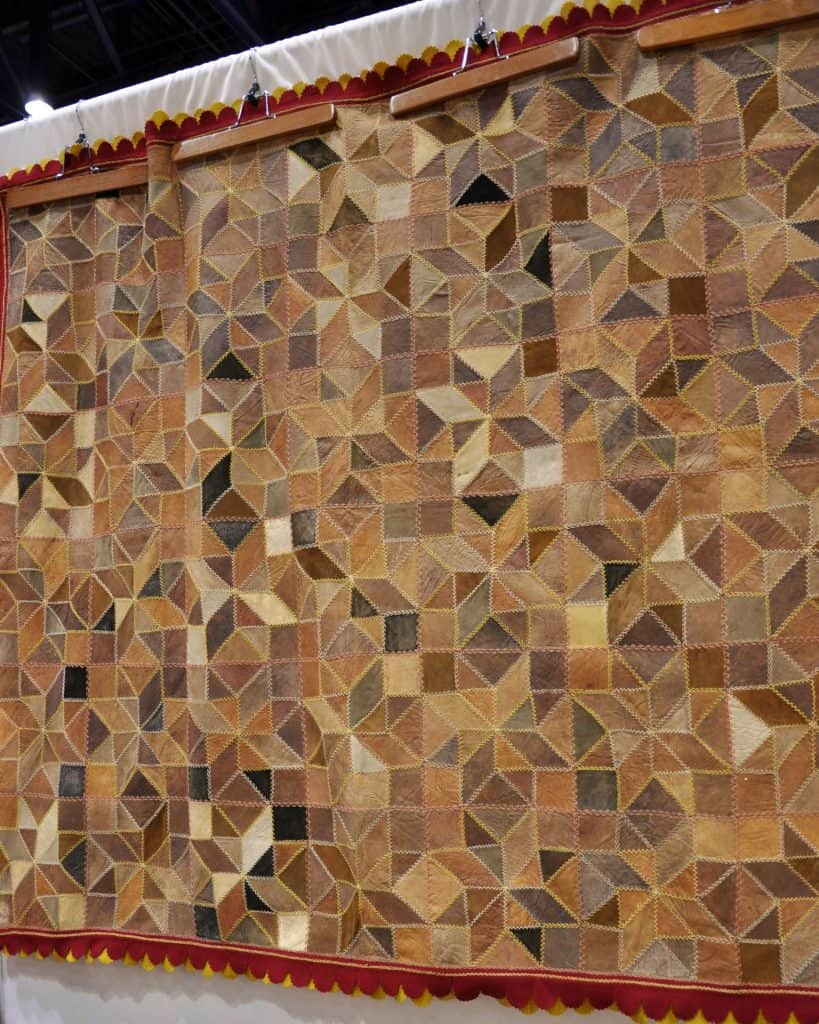 Several dealers at the show have been coming for years and have wonderful and rare quilts and textiles to share and sell, like this showstopping leather one.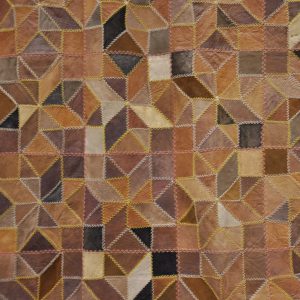 The Folk Art Motifs book was based on just such a find. While browsing the booth of "Quilts from Mulberry Lane" based in Texas, I happened upon this amazing quilt we suspect was from the 1830's.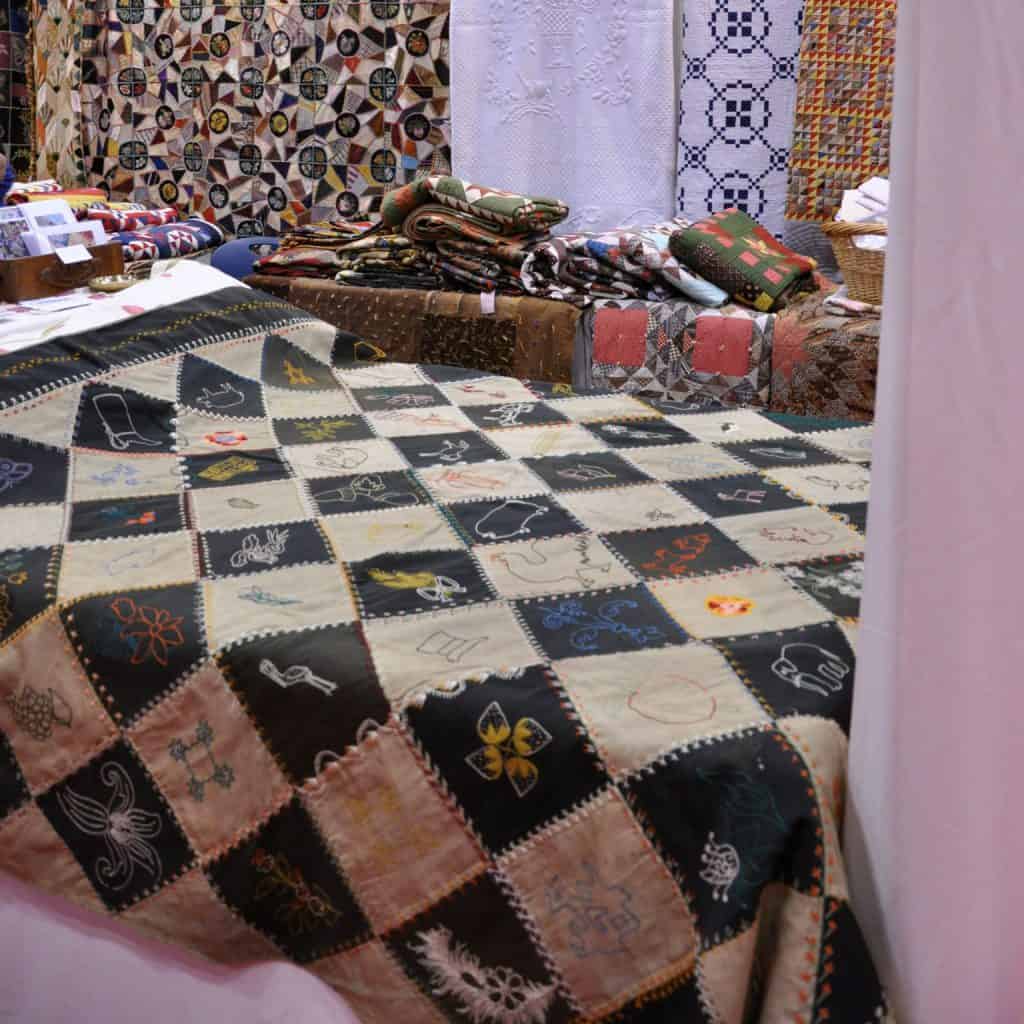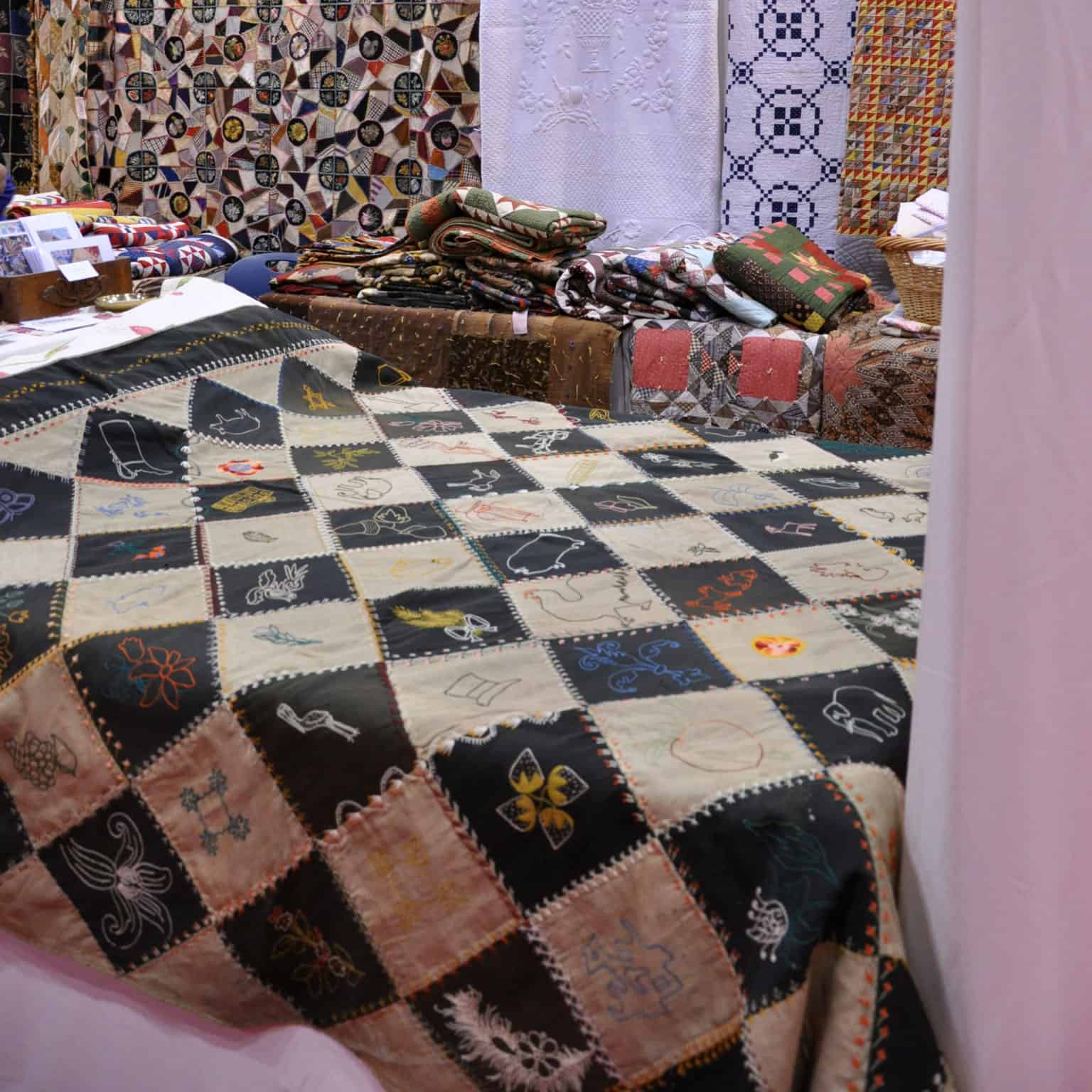 The detailed decorative borders and motifs tell the story of the stitcher and really draws you in.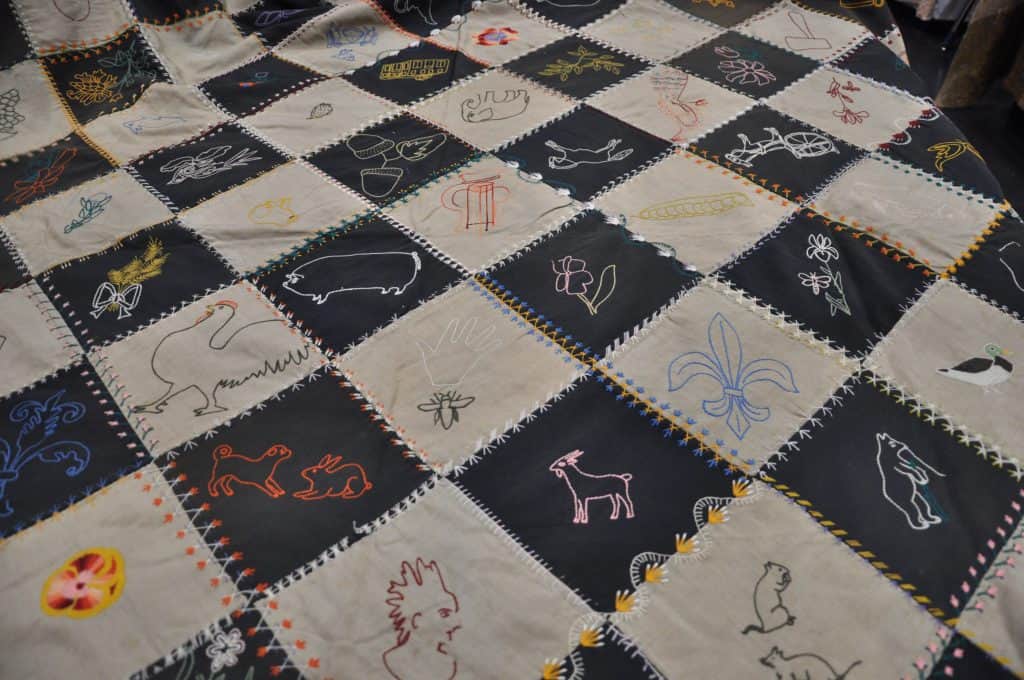 With these embroidered quilt treasures as inspiration, Folk Art Motifs was born. It has over 400 designs and 10 border styles to hand embroider. The book also includes lots of basic hand embroidery techniques and instructions for beginners, as well as two quilt patterns. One quilt pattern is based on the designs of this vintage black and taupe quilt featured above, and another is based on this Redwork Penny Square quilt.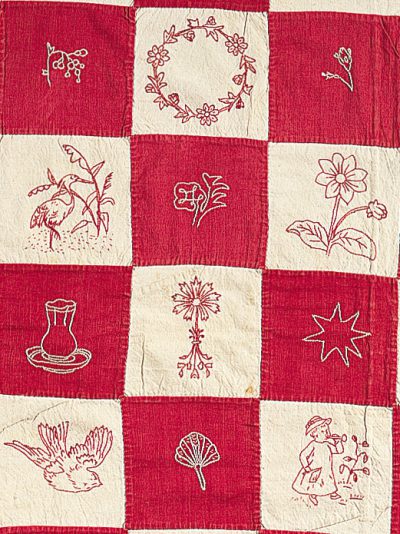 Here is the beautiful original peacock and horse embroidery from the quilt, and our updated version shown on kitchen linens! What's old is definitely new again!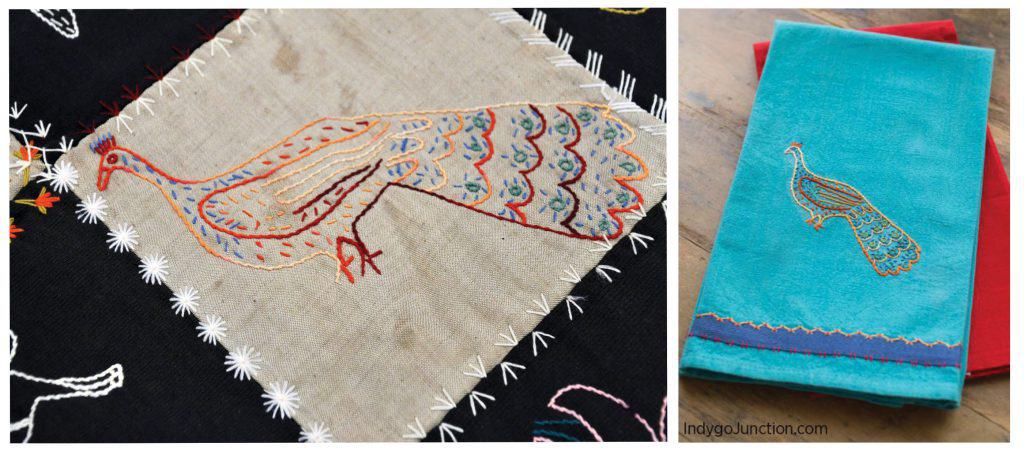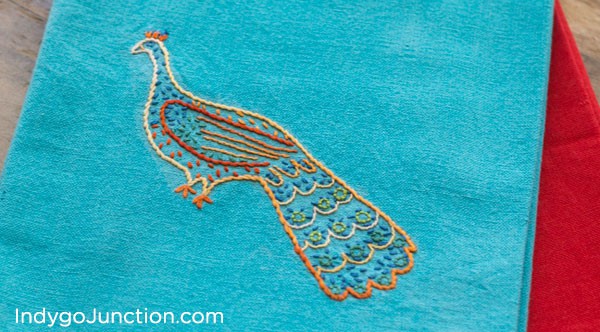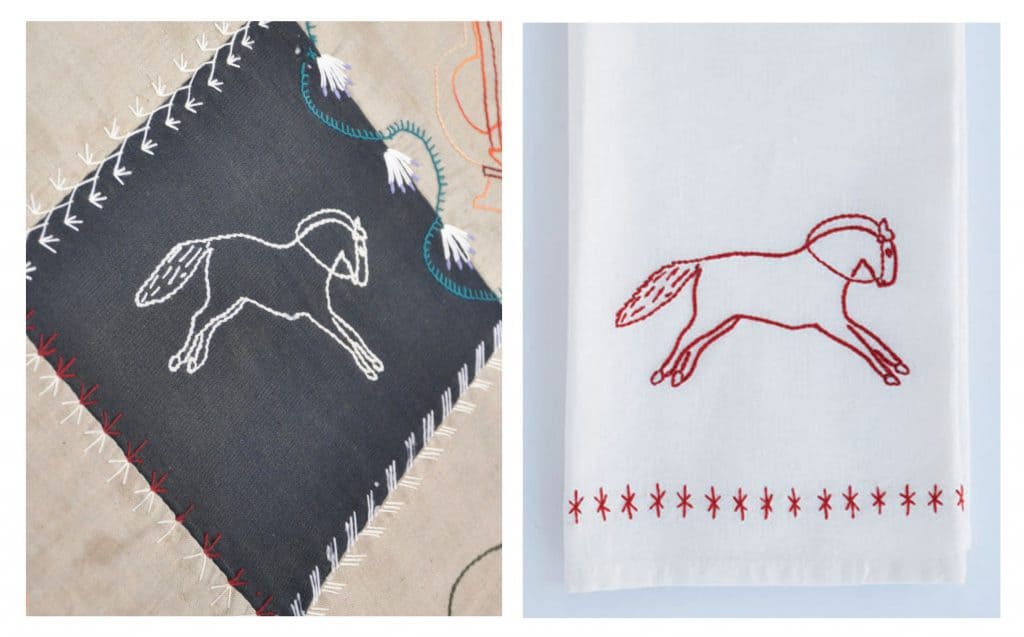 Here are some additional samples of designs from the Folk Art Motifs book.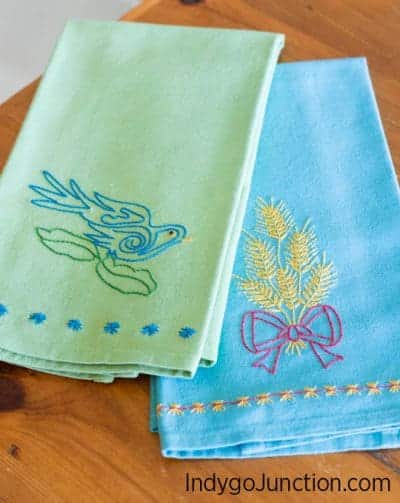 Are you new to embroidery? I've recently completed a video series that covers all the basics of hand embroidery AND includes free designs to practice the stitches from the tutorials included! You can see them all here on the Indygo Junction YouTube channel. Be sure to subscribe to our channel to be notified when we release new videos!
Here's some other inspiring vintage quilts for you to enjoy!
GIVEAWAY CLOSED. Today we are giving away one Folk Art Motifs Stitching Pack!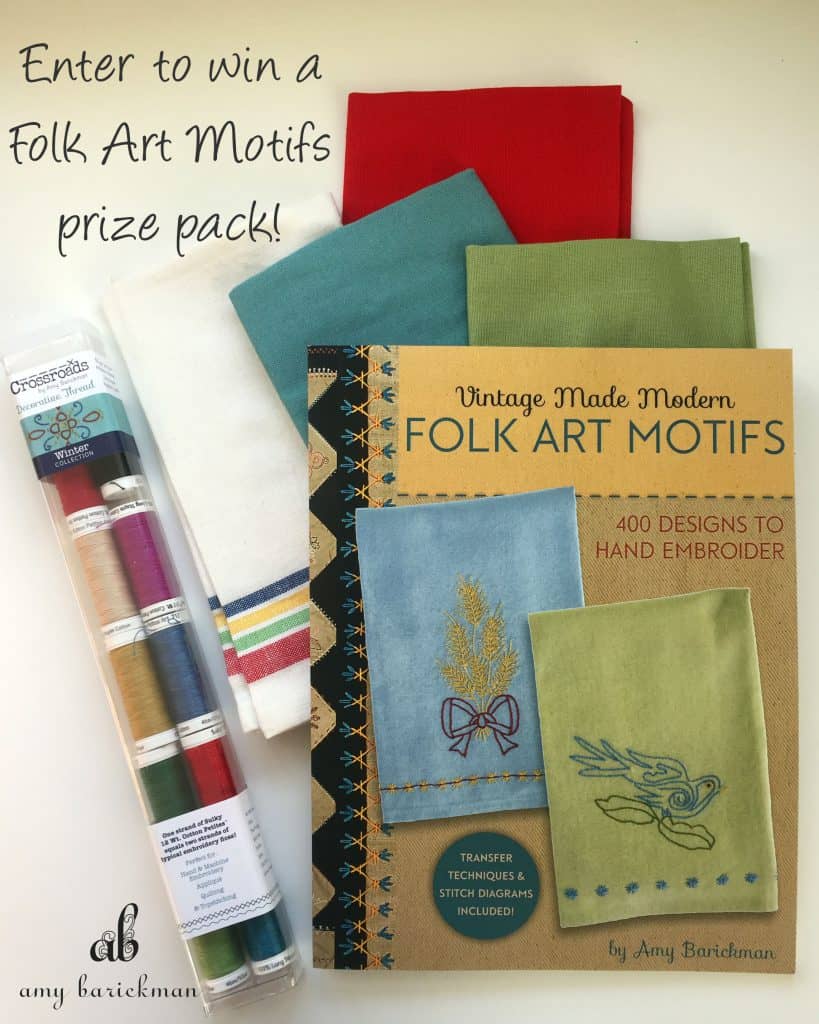 It includes:
A Copy of Folk Art Motifs
a pack of Crossroads Denim thread from Sulky
A set of blank dishtowels to stitch up
This giveaway is open through February 6, 2017 at midnight. Drawing will be held February 7, 2017.
Enter to win by leaving a comment below telling me what your favorite embroidery project has been, or what you'd like to use this book to embroider!
(U.S. residents only.) Thanks for playing along! The winner is Martha Pouliot! We will contact you soon to get your package to you!
And if you'd like to read more about Folk Art Motifs, hop over to the Indygo Junction blog. If you're already stitching with Folk Art Motifs, tag me on Social Media, I'd love to see! I'm @amybarickman_studio on Instagram.
Save
Save
Save
Save
Save
Save