In June of last year I attended Babylock's Common Threads event in St. Louis, Missouri. This three day event brought sewers, educators, designers and more together to connect, brainstorm and learn. While there I ran into Jenny Doan and her daughters Natalie and Sarah from Missouri Star Quilt Company. Missouri Star is just a short drive from Kansas City, so these ladies were practically neighbors! I had heard a lot about Missouri Star but hadn't had the chance to visit. After meeting Jenny, Natalie and Sarah, I was even more excited to see the stores and learn more about their business. Indygo office manager Cheryl and I went up to Hamilton on a field trip and got a tour of the stores and warehouse. Below you can see us with Jenny and some of the great murals they have painted on the MSQC buildings.
Missouri Star Quilt Company was started in 2008 by Sarah and her brother Alan as an effort to help their parents financially. The business started with a single long-arm machine. Alan then brought the store online with a website and YouTube channel. Jenny, his mom starred in a series of quilting tutorials online and business boomed. Missouri Star now employs more than 180 people and has expanded from a single store front to multiple spaces along Hamilton's main street. Each storefront features a different kind of fabric. There is a solids store, batiks, seasonal and more (including the soon-to-be-open Man Cave). I was excited to see my Crossroads Denim fabric on display in the solids store! Missouri Star has turned around this little town financially and created opportunities for other local entrepreneurs like those who opened Poppy's Bakery and J's Burger Dive.

Missouri Star isn't the first successful retail business to start in Hamilton. J.C. Penney grew up and started his retail career there. For years the J.C. Penney boyhood home and museum had been Hamilton's main tourism draw, but now the town, who's population is less than 2000, has up to 10,000 visitors making the trek to Missouri Star during the summer alone. The success of this family business is so incredible that this year Sarah and Alan were named the nation's Small Business Persons of the Year by the U.S. Small Business Administration! Check out this post on MSQC's blog where Missouri congressman Sam Graves presented with a U.S. House of Representatives proclamation recognizing their Small Business Persons of the Year award. They have been featured in the Wall Street Journal and you can also see them on this episode of NBC Nightly News!

Since meeting the MSQC family, I've been fortunate to get to know and work with them. We've been collaborating on projects using my Vintage Made Modern cotton line as well as Crossroads Denim, which I was excited to see on display during my last visit to Hamilton. In fact, when I walked into the MSQC offices I ran into Jenny working on a new Crossroads Denim quilt pattern. I can't wait to see the finished product!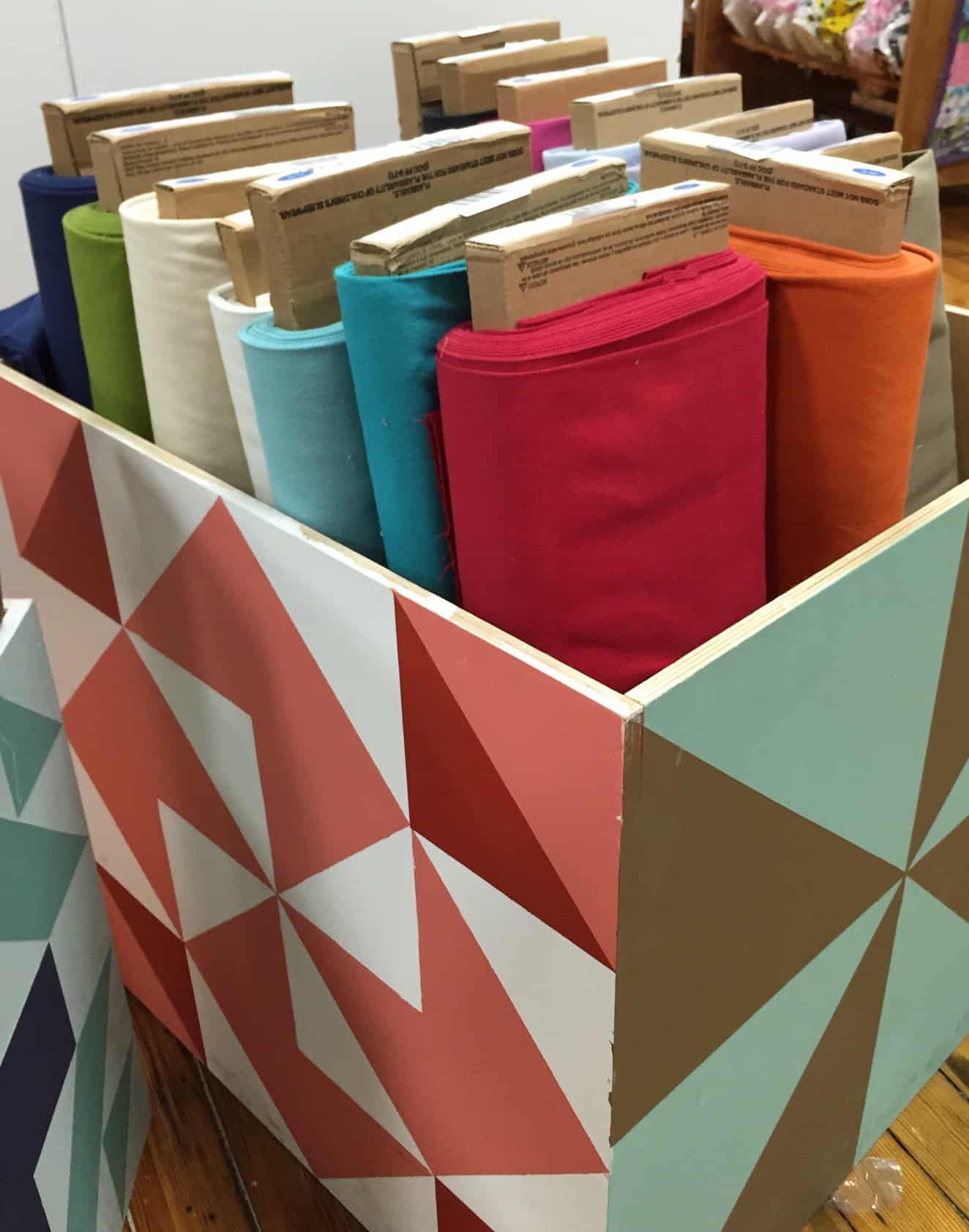 With the success of Jenny's videos, MSQC is now expanding with new YouTube Channels. Vanessa from Crafty Gemini is creating some great sewing tutorials (including one using Crossroads Denim) and Rob Appel has started a great series called Man Sewing, which I will be appearing on soon. I've been so inspired watching MSQC expand their business, and am very excited to be able to collaborate with them in the future.
There is so much I want to share with you about Missouri Star's story. Look for more inspirational posts coming soon!