Sweets and treats come in a seemingly endless supply during the season of Halloween…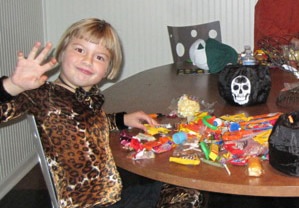 Candy corn, cookies, Snickers, Twix, bubble gum, candy, chocolate, gummies….so many options with one common denominator: SUGAR!
Yummy at first, sickening after awhile, right? But treats haven't always been as sweet as they are today. Many vintage recipes call for much less added sugar than their modern-day equivalents. Throughout Vintage Notions, there are a number of recipes featured in the "Department of Cookery" sections which offer tasty alternatives to store-bought sugary snacks.
One such recipe, "Devil's Food Cookies" appears in October's chapter, and provides the perfect opportunity to bake something with a more subtle sweetness that won't overwhelm your taste buds. Plus, it's a great activity to do with kids! Enjoy this recipe as seen in Vintage Notions, along with a few extra hints from me:
Ingredients
3 tbls. of butter
1/2 cup sugar
1 egg
1-1/2 cups flout
1-1/2 tsp. of baking powder
1/8 tsp. salt
1-1/2 squares of unsweetened chocolate
Cream the sugar and butter together thoroughly and add well-beaten egg, then melted chocolate. Sift flour once before measuring together with baking powder and salt.
The dough will be very thick, and these are dense cookies – more cookie than cake, as you might expect from "Devil's Food". For softer cookies you can experiment with melting the butter before you mix it with the sugar OR adding a tablespoon of milk.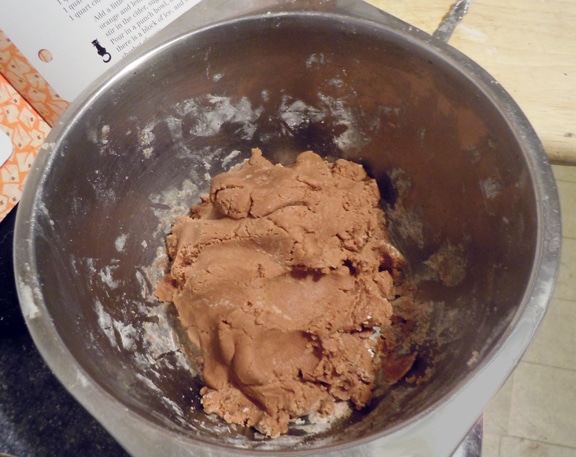 Chill dough for 20 to 30 minutes, then roll 1/4 inch thick and cut with a round cookie cutter.
Bake cookies in a 350-degree oven for 10 to 15 minutes. When cool, ice with basic white icing and after firm, paint on the shape of a black cat or jack-o-lantern, using melted chocolate and a fine-hair paintbrush.
Since the cookies themselves have such a muted sweetness, I compromised and added a little kick to the topping, instead of using basic white icing. In one container, I melted a cookies and cream candy bar (white chocolate with little chocolate cookie bits), and in the other I melted some semi-sweet chocolate chips. I used these to make spider web designs, appropriate for Halloween! The cookie bits even look like little spiders!

Give this recipe a try, and tell us how it goes! It's surprising to realize how our palettes have changed over time to accommodate the unnecessary added sugar content of many foods today, so don't let this vintage recipe fool you. But if you want to take a step back from over-the-top sweetness and choose something different (or cheat a little bit, like me, and add your own sweet zing), then this is a fun treat to try!
Happy Baking and Happy Halloween!