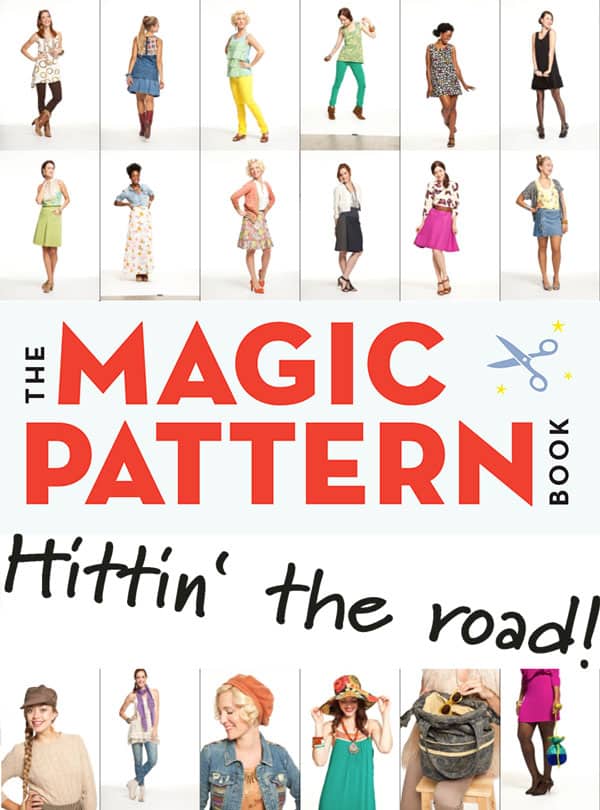 Starting this weekend The Magic Pattern Fashion Show will be traveling across the country with the Original Sewing and Quilting Expo. In fact, you can see me emcee the show this weekend at the Expo in Fredericksburg, VA. (See my full Expo schedule here.)
We have been busy creating beautiful new samples from The Magic Pattern Book not only for the Fashion Show, but also for The Magic Pattern Trunk Show that will be visiting a retailer near you! The trunk show will feature 13 Magic Pattern projects in fashion-forward fabrics from Robert Kaufman, Free Spirit & Westminster Fabrics and Crossroads Denim from James Thompson, as well as some of our favorite original samples seen in the book. Each chapter is represented so you will see finished projects from The Tank Top, The Skirt, The Dress, The Cardigan, The Coat and The Accessory.
I love that trunk shows give customers the opportunity to see the finished garments in person. They can see the finishing techniques, look at all the unique details and maybe even try a piece on to see how they fit. I hope that you are able to visit The Magic Pattern Trunk Show to view the finished Magic Pattern projects and be inspired to create your own.
See The Magic Pattern Trunk Show at a retailer near you!
Oct 1 – Oct 15: Sew Inspired Simsbury, CT
Oct 20 – Nov 3: Crooked Stitch Rocky Mount, VA
Nov 7 – Nov 21: Mea Bernina Lawrence, KS
Dec: Pins & Needles – Stores throughout Ohio
Jan 19 – Feb 2: Sew Biz Radford, VA
Feb 9 – Feb 23: Sewing Arts Center Santa Monica, CA
Feb 9 – Feb 23: Bernina Sewing Center Topeka, KS