This month I have shared with you the story behind the creation of  The Magic Pattern Book. Now that the book has been released into the world, I have planned a number of events, one which started at the beginning of this month; the BurdaStyle Magic Pattern Design Challenge. In this new challenge, participants are asked to create any project from The Magic Pattern Book and upload it to BurdaStyle.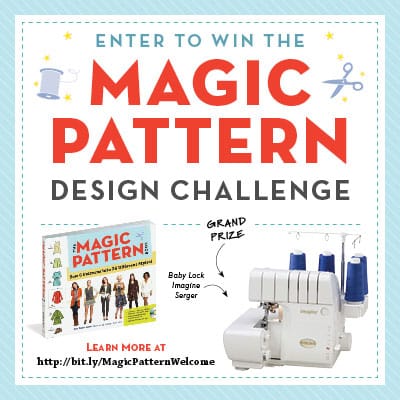 I am providing the pattern and instructions for two of the Magic Pattern projects, the Adelaide and the Francesca, in case you are unable to get the book. On October 1st, voting begins and the sewing community gets to choose the winner – who will receive a brand new Baby Lock Imagine Serger! You can enter the sewing contest here. BurdaStyle are also hosting weekly giveaways of fabric and patterns. This week they are giving away 8 yards of Robert Kaufman fabric, as well as a copy of the book. Next week will be a prize pack of Indygo Junction patterns. Enter to win here.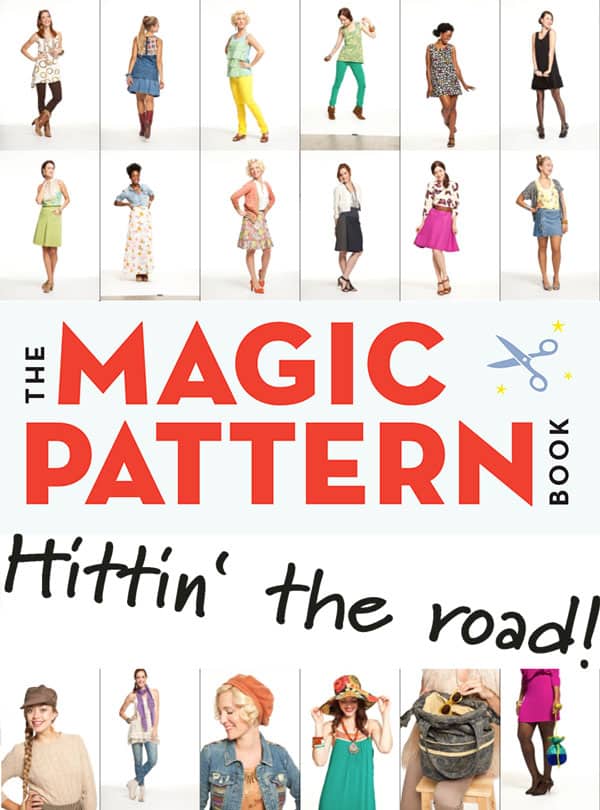 This fall  and next spring, I will be traveling all around the country to sewing expo shows! My first stop will be the American Sewing Expo in Novi, MI where I will be teaching two classes; Denim Reinvented and Magic Patterns: A Whole Wardrobe in One Book. Then I move on to the Original Sewing & Quilting Expo where I will be attending three of shows; Fredericksburg, Overland Park and Minneapolis. I will be teaching as well as emceeing The Magic Fashion Show. I am so excited to introduce you to this book through the fashion show. While I will only be attending three stops on the tour, The Magic Fashion Show will be traveling to all the Original Sewing & Quilting Expos – Check the schedule here and be sure to stop by!
We have created a number of brand new samples for The Magic Fashion Show, many of which you can see below. Some of the garments will also be traveling to stores with The Magic Pattern Trunk Show. Check with your local fabric store to see if the The Magic Pattern Trunk Show will be coming to a town near you.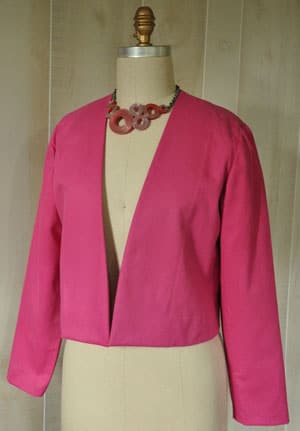 Save the Date – Join us on the Magic Pattern Blog Tour from 10/6 to 10/24! Stay tuned for more details.