Last month I was in Pittsburgh with the Indygo Junction team for our biggest show, Spring Quilt Market! This is the show where we debut most of our new pattern designs for the year. For 2014 we have a whopping 24 new patterns and two new books. (It's been a busy few months – with more to come!) This year I wanted to focus on creating patterns with a purpose – functional patterns that can be used at your own home, or can be given as gifts.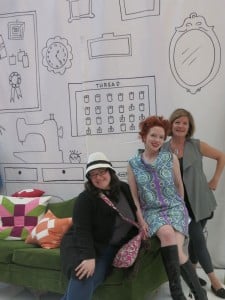 Here is the Indygo Junction team posing in our neighbor Moda's adorable booth. I am wearing our new Modern Silhouette Vest in Metal Grey Crossroads Denim. Betsy is wearing the Urban Tunic in Ty Pennington fabric.
Quilt Market is important because it is the pulse of the industry. When I am at the show I can talk to the store owners one-on-one about what their customers are really looking for. Over the years many of these store owners have become friends and I always look forward to catching up at each show.
Inspiration is a one of the best take a-ways from Quilt Market. I love seeing what other fabric and pattern designers are creating. I also get to see the newest tools and notions that are out. As I walk the show I make note of any new buckles, buttons, zippers or sewing tools that I can use in a new pattern. I want to push our pattern designs so that they take advantage of the newest "technology" in the sewing world!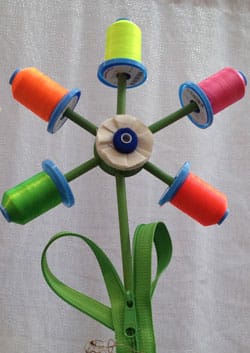 One opportunity I like to take advantage of at Quilt Market, is the option to teach a Schoolhouse. The day before the show officially opens is Schoolhouse day, where the shop owners can spend the day taking 30 minute classes given by designers and companies to educate them on the newest products, marketing ideas and more. This year I taught two classes. The first, Creating Dollars with Denim, focused on my Crossroads Denim line and new book Dimensional Denim. I discussed the many uses for Crossroads, event and marketing ideas for the fabric, and debuted 5 gorgeous new colors; Wisteria, Cactus Pink, Ice Blue, Mushroom and Pistachio!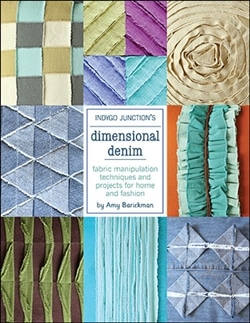 The other class I taught was on the upcoming book release The Magic Pattern Book. I'm very excited about this book, which will be released in August. Inspired by Mary Brooks Pickens' Magic Patterns, I have designed 6 base garment patterns (dress, top, skirt, cardigan, coat and accessory) from which another 6 garments can be created – giving the reader patterns for 36 different projects!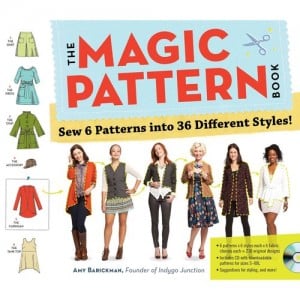 It's been a few week since we returned from this whirlwind trip and I am still excited and inspired by the people, products and designs I saw at market. I want to share our new pattern line with you. Leave a comment on this blog post and you'll be entered to win a variety pack of our new patterns and book! The contest will run through June 27th, 12:00 pm, US residents only please. Good luck!