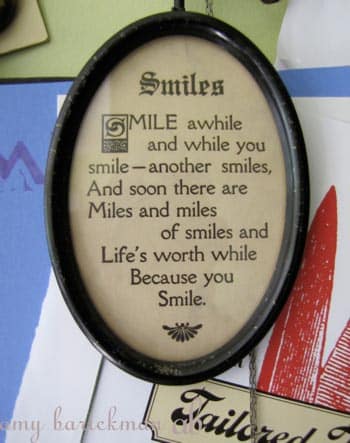 Give smiles if you have nothing else. Give encouragement, good cheer.
Make beauty come to you through your desire to express it.
Your thoughts, deeds, motives, acts, industries, and desires–
all can express beauty if beauty is in the heart; all can give happiness if
love is the carrying vehicle.
July's chapter is all about summer beauty, both inside and out. In the above quote, Mary Brooks Picken once again reminds us that simplicity in living and giving, and a kind and cheerful disposition make for a beautiful life. In this hectic day to day world, sometimes this is hard to remember. We get bombarded by blogs and magazines telling us that we can be happy,  if you have this or buy that. We need the wisdom of Mary Brooks Picken to know that stuff isn't going to make us happy; only inner contentment and kindness are the vehicle for happiness.

Beauty Vs. Personality
This month the Department of Good Looks talks to us about Beauty vs. Personality. Most women feel the pressure to achieve a level of physical attractiveness. We diet, whiten our teeth, dye our hair and even have plastic surgery to achieve what is, mostly, an unattainable ideal. But what is that worth if we don't have the personality to back that up? This article reminds us that a beautiful woman without intelligence, wit, and warmth is only a pretty picture. So the next time you are feeling unattractive, don't just run out and buy a new lipstick or new shoes…try hitting up the bookstore, or working on an interesting hobby, that way you are working on both your inner and outer beauty.
"Nothing in the world has ever been beautiful merely on the surface. Beautiful women hold their preeminence through a single unchanging possession–an inexhaustible, rich store of vitality."
All feminine America seems suddenly to have realized that the wearing of trousers is conducive to greater freedom, and so to greater joy.