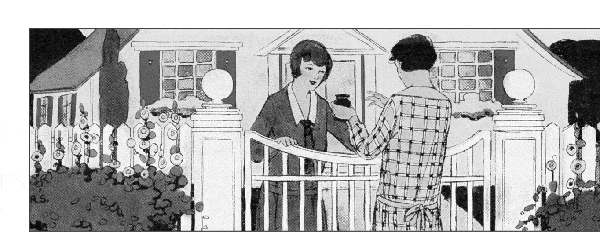 What kind of neighbor are you?
It is ironic that the day I am reading the June chapter of Vintage Notions, I am scheduled to meet a new neighbor in my cul-de-sac. I am lucky to be surrounded by the kind of people who throw a welcome party for newcomers, which is where I am headed tonight. We are a tight-knit community who strive to be there for each other for everything from last minute babysitting, to a relaxing drink on the porch.
One of the best qualities of a good neighbor is their gift of time. As Mary Brooks Picken says, "Life is too short to be stingy". Give your neighbors some time this summer. Talk a minute to chat with them about their beautiful yard, or help them with a project. You will not only be spreading goodwill, but also building a strong friendship.
A poem by Douchlas Malloch, featured in Vintage Notions says it best;
"So much is bought, so much is sold,
We miss the value of
The things that are not sold our bought,
The gifts that only loving brought,
The words of honest praise,
The friendly smile, the friendly thought–
The things of happy days."

Meeting Summer Halfway
After a very busy month, I feel like I'm almost there. For me, the beginning of summer always equals chaos. In my business we are busy with follow ups to Quilt Market, working on our new pattern launches, and a million other projects. At home, the kids are out of school, which means keeping them entertained and transported from one activity to another. This all takes some getting used to, but as the June rolls by, we settle into our new summer roles.
I am getting ready to leave for our annual family vacation in Michigan. We head off to enjoy the beauty of summer. Boat rides, nature walks, crafts, this is how we enjoy our time together in the summer. If you can't get away on vacation, be sure to plan time to enjoy the summer. Make your own summer camp schedule: take a trip to the pool, see an outdoor theater production, walk through your park, or local botanical garden, and don't forget to schedule that water gun fight.

One of my favorite summer crafts is embroidery. It's a perfect project to work on relaxing in the shade. I want to share with you some vintage embroidery pieces I have in my collection. It was pieces of this collection that inspired me to design Indygo Junction's A Stitch in Time with Mother Goose fabric line and book, which you see in the blocks below.

During the summer, whether I am at home or in Michigan, I find myself stocking up the house for those unexpected summertime guests. I don't get too fancy, after all as the Summer Hospitality article says, there is "Majesty in Simplicity". Iced tea, lemonade, cheese and crackers, it doesn't take much to be a hospitable home. Sometimes though, it is fun to make something new. Below see one of my new favorite drink recipes. Invite some friends over and try it out, it is so refreshing on those hot days!
Ingredients:
1 1/2 lbs sliced seedless watermelon, rind removed
zest of 1 lemon
3/4 cup of fresh lemon juice
1/2 cup mild honey
1 lemon, thinly sliced, for garnish
1. In the bowl of a food processor place watermelon and process until very smooth. Strain through a coarse sieve set over a bowl, stirring to push through any pulp. Pour juice into a large pitcher. Add lemon zest.
2. In a bowl, whisk lemon juice and honey until honey dissolves; stir into watermelon juice. Stir in 1 1/2 cups cold water; cover and refrigerate until very cold. Serve over ice and garnish with lemon slices. Yum!