Hello! I am happy to tell you that we have made it back from Quilt Market in one piece. We had a wonderful time in Portland, which is a beautiful and inspiring city. We arrived on Tuesday night, and went straight for dinner and bed. Wednesday morning we started setting up our booth which took two full days to get just right. Quilt Market officially started on Friday morning, and we were off! Three days of meeting shop owners, introducing our new fabric and pattern lines and getting inspiration from all the wonderful new fabrics that were showcased. It was a whirlwind!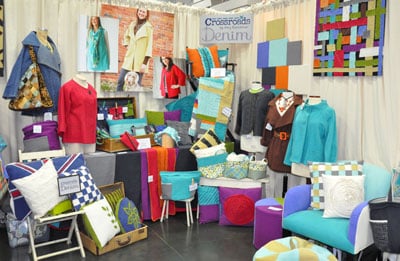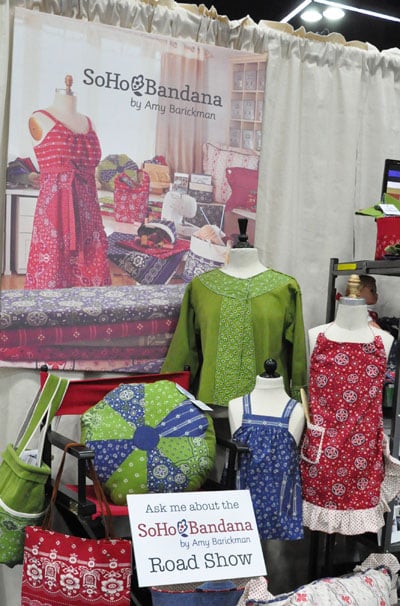 Thinking back through the years, it is amazing how Quilt Market has changed. It is much larger now than it used to be, and aesthetically the fabric and quilt designs have really done a 180. The modern design movement, which has been growing over the last 10 years, was really alive at this market. Bright colors and clean design were everywhere, and it was nice to see a large number of younger sewists attending the show.
 The day before market opens are Schoolhouse sessions. Schoolhouses are 20 minute classes given by designers to introduce their new lines. We did two on Thursday, to introduce SoHo Bandana and CROSSROADS Denim. The response to the new fabric lines was overwhelmingly positive! The shop owners loved seeing how these new lines worked for fashion sewing, home dec and quilting.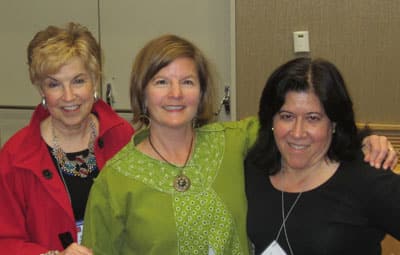 My mom Donna, myself and Anna from Red Rooster Fabrics at the SoHo Bandana Schoolhouse. Donna and I are wearing Indygo Junction patterns, the Chinois Coat and the soon-to-be released Cutting Edge Jacket. We made them in CROSSROADS Denim, and mine has a pop of SoHo Bandana trim.
We hosted a panel about introducing and expanding fashion sewing in quilt stores. I moderated 4 shop owners as they spoke about fashion sewing, marketing and social media. We were honored to be joined by the amazing Amy Butler and Joyce from Westminster fabrics, who discussed the use of fashion fabric such as linens, rayons and voiles. The shop owners shared invaluable advice and information. It is great to see the interest in garment sewing growing around the country!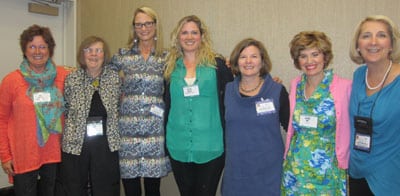 CROSSROADS Denim
fabric is shipping now, and
SoHo Bandana
starts shipping in July. Our new patterns will be shipping July/August but you can keep up to date on all the
Indygo Junction
happening's by signing up for the
newsletter
. Also, be sure to visit your favorite local fabric store and request
CROSSROADS Denim
,
SoHo Bandana
and
Indygo Junction's
new patterns today!