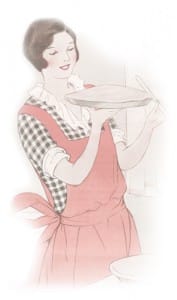 "We must measure our lives in terms of what gives us joy. When we do that, we build up happiness in our lives out of what we do. Then, with the advance of our years we can say, as did Julia Ward Howe, when asked it if wasn't harder to grow old.

'No, the deeper I drink the cup, the sweeter it grows. The sugar is all at the bottom.'"

This quote is one of those gems I found in the Women's Institute material that inspired me to publish Vintage Notions. I think of savoring the sweetness of life, like the simple couple Mary Brooks Picken describes in the story, "Every Woman's House…Her Castle" who, "know no conveniences, yet they have peace within for they know industry, kindness, and love, and these have provided treasured wealth." I love that story because of its truth and importance.

When it comes to savoring sweetness of the simple things, pie comes to mind. It seems like the perfect combination of goodness and simplicity—in food form! That's why I wanted to include "The Secrets of a Perfect Pie" in this chapter. Pie also makes me think of my sweet friend Michele Muska. Michele is a talented textile artist (she designed two Indygo Junction patterns!), but she's also talented in the culinary arts! Michele recently had one of her pie recipes featured in (and on the cover of) Jo Packham's book, Pieography: Where Pie Meets Biography
. This wonderful book tells sweet stories of life to match each pie recipe — a concept that I just love!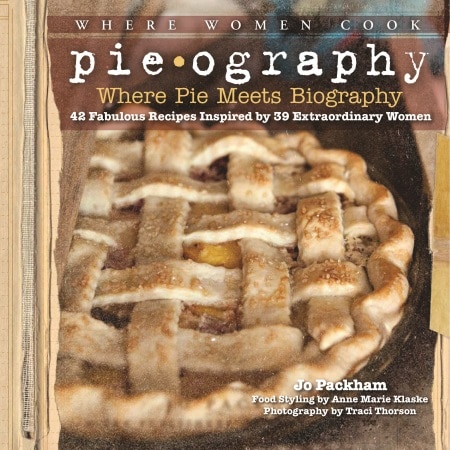 Thinking about my own life in these terms, I realized that some of the women who I care most about are also linked, in my mind, to some specific sweet treats! For example, I'll always think of my Grandma Martin when I have carrot cake because of the countless times I enjoyed her own homemade recipe growing up. Cherry pie makes me think of my mother's talent for creating delicious fruit pies and all the time we spent cherry picking in Michigan. My dear friend Jenny always seems to have a fresh batch of chocolate chip cookies right out of the oven to share… I wonder how many of you have favorite sweet treats and sweet friends and family who create them?

Even though I gravitated toward the message of love around friends and family in this chapter, it's impossible to deny that February is also the month for celebrating Valentine's Day! I'm still pulling my valentines together, so I thought I'd share some of my images from The Vintage Workshop to help you out too. I hope you get to spend some sweet time with your loved ones this month!
Click on the image to download a PDF of vintage valentines!