For this week's favorite vintage advice, we turn to the kitchen! Whether you're a Betty Crocker or a clueless cook, I've got some resources to share with you that will surely help solve any dinner dilemma.
First of all, any good kitchen queen has to stay organized. The Vintage Workshop offers images that you can use for recipe cards, to-do lists, and storage labels in the kitchen. Here are a few of my favorites, from the "Happy Homemaker" and  "Just Desserts"  collections: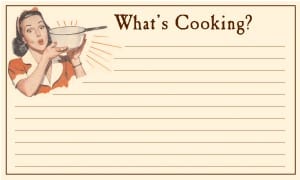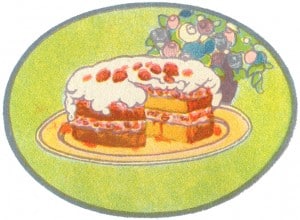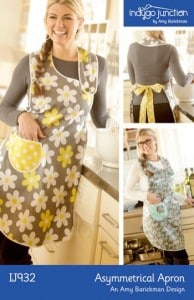 Next, take a look at your kitchen closet, why miss an opportunity to look your best? Adorn yourself with a stylish apron of your choosing, and you'll be a shining beacon of culinary success! (Even if your souffle is not)  The Asymmetrical Apron is one our new designs that I just love. Click here to see our full line of apron offerings.
Finally, it's time to decide on a menu. Since I love collecting vintage cookbooks and recipes, I have several tantalizing suggestions to offer you. Why not try an unforgettable dish of "Tongue on Toast"? This recipe was featured in The Home Queen Cookbook, originally published in 1803!

You'll never run out of ideas with the books from the "101 Things
" series. I discovered these handy recipe resources while browsing one of my favorite bookstores. From cake mix to popcorn to bacon, they are an endless source for culinary creativity!
Then of course, you can't forget the Vintage Notions book, which is brimming with vintage recipes, tips for the homemaker, and creative inspiration for everyday life. With Mother's Day just around the corner we're even doing a special promotional discount on your book purchase! CLICK HERE to buy Vintage Notions in time for Mother's Day and use code MD2012 at checkout to receive $10 off the book! The apron below is one of twelve patterns included within the pages of Vintage Notions.
And now you're all set to create the ultimate vintage kitchen experience.
Happy cooking!