Few notions are as nifty as the zipper, a fashion accent that has gained major traction since its invention the late 1800s. Back then, this classic closure was better known as a slide fastener.

Slide fasteners have done more than any other dress item to make clothes smart, easier to get into and out of, and easier to make,wrote Mary Brooks Picken in her 1916 book Modern Dressmaking Made Easy. Since slide fasteners have become the accepted fastener, they are used for every type of apparel for formal and informal, for daytime, for business, and for sports.
A 1937 package for a Talon slide fastener includes ideas for both decorative and functional uses for this fashion accent. Various patterns of the day are pictured from companies like Butterick, Simplicity, Vogue and McCall's. Talon is credited as the first manufacturer of zippers and continues to produce them today. The actual term "zipper", however, was coined by B.F. Goodrich in 1923, because he liked the "zipping" sound slide fasteners made. (Click on the image below to see it larger)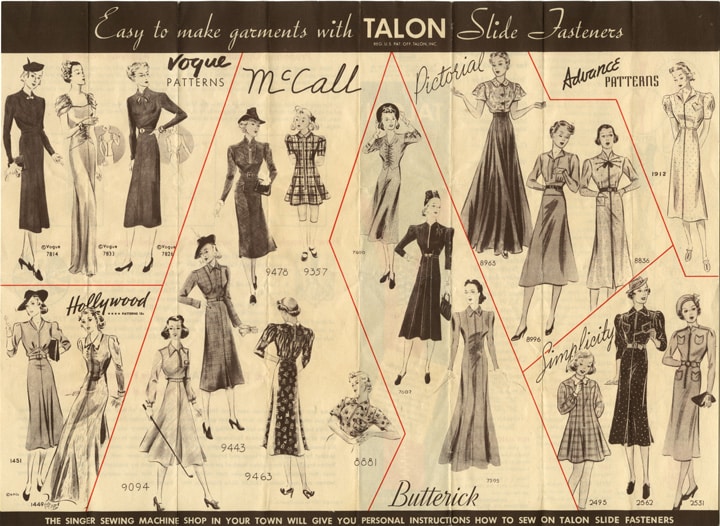 Some of our patterns at Indygo Junction highlight both vintage-inspired and fashion-forward uses of zippers. The Day To Night Dress showcases an exposed front zipper, inspired by a beautiful antique dress I found. Our Zipper Critters, a playful collection of plush creatures, feature zippers as sweet smiles. We even have patterns for flowers and jewelry made from zipper trim, a trend that's popping up a lot in boutiques lately.
With so many applications in today's fashion, zipper trims are available in a host of hues. Years ago, this wasn't so. That vintage package I mentioned suggested dyeing white fasteners to a desired color. Back then, slide fasteners were used for a number of accessories and garments, from children's rompers to ladies beach slacks to men's overalls, all listed on the package. And judging by its prevalence today, the humble zipper still has a lot of pull in the fashion world.
Below is a video "look book" featuring some of Indygo Junction's zipper patterns to give you more zipper inspiration: