In 1912, Mary Brooks Picken was beginning her career as a teacher at the American College of Dressmaking in Kansas City. That same year, Juliette Gordon Low started the first branch of Girl Scouting in the United States, from her town of Savannah, Georgia. (hence the name of the new Girl Scout cookie, "Savannah Smiles") Gaining immediate popularity since its introduction 100 years ago, the Girl Scouts of America continues to thrive with over 3.2 million Scouts, nationwide!
I love these vintage Girl Scout Handbooks, especially this one with a silhouette design, from 1929.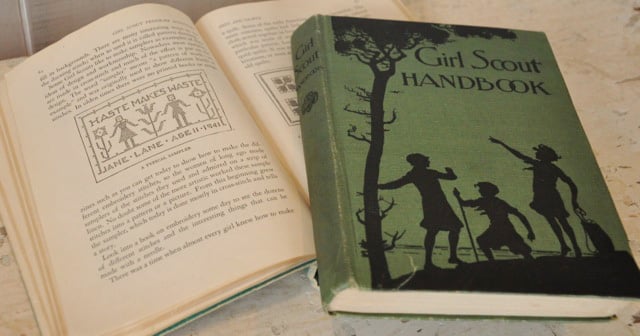 While camping, community, and cookies are all part of the Girl Scouting experience, these handbooks also include chapters on Homemaking and Arts and Craft. The other week, I had the opportunity to teach my daughter's troop about cross-stitching, and we had a lively discussion about the meaning of "Haste makes waste"(see picture above)! These vintage handbooks were wonderful resources to share with the girls, and made me think of all the fun projects for kids found in The Sew-It Book.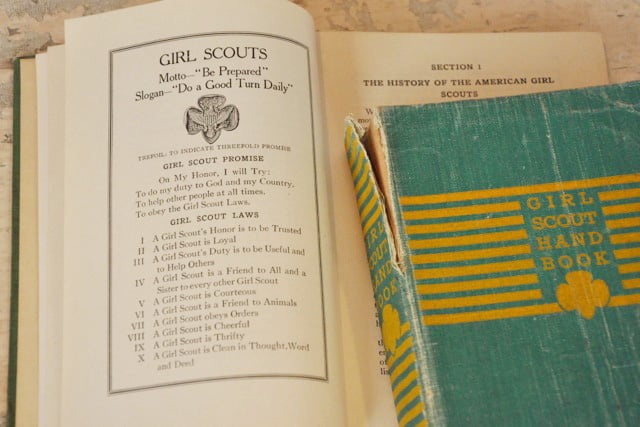 I also recently learned of a new book about the life of Juliette Gordon Low, which came out last month Juliette Gordon Low: The Remarkable Founder of the Girl Scouts.
Though they might have never met, I'd like to think that Juliette Gordon Low and Mary Brooks Picken would have found a mutual admiration in each other's accomplishments. They both did so much to educate and empower women in the same era when women's rights was still a forthcoming issue.
For its big centennial celebration, Girl Scouts USA is kicking off its largest awareness and fundraising campaign dedicated to empowering girls, called ToGetHerThere. You can watch this video on the Girl Scouts website to learn more about the campaign.
Happy birthday to the Girl Scouts of America! Here's to another successful 100 years!