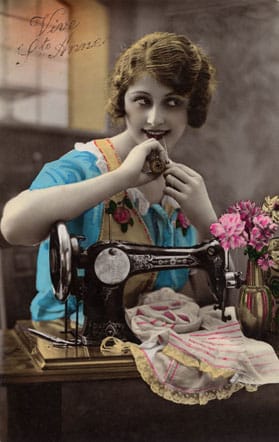 Are you using your sewing machine to its fullest potential? So many sewers share a fear of venturing beyond those same basic stitches. You might think, for instance, that you have more control when hand stitching a small detail rather than letting your machine do the job. Sound familiar?
But through her work with the Woman's Institute, Mary Brooks Picken reminds us that it's time to shed those sew phobias and reacquaint ourselves with our machines! Wind up the bobbin and save precious minutes, urged Sallie L. Courtright, an instructor from the Woman's Institute who wrote an article called "Make Use of Your Sewing Machine."
"Few of us appreciate the short-cut methods that our sewing machine will enable us to use," wrote Courtright. Machine couching, plaited-lace rosettes, bias bindings, and rickrack are among the details that can be done much more quickly by machine than by hand.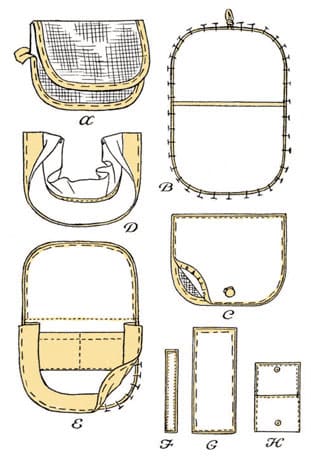 One of my favorite online destinations for sewing tips and tutorials is BurdaStyle.com. The "Techniques" section features instructional videos and articles uploaded by users from all around the world, and covers a wide range of topics. I even shared some of Indygo Junction's technique videos!
In my book Vintage Notions, you'll also find patterns and tips that make the most of your trusty sewing machine. After all, Mary Brooks Picken wrote the book on Singer sewing. Literally. (Singer Sewing Book, 1949)
Many patterns at Indygo Junction allow the creator to experiment with different stitches and attachments. The Permission Purse showcases circular embroidery and decorative threads.
What are your favorite time-saving tools, techniques or tricks for your sewing machine?