Do you dress to impress? Or do you dress to express? Perhaps both.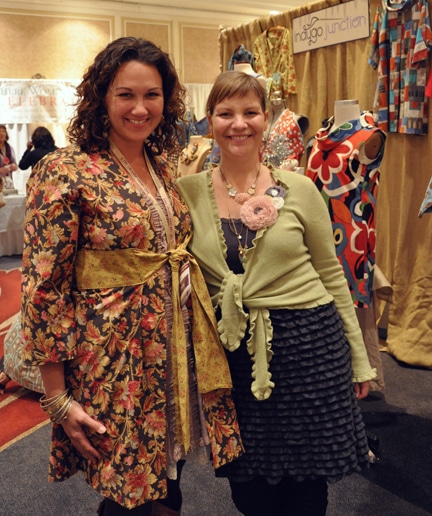 I love expressing my creativity through fashion, so when I found Mary Brooks Picken's words on individual style, I was intrigued by her timeless philosophy. In two different books, Harmony in Dress and Secrets of Distinctive Dress, Mary shares advice on how to develop individual style, by integrating the latest looks in your wardrobe while accentuating singular strengths and subduing weaknesses. Presenting yourself honestly and comfortably is key.
"To be well dressed," Mary writes, "does not necessarily mean that you must be extravagantly dressed; it does mean, though, that you must understand dress harmony — how to adapt prevailing styles to harmonize with your personality and to conform to it."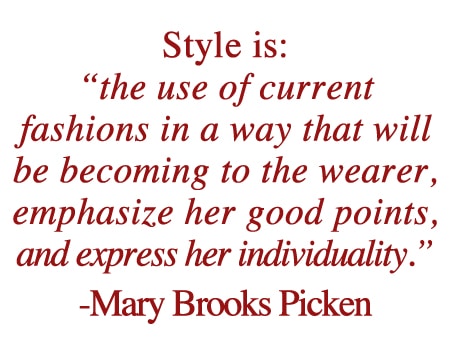 Like fashion, style is fluid, always changing and growing, rooted in good taste and appropriateness of time and place. Mary defines style as "the use of current fashions in a way that will be becoming to the wearer, emphasize her good points, and express her individuality."
When we see a boldly clad model traipsing down the runway or a dramatic outfit in a magazine, rarely do we copy the look for ourselves, but we may modify the mode to suit our tastes.
I personally love discovering the unique handmade fashions I find at Creative Connection and the Country Living Fair. I took the photo above at the Creative Connection in September when Kelly Rae Roberts and Leigh from Curly Girl Designs stopped by our booth. They both have a unique style that speaks to who they are as individuals. (And look how great the Quick-tie Topper(IJ886) looks on Leigh!) And of course, I take pride in all the patterns published by Indygo Junction, which offer a thoughtfully crafted, unique style that you can adapt for your own.
Where do you find inspiration for your personal style?