Paper or plastic? Neither!
If you thought the bring-your-own-bag trend at grocery stores was a recent movement, you may be surprised to learn that some shoppers were loading their own tree-hugging totes as early as 1944. That's when Mary Brooks Picken published an article in Better Homes and Gardens called Five Paper Saving Carry-Alls, in which she provides pattern instructions on how to make stylish sacks to haul to the supermarket. (After finding out that Mary was a contributor to BHG, I toured their headquarters in Des Moines and did some research looking for more of her work. I was lucky enough to tour their kitchen and photo studio.)

If a million shoppers each said, ˜No thanks, and refused on paper bag a day, think of the saving for war needs! she wrote. Bags like these hold a lot of parcels or groceries, are far easier to carry and look dashing, besides.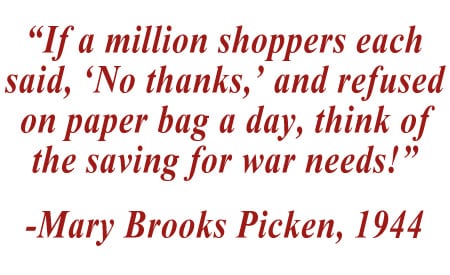 Nowadays, we are more concerned with waste from plastic bags. Many stores offer a discount if shoppers opt for reusable bags, and some even refuse to use plastic bags altogether.
Big box stores tend to sell eco-friendly bags specifically designed to carry your purchases out. But why not make your own? Based on the instructions in Picken's article, I sewed a simple drawstring bag using a fun fabric from my own Vintage Notions line. This easy -to-carry tote packs your snacks in style. We also modified the design with a modern twist.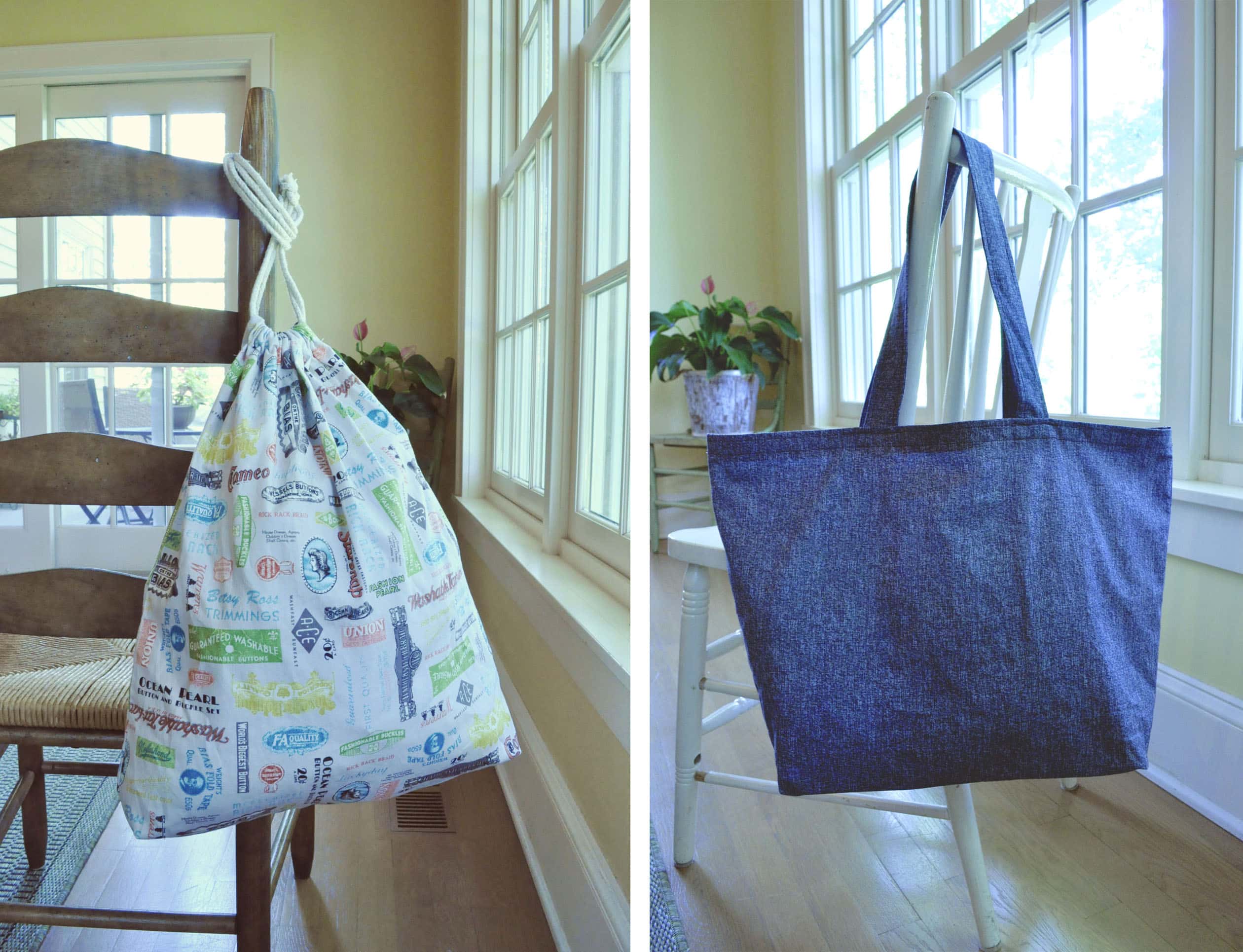 On the updated version, the casing became the upper hem, supporting two 1 ½-inch fabric handles. We also lengthened the seam to widen the bottom. This bag is sewn with lightweight cotton, with a plastic insert at the bottom to add structure.
Both bags are washable, unlike those flimsy store-bought sacks, plus you can use a recycled remnant of your favorite fabric to show off your style. With its gender-neutral hue, my son wasn't embarrassed to carry my contemporary tote out of the store.

At Indygo Junction, you can find contemporary patterns for bags that are great as reusable shoppers  several of which can be made with recycled menswear wool or other re-purposed fabrics. Doesn't get much greener than that!
How do you go green in your daily life?