If you've been following my blog and Facebook lately, you know that last weekend I was in St. Paul, Minnesota for the second annual gathering of The Creative Connection a wonderful weekend of keynote speakers, workshops, panel discussions, and networking with (mostly) women entrepreneurs in the creative arts industry.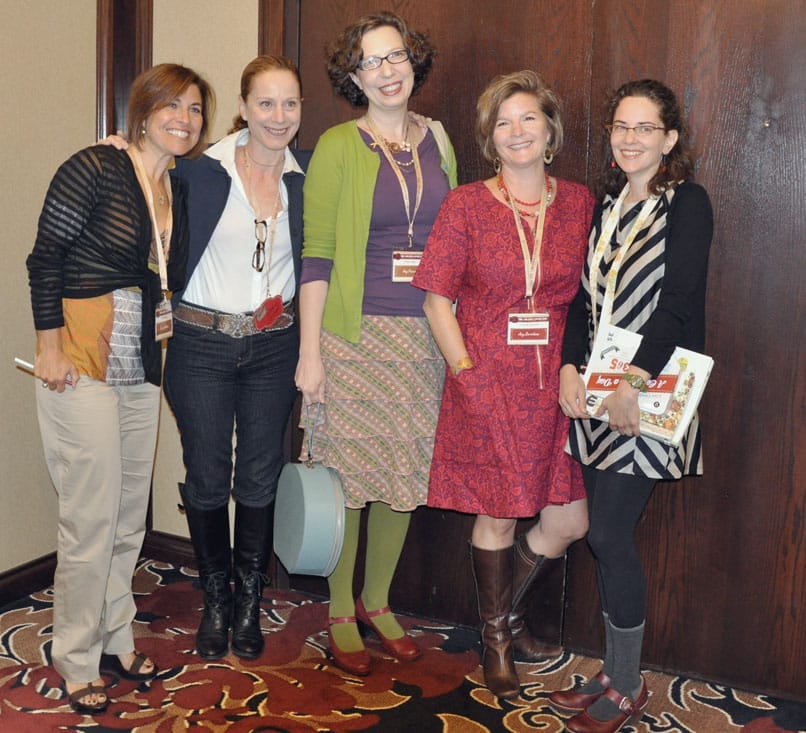 I was fortunate enough to be on a panel about self-publishing with these talented ladies in the photo above, and was impressed by the unique perspective they each brought to the discussion. From left to right (skipping myself), they are:
(You can see more of my photos from the event on my Inspirations Gallery page)
At the event were some big names in the business, such as Cristina Ferrare, Holly Becker, Tim Holtz (not to mention co-founders of the event, Nancy Soriano and Jo Packham), but there were also bloggers and Etsy-ers, business owners…as well as individuals who want to take their craft to the next level, but weren't sure where to start. There were moms, grand-moms, but also young women. But despite the range in age, experience, style, etc…it was remarkable to see the women at this conference unified by their passion and support of one another. It seemed that everyone was a friend and a willing consultant.
As I heard so many wonderful stories of women and their gifts throughout the weekend, it reminded me of why we are in the midst of what they are calling the DIY Revolution. There is truly a great fulfillment in sharpening your skill and cultivating your own creativity. We are in a time where pop culture seems to be rediscovering this, but it is not a new idea.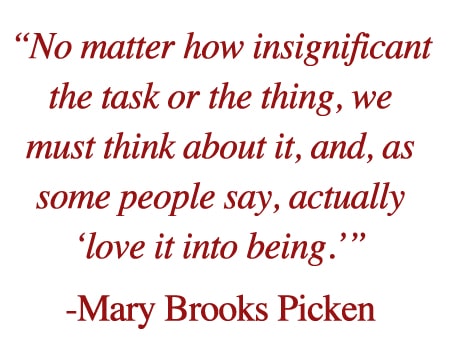 I was reading an article recently by my favorite source of inspiration, Mary Brooks Picken, and was touched by how emphatically she wanted her Woman's Institute students to learn not just for the sake of study of success, but for the joy of the experience. In 1923, she wrote, We should all learn to study for exhilaration rather than for exactness of rule; then every task will be a new adventure and every accomplishment, a victory gained.
In her presentation, Holly Becker (author of the blog and wildly popular book, Decorate) spoke of the difference between passion and love. She suggested that as you pursue a dream, passion may fade or dwindle from day to day. But if you are driven by love, then you will have the fortitude to push through fears and persevere through challenges. Mary Brooks Picken wrote,
Throughout all ages of human activity, we know that interest has preceded success. No matter how insignificant the task or the thing, we must think about it, and, as some people say, actually ˜love it into being…the undertaking, whatever it is, must command our respect so that in time of crisis, when we see our interests in jeopardy, put in disfavor, or something else is preferred to them, our courage will be stimulated in every fiber to prevent failure of that which we prize.
So, why do we take the time to "do it yourself" whether it's craft, cooking, designing, making home improvements? We do it not only for the end product, but for the love of the experience. We value the process of creating with our own two hands. And after last weekend at The Creative Connection, I know there are thousands of others who feel the same.
Let's inspire each other: Share a project or passion that you have "loved into being"