•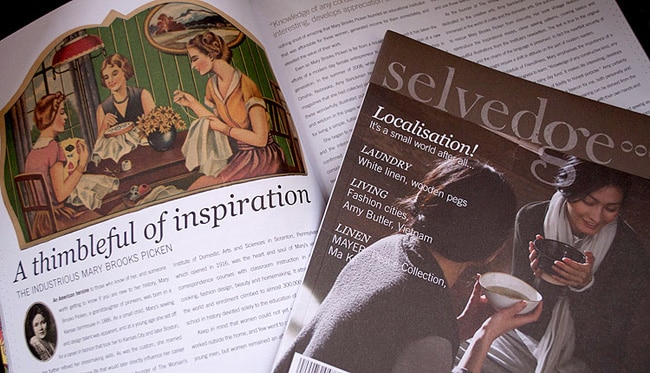 Just the other day, Amazon announced that ebooks are now outselling traditional, bound books. Now, those of you that know me know that I am not a luddite by any stretch of the imagination. It's rare that I am without my cellphone, laptop or iPad throughout the day (and night too!). However, there's simply nothing like curling up with a good book and actually holding it in your own two hands. It's an intimate connection between a reader and an author that I fear we're losing. In fact, some of the most meaningful feedback I've received on my Vintage Notions book was about how good the book itself felt in their hands.
I bring this up because there is magazine that I feel the same way about. In an age where our cyclical publications are fast moving toward a digital subscription model, if only to survive the economic pressures of our day, Selvedge, the UK-based magazine that adheres to a "cerebral and sensual addiction to textiles in all forms," stands out. How do I describe it? It's an absolutely delicious magazine – unparalleled photography (printed on a thick, quality paper stock), visually arresting page design and immersive writing by people who are truly passionate about their subjects.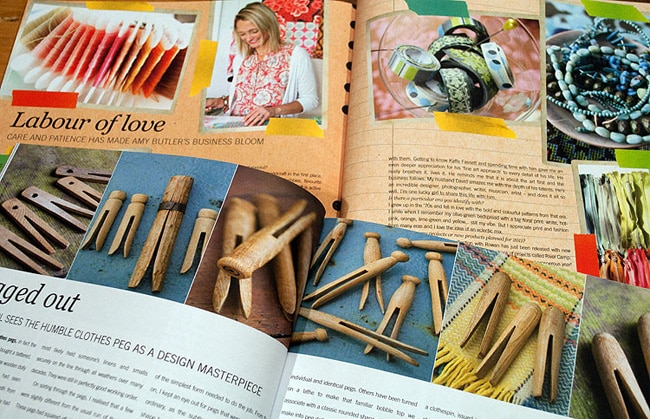 I owe my awareness of this publication to Kaari Meng, of the French General, who introduced me to Selvedge after she saw my Vintage Notions book and the synergies she felt it had with the writings in the magazine – textiles, history, creative spirits and the nurturing of one's soul. She suggested I send the editor a copy of my book, which I did, along with an introductory letter. I then bided my time until I heard back by throwing myself into all of the back issues I could manage to lay my hands on. Imagine my surprise when I was told that they would be featuring the book in their upcoming issue. I was truly humbled by its inclusion. It was a great issue too, featuring a wonderful article on the wonderful Amy Butler – she is just so talented and dedicated to the beauty of handcraft and to the design community as a whole that she was meant to be in Selvedge.
I just wanted to share this with all of you in hopes I can drive a few more subscriptions their way. In an industry chock full of beautiful, well-written and creative publications, Selvedge truly stands out.
It is 2011 after all…so don't forget to check out their Web site too – you can subscribe there and check out their blog.
~ Amy