On a recent visit to Des Moines for the AQS Quilt Show, I met up with Kelly Kegans, senior home editor at Better Homes and Gardens. She and I first met at the Creative Connection in Minneapolis a few months ago. We discussed my book Vintage Notions and the fact that Mary Brooks Picken was a contributor to BHG in the 40'sand 50's. I also mentioned that I was going to be in Des Moines (my hometown) and that I would love to have a chance to visit her at the Meredith Corp. offices. I thought I might also stop in and say hello to Jennifer Keltner, Executive Editor, Crafts Group for a tour of the craft lab (I'll post on that tour soon!).
Kelly gave me an absolutely wonderful tour. I LOVED seeing all the red and white cookbooks! The test kitchen was truly beautiful! Here are a few fun facts Kelly shared with me:
Test Kitchen started in 1928
Current kitchen is BHG's fourth renovation
There's 1 showcase kitchen plus 10 test kitchens
There are 69 appliances (not counting small appliances)
Over 5,000 sq ft in size
18 people on the Test Kitchen staff, including 9 home economists, 3 food stylists, 1 shopper, 1 studio assistant & 1 office assistant
Over $120,000 is spent on groceries each year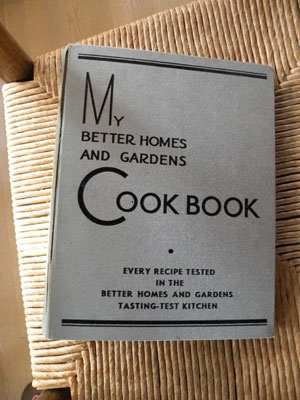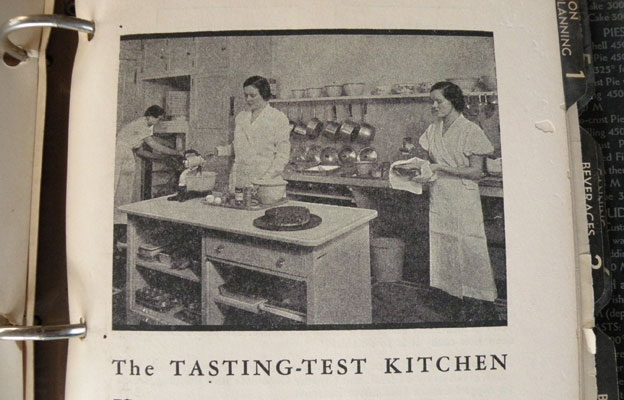 Serendipitously…as it would happen, the following day while shopping at the Brass Armidallo, I found one of the early copies of the BHG cookbook with a wonderful photo of the test kitchen circa 1930 (25th printing).
I will be posting several of Mary's articles from vintage BHG magazines in the coming weeks in celebration of my blog being featured in the January issue of the magazine. Stay tuned!