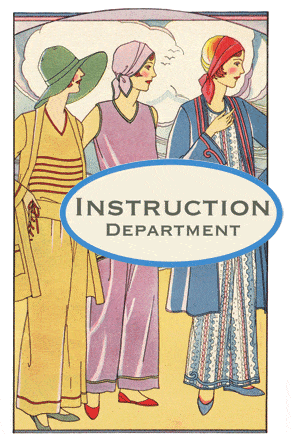 Whether they be so romantic as to demand a pirate's garb or so nautical as to long for sailor's togs . . . this quality of vesting us with new personalities may partly explain the lure of pajamas, but their quite general becomingness, as well as their very practical aspects, are also points in their favor. Materials range from sturdy cottons to luxurious silks, while colors are usually those bright, clear shades that appear best under direct sunlight, surrounded by wide, out-of-door spaces. All feminine America seems suddenly to have realized that the wearing of trousers is conducive to greater freedom, and so to greater joy. This discovery has started a new vogue, and now pajamas are worn on every possible occasion. They appear in the boudoir, made of washable silks and cottons for sleeping and of more elaborate fabrics for lounging. The beaches are teeming with bright-colored, picturesque types, charmingly individual in design and worn by those who prefer the sands to the surf. And college girls like nothing better than smart, colorful pajamas for lounging, study hours, and the social gatherings that mean so much in campus life.
* * *
The study of fashion is an area I personally find fascinating. I especially love the history of clothing and how it relates to the American woman's story, from the stories of corsets that suffocated to the popular pajamas in the excerpt above. As you can imagine, "trouser-style" pajamas quickly became a favorite item in many women's closets.
We all have favorite pieces of clothing that bring us joy. Maybe it's because they are comfortable or stylish, or maybe it's because they hold memories of a favorite place, time or event in our lives.
One of the most rewarding parts of creating this book is seeing people's response as they flip thru the pages. I just talked to a buyer, Jamye, that I've worked with for years. She mentioned a crocheted poncho her favorite Aunt Nita created for her that was her cherished garment from her childhood. She explained, in great detail, the color, style and how much this handmade piece meant to her. It was her perusing Vintage Notions that inspired this conversation. This is what's exciting and rewarding for me. This makes me feel very, very lucky. ~ Amy
* * *
For my commenters today…tell me about your favorite item of clothing – even pajamas – and why it's your favorite. Tell me about why you love it, and/or the special memories attached to it.