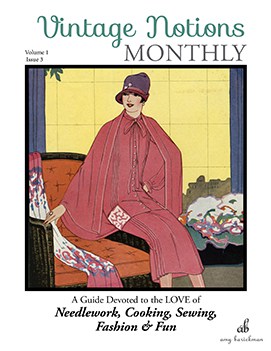 Vintage Notions Monthly continues to share the work of Mary Brooks Picken and the Woman's Institute which inspired my book Vintage Notions: An Inspirational Guide to Needlework, Cooking, Sewing, Fashion and Fun! Although the Institute was founded 100 years ago, the treasure trove of lessons and stories are still relevant today and offer a blueprint for living a contented life. Shop Instant Download PDF issues here.
Each issue includes:
• Fashion and Dressmaking articles and illustrations (ideal for coloring)
• Inspiring essays & student testimonials
• Lessons & techniques for sewing, embroidery, cooking & millinery
• Magic Sewing Pattern – an easy-to-make fashion drafted using diagrams & your measurements
Click here to download a FREE sample of our first issue.